Meals For Heroes: Supporting Frontline Workers in Miami
COVID-19 has had a devastating effect on our local businesses, and on the hospitality industry in particular.  We watch as our favorite eateries close, laying off hundreds of employees; we feel helpless as we witness hospital
COVID-19 has had a devastating effect on our local businesses, and on the hospitality industry in particular. 
We watch as our favorite eateries close, laying off hundreds of employees; we feel helpless as we witness hospital workers tirelessly serving the community; we desperately want to make a difference, but need just a little guidance.
Lucky for us, people like Will and Mac Osborne exist, as they truly are the guiding light, enabling us to do just that.
Meals for Heroes was conceived when Mac Osborne's visit from NYC was extended indefinitely due to the COVID-19 quarantine.  A restaurateur in New York, Mac expressed to his father regret that he wasn't at home with his business, as he would come up with creative ways to help the community.  His father, Will, who has been living in Miami for ten years, suggested they go to work on his ideas right here in Miami Beach.  As a local philanthropist and certifiable foodie, he knew enough people to get things moving in the right direction. 
That was on April 1st, and since then, Meals for Heroes has delivered thousands of meals to Miami's first responders, providing extra work for local restaurants.
The mission of Meals for Heroes is two-fold: feed (and comfort) hungry first responders; and provide work for cooks and restaurant employees. "This is a fight that is going to be won by our healthcare frontline workers, in conjunction with our first responders. These three constituencies, hospitality, healthcare, and fire/EMS/police need our support. Purchasing meals to deliver to these stressed professionals is a sign of support from a grateful community," says Will.
How It Works
Meals for Heroes, Miami reaches out to hospitals and testing centers to determine their needs. In partnership with local restaurants, Meals for Heroes purchases between50 to 500 meals daily from local restaurants to be delivered to each facility. Restaurant partners take all necessary precautions outlined by the CDC, and working with each medical and emergency facility, ensure a contact-less delivery of the meals.
The growing list of restaurant partners include:
RED, The Steakhouse
Joe's Stone Crab
Yardbird
Stubborn Seed
Thierry Isambert Catering and Event Design.
Front Line recipients to date include:
Jackson Memorial Hospital
Miami Baptist Hospital, Miami Baptist Miami Beach
Miami Beach Fire Department
Emergency Operations Center
Miami Beach Police Department
Mt. Sinai Hospital Miami Beach
How to Support Meals For Heroes, Miami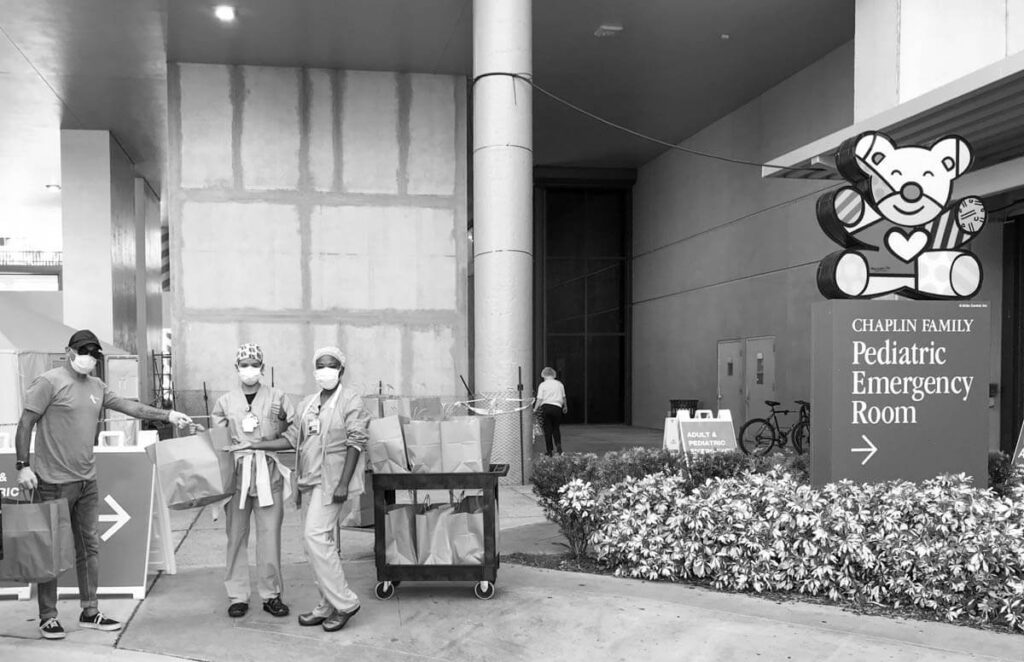 Meals for Heroes, Miami is a donation-based organization. All administrative, legal and financial and operational expenses are borne by the founders; therefore 100% of donations go towards restaurants in the purchase of meals.
A $15 donation will support a first responder meal,
$500 will provide meals for one ICU shift,
$5,000 will support an Emergency Room for two shifts, and
$10,000 can ensure meals for one day at three Miami Front Line Hospitals. 
Donations can be made at www.mealsforheroesmiami.org.