25 Things We Love About Dining Out in Miami
1. Nautical Chic at Cipriani Dining at Cipriani Downtown Miami is like dining aboard a lavish mega-yacht. The blue-and-white nautical aesthetic coupled with the shiny walnut paneling, the sleek curvature of the walls, and the singular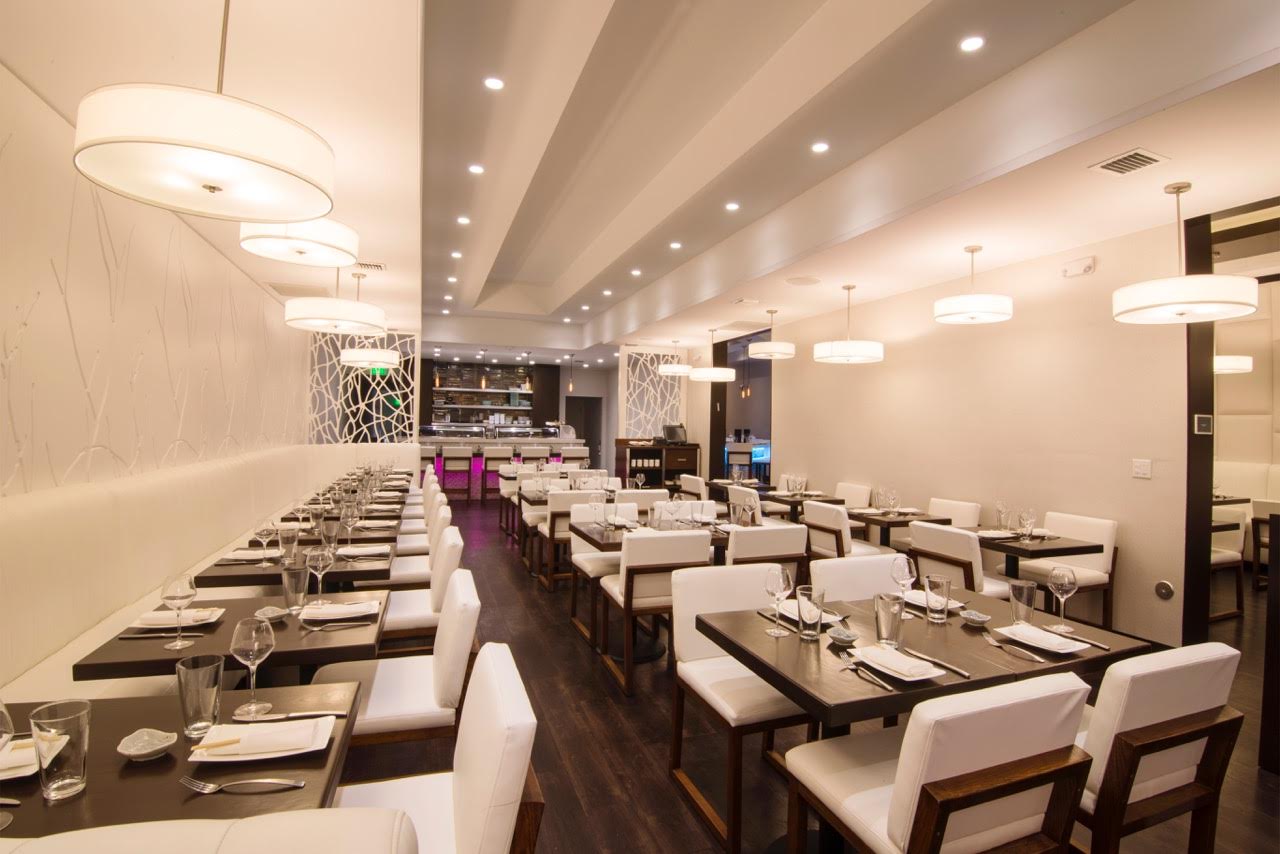 1. Nautical Chic at Cipriani
Dining at Cipriani Downtown Miami is like dining aboard a lavish mega-yacht. The blue-and-white nautical aesthetic coupled with the shiny walnut paneling, the sleek curvature of the walls, and the singular crystal chandelier (not to mention the two "portholes" at the bar that constantly display videos of open seas) is exactly what one would expect of the inside of an extravagant early-1900s ocean liner. The 8,000-square-foot space, which recently celebrated its second year in Miami, was designed by esteemed Florentine architect Michele Bonan, who is also responsible for Cipriani Yas Island in Abu Dhabi, Cipriani Monte Carlo, and Cipriani Downtown Ibiza.
The dining room is finished with striped Venetian flooring and floor-to-ceiling windows— taking full advantage of the restaurant's waterfront location. Elements from other Cipriani locations are incorporated into the design, including the positioning of the bar as the focal point of the restaurant (which mirrors the layout of the iconic Harry's Bar in Venice, the first restaurant in the Cipriani empire), as well as the millwork and furnishings, which are by Italian luxury design firm Tedeschi. cipriani.com; 786.329.4090
2. Berries in the Grove's Groovin' New Interior
After nearly 15 years in business, Berries in the Grove recently underwent a major renovation, revealing a completely updated and modern look. If you liked Berries before, you're going to love it now.
Over the past year, Berries has vastly refurbished its space, adding 150 seats to
its dining room and garden area. Get comfy on swank black leather chairs around modern wooden tables, or have a drink at the bar under a classy chandelier. You can even gather with your friends to watch the game on one of the two 72-inch screens. Love the outdoors, but hate the heat? Sit in the climate-controlled garden, which has a retractable roof and curtains to protect you from the elements.
Along with its expansion, Berries in the Grove also welcomes a state-of-the-art kitchen, adding even more resources to its catering and private event space rental program. There's also a brand-new sound system and DJ booth for special events. Ask about hosting your next corporate gathering or celebratory occasion here, or having your own event catered.
Even with the impressive additions, Berries maintains its casual and family-friendly atmosphere. The daily menu includes items like fresh Crab Cakes, Caribbean-Style Tuna Tartare, and a variety of vibrant salads, sandwiches, wraps, and pizza. A shake or smoothie makes a refreshing drink on a hot day, and brunch delivers homestyle classics like Belgian waffles and omelettes. Daily specials and happy hour deals offer great drinks and dishes at affordable prices.
When the heat strikes this summer, don't forget about the new Berries in the Grove. berriesinthegrove.com; 305.448.2111
3. Villa Azur: The South of France in South Beach
Executive Chef Erwin Mallet continues to wow guests with his gourmet French cuisine; but the space in which diners enjoy his mouthwatering creations is equally enchanting. Although located in the heart of Miami Beach, Villa Azur's stunning 6,000-square-foot dining room is more reminiscent of the South of France than South Beach. The homey, romantic atmosphere is the masterwork of renowned interior designer François Frossard and features both vintage and contemporary furnishings, a mix of tufted leather couches, sleek antique woods, slanted mirrors, and fascinating chandeliers. Guests can also dine alfresco in a lush outdoor garden oasis that feels as though it was plucked straight from the backyard of a gorgeous villa along the French Riviera. villaazurmiami.com; 305.763.8688
4. The New STK Miami
STK Miami, housed in the new One Hotel in the heart of South Beach, is a sprawling, 10,000-square- foot, two-level space adorned with unique touches in every corner. The white marble bar commands the view upon entering, lit from below to cast an intimate, sultry glow beneath sculptural white bullhorns hanging from the ceiling above. The entire restaurant is furnished with plush white leather banquettes and gorgeous rosewood tables for a lounge-like vibe. Upstairs is an intimate dining lounge complete with cozy half-moon booths, drop lighting, and white flowers whose shadows dance like fairies on the ceiling. This area also boasts a state-of-the-art DJ lounge to complete the mood. What's more, the mezzanine level converts into a large reception space for up to 200 people, and offers semiprivate and private dining rooms to accommodate seating for groups as small as 10. For a date, a dinner party, or a night on the town, STK has you covered. stkhouse.com; 305.604.6988 
5. The Official Hue of Cool at IKRA
When the Miami sun beats down and you need to refresh, IKRA cools in more ways than one. You see, the color white reflects rather than absorbs the harsh sunlight, and IKRA's 15,000-square-foot space—which includes a dining room, lounge, bar, private dining areas, and more—is decked out in this purest of colors. When you first walk in, your skin begins to cool as you take in the white marble floors and plush white sofas. Cool off even further in a sleek white bar stool or in the white curtain-separated dining room filled with white tables, chairs, and banquettes set on light-colored wood. The refreshing menu fittingly complements the space with dishes such as Tuna Tartare, Butterfly Branzino, and Marinated Brick Chicken. IKRA is where European design meets modern art museum and Miami's posh vibe—and what's cooler than that? ikramiami.com; 305.974.0081
6. R House … in the Middle of Wynwood
Part restaurant, part gallery, R House commands the entrance to the Wynwood District. Outfitted in a cool industrial space with high wood-beamed ceilings and polished concrete floors, the restaurant is divided by strategically placed floating walls adorned with art. Local artists provide a rotating gallery of abstract paintings, adding movement and color to the already energetic space. The large concrete bar near the entrance buzzes with patrons during nightly happy hours, while the back wall offers a behind-the-glass glimpse of the magic happening in the kitchen. Interiors aside, the backyard is worth mentioning—a veritable playground for live music and the famous monthly "Drag Brunch." rhousewynwood.com; 305.576.0201
7. The Eclectic Milieu at The Gang
One of Miami's more colorful new additions, The Gang straddles the hip neighborhoods of Midtown and Wynwood. A wall of windows provides an airy feel to the already spacious spot, which looks a little bit country and a little bit rock 'n' roll. Inside, plank wood floors and tables join white iron patio chairs to create a backyard barn house appeal, and orange tin cans add pops of color as decorative centerpieces. A white tile wall makes for an eye- catching backdrop for a suspended tricycle and other vintage memorabilia, while a row of washing machines serves as a wet bar in the back with a view to the open kitchen. Light bulbs drop from the ceiling and music floats through the air, setting the tone for this chic and original gem. Hungry? Start with some crispy Boo Shrimp Tempura or Chicken Satay and chase it with a Lychee Martini. Have you ever been anywhere so deliciously eclectic?thegangmiami.com; 305.570.9430
8. Piripi's Bubbly Vibe
Conveniently nestled in the Village of Merrick Park in Coral Gables, Piripi offers the perfect refuge for fatigued shopping feet. Upon entering, a large communal bar makes a statement in white concrete speckled with vibrantly colored chips of glass. Piripi can be translated to "tipsy" in Spanish, so it's no wonder that the bar occupies a good third of the space. Colorful handblown glass jellyfish and other sea creatures—designed by Ryan Blythe, who worked under renowned artist Dale Chihuly—hover above the dining room. Two glass walls create a spacious feel, while an open kitchen flanked by bar stools keeps the energy high. The back wine wall displays an impressive selection of vintages— just the thing to keep you "piripi." piripimiami.com; 305.448.2423
9. Wood and Wine at Sardinia
Wrapped in warm woods and walls of wine, it's no wonder that Sardinia Enoteca Ristorante is a neighborhood staple for authentic Italian eats. The grand space commanded the corner entrance to Sunset Harbour even before its "restaurant row" status, and could be considered a pioneer of the neighborhood—one with staying power. Upon entering Sardinia, the first thing you notice is the wood-burning pizza oven and its delicious aroma. Two bars line the back wall, inviting you in for traditional platters of formaggio paired with a fine selection of wines. Speaking of wine, the dining room is divided by yet another collection of bottles gracefully lying in their racks, waiting to be served. The décor is simple—marked by rich brown leather banquettes, marble columns, and delicate track lights. Take a seat by the window, peruse the menu, and reach for pinch of rosemary to spice up your olive oil-soaked Sardinian bread. sardinia-ristorante.com; 305.531.2228
10. Everything Inside Made in Italy
Housed in an industrial warehouse in the heart of Wynwood, Made in Italy is reminiscent of a scaled-down Eataly. Jazz music bounces off the concrete walls as patrons dine and chat at rustic wooden tables and benches. A wraparound bar invites you to sample from the fine collection of Italian wines for your nightly aperitivo. Chandeliers hang from soaring ceilings to warm up the space as trees potted in giant concrete blocks hug the metal beams. Move past the grand bar and enter the wine library to the left, the salumeria and pasta station to the right, and mercato in the back. Every nook and cranny of this authentic Italian eatery is fully stocked with the finest imported products, all "Made in Italy." madeinitalygourmet.com; 786.360.5671
11. New England Meets Miami at Midtown Oyster Bar
Step into a scene straight out of New England at Midtown Oyster Bar. With 60 seats total, including six at the raw bar, the space is relaxed, modern, and bright. Pastel colors calm the senses, while authentic shucked and cleaned oysters peer from behind an aluminum grate on the wall. Warm light beams from fixtures made from lobster traps that were brought in from local Miami River fishermen. As you settle in and order a dozen oysters on the half shell, let your eyes wander to the signature photograph of a white fishing boat bobbing in turquoise waters—an image from Italian-based photographer Umberto Armiraglio. Indeed, a visit to Midtown Oyster Bar carries you to the harbors of New England in a way only a Miami destination can. midtownoysterbar.com; 786.220.2070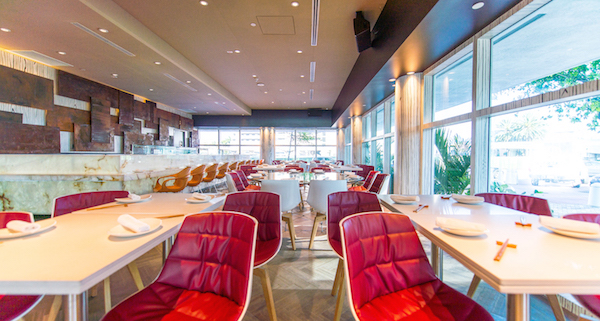 12. Brilliant Design at SOHO Bay
Even without windows, SOHO Bay would be a spectacular space. Still, the views of the sparkling bay make this star shine even brighter. After soaking in the breathtaking horizon, you can't help but stare in awe at the commanding slabs of back-lit gold-marbled white onyx between the wet bar to the left and sushi bar to the right. Balancing the glorious shine, acid-washed squares of steel decorate the back walls. Saddle-colored leather chairs are imported from Italy, as is all of the designer furniture, and the stone floors are treated to give a warm, woody appeal. From the window treatments to the chopsticks, SOHO Bay treats guests to world-class design thanks to Marlon Gama, one of the top 10 designers in Brazil. sohobayrestaurant.com; 786.618.2788
13. The Elegant Rusticity of Bread + Butter
A chalkboard wall scribbled with specials; vintage black-and-white photos of families past; a bar characterized by reclaimed woods; and dangling, unornamented light bulbs. This is the personality of the singular Bread + Butter, and it all converges in the quiet (little) dining room on Salzedo Street in Coral Gables. They call the rustic environs the first course, and fittingly so: it serves as an intimate yet unintimidating setting for Chef Alberto Cabrera's thoughtful Cuban creations. "Bone marrow meets ropa vieja," he explains, reaching for the
perfect description of his colorful menu. "Fried smelt is made tame with furikake and garlic aïoli, and even the traditional Cuban 'frita' burger has been subverted, marked by its inclusion of Napa cabbage kimchee and Sriracha ketchup." Surrounded by spare tile and metal bar stools, guests will find Bread + Butter deliciously unadorned—the perfect canvas for Cabrera's culinary mastery. breadandbuttercounter.com; 305.442.9622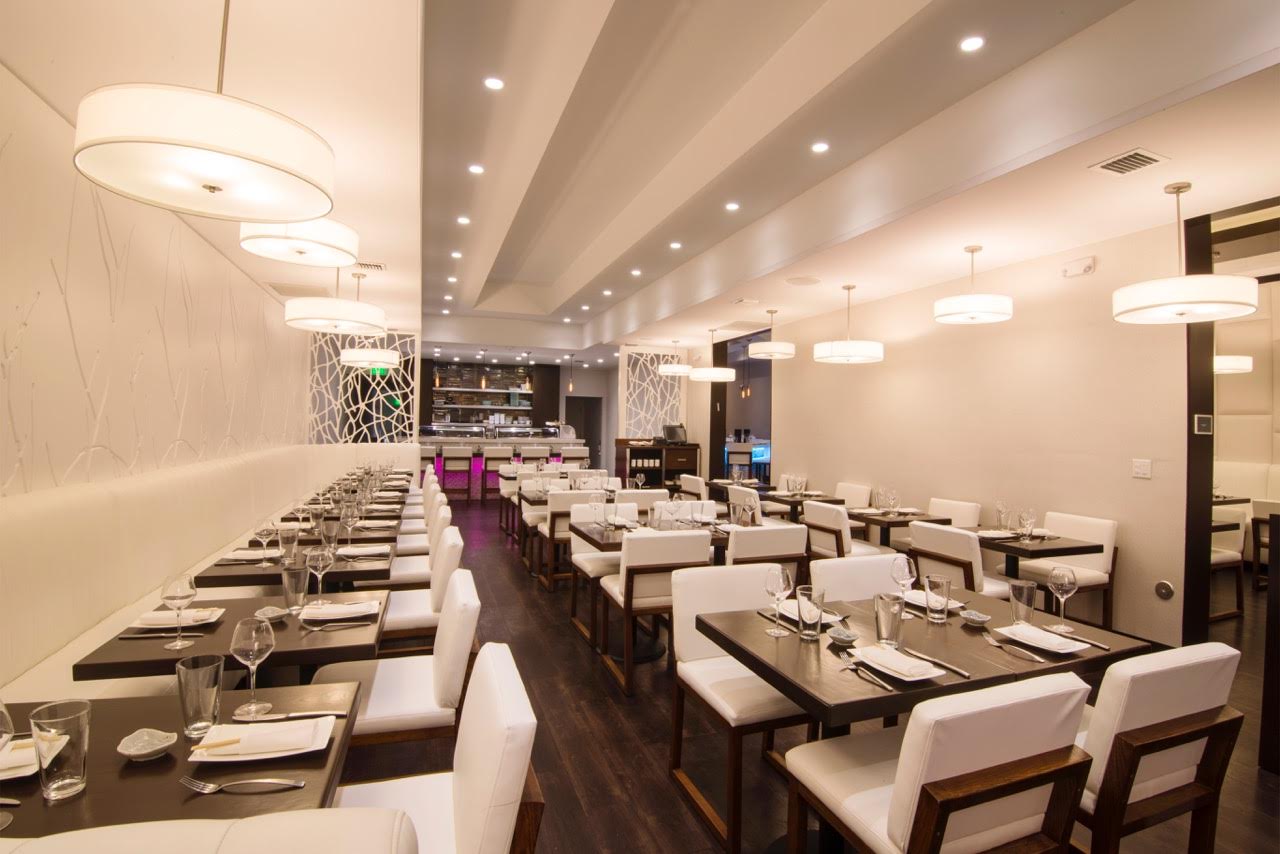 14. Dueling Dining Rooms at 26 Sushi & Tapas
Located on Surfside's "restaurant row," 26 Sushi & Tapas sets itself apart with white embroidered walls, white leather banquettes, and white leather chairs tucked up under smooth wooden tables. Circular white drop lanterns of varying sizes complete the simplistic design. The dining room is split in two, and the back wall offers two totally different experiences. To the left, an open sushi bar creates an intimate and interactive dining opportunity, showcasing fish of the freshest variety and busy hands going to work. To the right is the buzzing bar, lit from beneath with changing hues from purple to red to yellow. The base of white limestone matches the leather chairs, while the metallic backsplash adds an exciting edge. Clean and chic, 26 Sushi & Tapas truly transports you—all before you even taste your first bite of maki. 26sushitapas.com; 305.570.2626
15. Secret Stairways at Cleo
Cleo is tucked past the lobby of the modestly chic Redbury Hotel in South Beach. Not your typical hotel restaurant, Cleo is something like a dollhouse, due in part to its vintage green walls and candy-colored chandeliers. Original pale-green terrazzo floors are polished to a fine finish, and the wooden ceilings add rustic warmth with bare bulbs sporadically placed for little bursts of light. The marble and wood spread wall-to-wall, setting the scene for cushy chairs perfect for indulging in a cozy cocktail. Staircases occupy either end of the space. One leads to a large old-fashioned white-tiled open kitchen lined by a bookcase stocked with spice jars, while the other ascends to a "secret" back room. The menu is as eclectic as the setting, and the prices keep this hotel treasure a true local joint. sbe.com/cleosouthbeach; 305.534.2536
16. A New York State of Mind at db Bistro Moderne
Daniel Boulud's Miami restaurant shares the same chic and sophisticated vibe of its Manhattan counterpart, but with updates to reflect the vibrancy of the Miami lifestyle. Unlike many of Boulud's other eateries, db Bistro Moderne Miami takes advantage of space (something which, in general, New York City lacks); the restaurant is designed as a procession of intimate rooms that unfold onto one another. Designed by the internationally renowned firm Yabu Pushelberg, each room feels as if it has been plucked directly from a hip SoHo establishment and melded together to create one cohesive restaurant that's certainly worthy of serving up Boulud's unrivaled cuisine. dbbistro.com; 305.421.8800
17. The Iconic Bar at Quattro Gastronomica Italiana
We love the simple beauty of Northern Italian cuisine, and Quattro Gastronomica Italiana brings all the vibrant colors and traditions to life with décor and ambience to match. Let your eyes wander over the dark wooden furnishings and cream-colored linens. Fresh flower arrangements add pops of color, and elegant chandeliers twinkle from above. The most iconic element is surely the bar, where shelves of green glass bottles frame top-shelf liquors reaching all the way to the ceiling, accented by a brick-inspired metal backdrop. quattromiami.com; 305.531.4833
18. Art Deco Fusion at The Restaurant at The Setai
Asian influences abound at The Restaurant at The Setai, creating the perfect marriage of Eastern Zen with the Western sophistication of Miami Beach. Surprisingly, the two disparate parts of the globe have one very distinct thing in common: Art Deco. It is a known fact that Miami Beach has strong roots in Art Deco architecture, but you may be surprised to learn that the style is also prevalent in East Asia. In fact, Shanghai once had the world's largest collection of Art Deco buildings. If there were one design element that best expressed The Setai's concept of Art Deco fusion, it would be the lobby's dark antique bricks, rescued from an irreparable Art Deco building in Shanghai and installed in their stunning new home in South Beach. thesetaihotel.com; 305.520.6400
19. Intimate Elegance at The Trapiche Room
Situated in a stately room on the second floor of Brickell's JW Marriott hotel, The Trapiche Room is a tucked-away little gem with only about eight tables. Reminiscent of what one may expect while dining in the White House, The Trapiche Room is outfitted with rich cherrywood walls and tables, not to mention classical paintings. An intricate Persian rug adds warmth, and a bright but simplistic chandelier drops from the ceiling while tiny track lights slowly dim as the night progresses. Additionally, the attentive service in this cozy space is nothing short of first class. When you are looking for a fine dining experience with an exceptionally private appeal, make reservations at The Trapiche Room. jwmarriott.com/miajw; 305.329.3656
20. The View from Atrio Restaurant & Wine Room
There are few places in Miami that offer unmatched cuisine, first-class service, and a brag-worthy wine list—and even fewer places that offer those elements in addition to gorgeous panoramas of the Magic City skyline. Located on the 25th floor of the Conrad Miami hotel in Brickell, Atrio Restaurant & Wine Room is a rare breed, indeed. The best time of day
to visit is at sunset, as the restaurant's earthy elements and palette of golds, reds, and browns mirror the hues of the whimsical night sky. conradmiami.com/atrio; 305.503.6529
21. Caribbean Sunshine at Ortanique on the Mile
Serving up light and flavorful Caribbean- inspired fare with a focus on fresh ingredients and seafood, Ortanique on the Mile has been a Coral Gables staple for over 16 years. To go along with the restaurant's tropical cuisine, its décor of red and yellow hues and rich mahogany accents were seemingly plucked straight from the Bahamas. "We wanted the interior to have warmth and comfort, as if you just stepped into the Caribbean," says Chef and Owner Cindy Hutson. "The menu reflects my 'cuisine of the sun,' a multicultural experience of gastronomy that's as diverse as Miami's culture." ortaniquerestaurants.com; 305.446.7710
22. Dining Amongst Modern Art at Modern Garden
An interior space within a space, Modern Garden shares the Miami River fortress that is Seaspice. It literally blossoms from within, offering an exceptionally organic design of wood and white, with purple orchids lining the wall. The star of the show is an extraordinary permanent art installation, which is composed of two large trees shaped from rough lumber conceived by designer Santiago Pelaez and unveiled to a select audience during Art Basel 2014. Teardrop light fixtures randomly hang from the branches, softly illuminating both the dining and bar areas, while the river glistens from just beyond the open wall and waterfront dock seating. moderngardenmiami.com; 305.440.4200
23. Tantalize Your Senses
Be prepared to stimulate all five senses at South Beach's newest hot spot. Located at the former Vice Lounge space, Tantalize Miami is a unique dining and late-night destination, combining delicious food, innovative cocktails, and seductive burlesque-style performances into one captivating space. The 7,800-square-foot, two-story main dining area seats up to 150 and features sleek black and red leather couches with mirrored accents, evoking a "Moulin Rouge" meets "Chicago" meets South Beach glamour. tantalizemiami.com; 305.695.1401
24. Dining in Style at StripSteak in the Fontainebleau
We love StripSteak for its dynamic dining scene, signature steaks, and contemporary cocktailing inside the iconic Fontainebleau Miami Beach. We also love James Beard Award-winning Chef Michael Mina, the mastermind behind it all. And the elegant, two-story, indoor/outdoor design? We can't get enough. Created by the award-winning design firm Bishop Pass, this 12,000-square-foot, 340-seat restaurant exudes luxury and style with rich wooden elements, glimmering light fixtures, and lush upholstery. StripSteak also encompasses an artistic, exotic bamboo-enclosed poolside patio as well as a private dining room for special events. This modern steakhouse is located just off the Chateau lobby in the heart of the hotel, boasting an exciting open kitchen with a wood-fired oven, onsite aging room, in-house butchery program, and even a modern raw bar serving ice cold oysters, king crab, and caviar. fontainebleau.com; 877.326.7412
25. The Effortlessly Chic Cibo
"If you're going to do something, do it right." We imagine that was the thought process behind this three-story den of design, with inspiration blooming from every nook and cranny. Occupying more square footage than any other kid on the block, Cibo Wine Bar South Beach fills 20,000 square feet from top to bottom. Everything down to the glassware was designed by Nadia Di Donato in a style that could be described as industrial chic. The wraparound bar—composed of steel, wood, and glass—is situated to the right upon entering, and high-top butcher-block tables give the room a casual appeal.
The more formal dining room sits to the left of the entrance, while an open kitchen spans the entire back wall. Bathed in warm hues, elegant booths line the windows separated by hanging sheets of gauze while playful glass balls mimic a giant mobile, adding an element of movement to the room. The wall to the right is actually a chamber of wines—so many, in fact, that a suspended "wine angel" retrieves bottles from the top tier (catch her flying around every night after 5pm). From the ground floor, take the concrete steps (or elevator) up to the second floor, which is entirely dedicated to the washrooms.
Reminiscent of a spa, giant cedar plank doors protect the individual stalls, made even sturdier with turn-of-the-century door latches. You can wash your hands in the privacy of his or hers, but we recommend the communal "hand showers" that overlook the bar and lounge below. Enjoy the open-air atmosphere of the top floor, but seek out the tiny enclosed bar to the left—worth visiting for a specialty craft cocktail and a plate of antipasti. A permanent collection of Mr. Brainwash paintings hangs on the wall, as well as an iconic signature stencil on the most prominent concrete block wall that reads, "Life is beautiful." cibowinebar.com; 305.987.6060