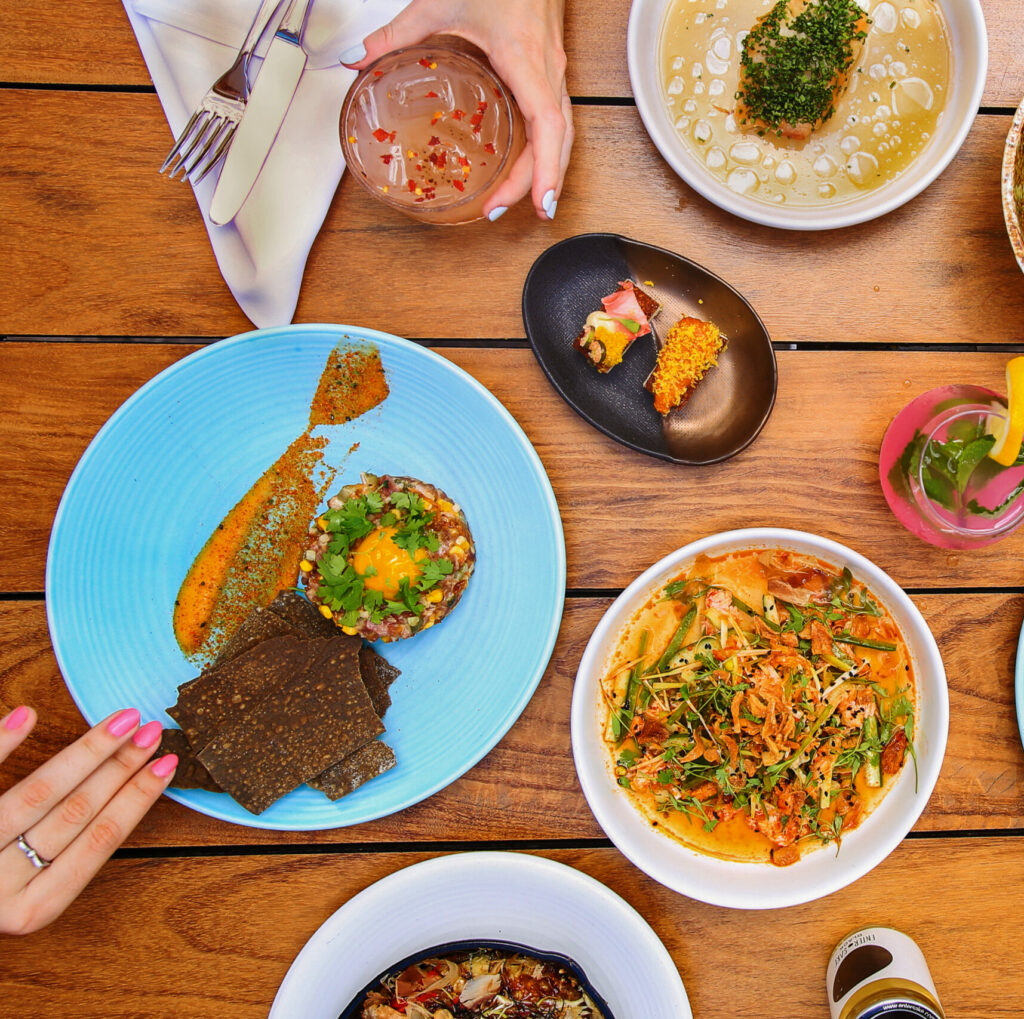 Izakaya Residency at Lido Bayside Grill
Lido Bayside Grill at The Standard Spa, Miami Beach has been reimagined as a limited-run Izakaya residency, led by Executive Chef Daniel Herget. Lido's Izakaya residency celebrates a spirit of conviviality through artful shareable dishes that channel Japanese culture
and cuisine with specialty cocktails and umami-packed bites. The menu is guided by locally-sourced seafood and seasonal produce while plays on citrus and fermentation are woven throughout the menu, which includes an extensive raw bar, chilled dishes, fried options, a steamed selection, as well as expertly-grilled offerings. Izakaya is a Japanese word derived from 'I' (stay) and 'sakaya' (sake shop)—it's a place to gather with good friends, good food, and good drinks. Come and stay awhile, and don't miss High Tides happy hour, Monday through Friday from 4 to 7 pm.
sample menu selections
breakfast::
Egg Sandwich   16
Fried eggs, cheddar, bacon, kewpie, and focaccia
Omelette   17
Mixed greens, home fries; choice of two: bacon, chicken sausage, veggie sausage, tomato, cheddar, goat cheese, mushroom, onion, kale, spinach, roasted peppers, or jalapeño; add berries 4
Pancake   14
Mango butter, sorghum, and maple; add berries 4
AB and J Toast   14
Almond butter, sourdough toast, macerated fruit, housemade jam, and spirulina
BLT Toast   16
Lardon, Bibb lettuce, tomato, fried egg, and kewpie
lunch::
Takoyaki   13
Octopus hush puppies, kewpie mayo, and sesame
Gyoza   13
Pork or vegetable and ponzu
Rice   14
Super crunch furikake and herbs; add shrimp 13; tofu 8; chicken 10; salmon 15
Crab Bao Bun   16
Cucumber and Bibb
Chicken Katsu Sandwich   20
Shredded iceberg, spicy mayo, pickles, and fries
Impossible Burger   20
Vegan pepper Jack, Thousand Island, lettuce, tomato, onion, and fries
dinner::
Sunomono   18
Crab, cucumber, and kelp
Kimchee Fried Rice   16
Housemade kimchee, duck egg, and togarashi; add bacon 4
Wedge   16
Bacon, tomato, pickled onion, and shiso ranch
Seaweed Salad   13
Wakame, dulse, hijiki, and rice wine vinegar
Salmon Poke   18
Seaweed, tamari, and kimchee
Tebasaki   18
Chicken wings and sesame weed miso
Wagyu Beef Tartar   28
S&B mustard, egg yolk, and toast
Duck Breast   32
S&B curry and chile thread
Grilled Mushroom   19
Sweet soy and crispy garlic
dessert::
Chocolate Lava Cake   12
Fudge and vanilla ice cream
Lychee Cheesecake   14
Shortbread crumble and kabosu jelly
Mochi   12
Contact Information
The Standard Spa, Miami Beach, 40, Island Avenue, Miami Beach, Miami-Dade County, Florida, 33139, United States
Contact Listings Owner Form