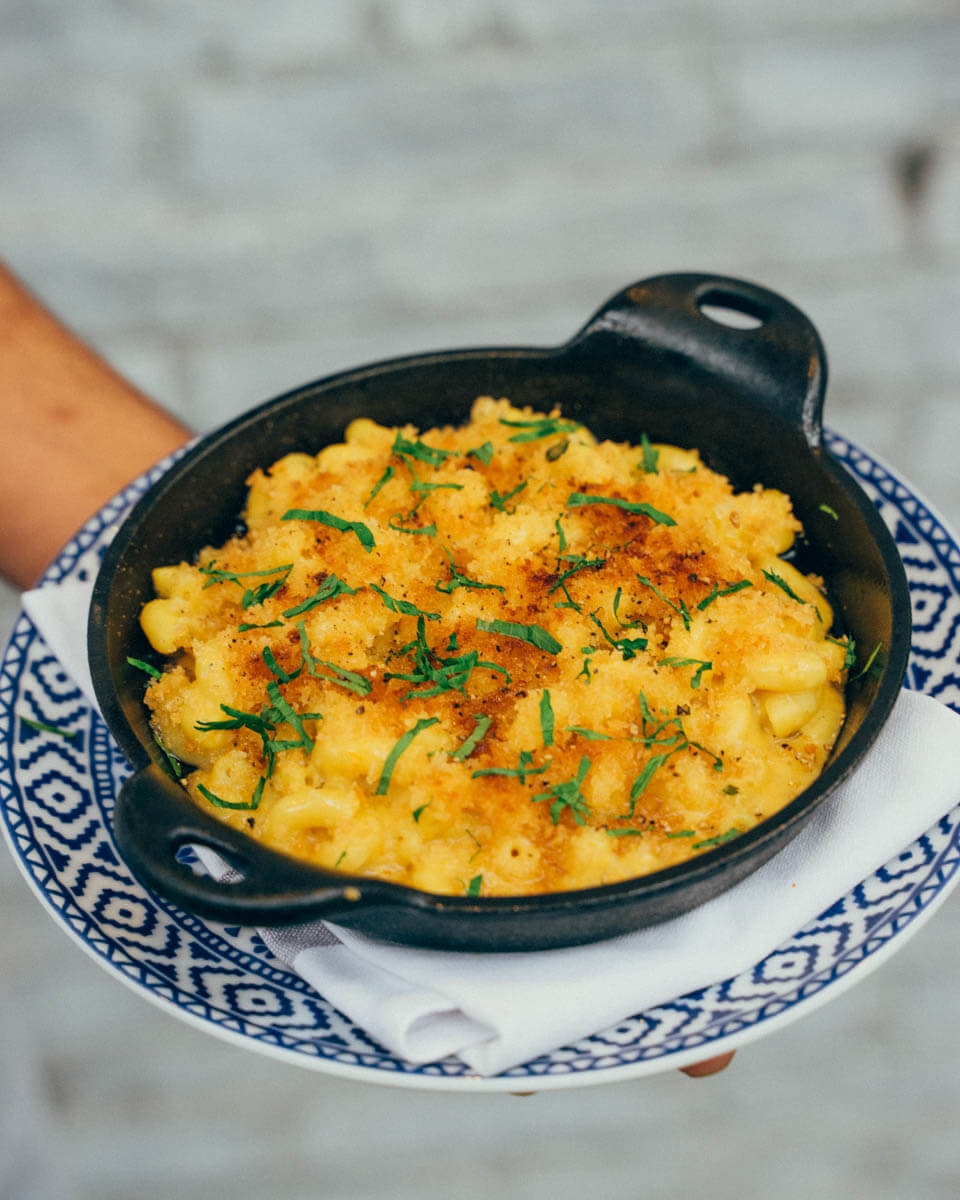 Although we all will be celebrating Easter at home because of COVID-19 this year, it doesn't mean that we cannot indulge ourselves in great food. You can either order in from your favorite local restaurant, or try your hand at these Easter recipes from Miami restaurants. Check out our roundup of restaurants doing takeout and delivery with special Easter menus and take a look at the Easter recipes below. Whether you choose to order in or cook, happy Easter from DiningOut family!
Ingredients
3 cups plant-based milk of choice
1/4 cup olive oil
1/2 cup flour
Plant-based cheese of choice
1 tbsp. nutritional yeast
1/4 cup almond flour
2 cups pasta shells
Salt
Pepper
Instructions
Preheat the oven at 400°.
Start boiling a large pot of salted water for the pasta. When water has boiled add pasta, cook pasta.
Pour plant-based milk into medium sized saucepan, bring to a boil.
In a small bowl combine olive oil and flour, whisk together.
Using a spice grinder or food processor, combine almond flour and nutritional yeast to make a plant-based parmesan cheese.
When the plant-based milk has come to a boil, turn down the heat and add the olive oil and flour mixture. Mix together on a gentle heat, making sure the flour doesn't stick to the bottom of the pot. Add a couple pinches of salt to taste.
When the pasta has cooked drain the water.
Add the pasta to the sauce and stir on medium-high heat.
Add the plant-based cheese to the pasta and sauce. Mixing in to melt the cheese. Cook the pasta on a gentle heat for 2-3min.
Transfer about two-thirds of the mac and cheese into an oven-safe casserole dish. Add a layer of plant-based cheese, plant-based parmesan and fresh pepper. Add the remaining mac and cheese for a second layer. Add another layer of cheese, parmesan and pepper.
Bake in the oven for 15-20min at 400° or until golden brown.
Remove the mac and cheese from the oven and let sit for a few minutes before serving
2. Rustic Bread Spinach Dip by La Fontana Steakhouse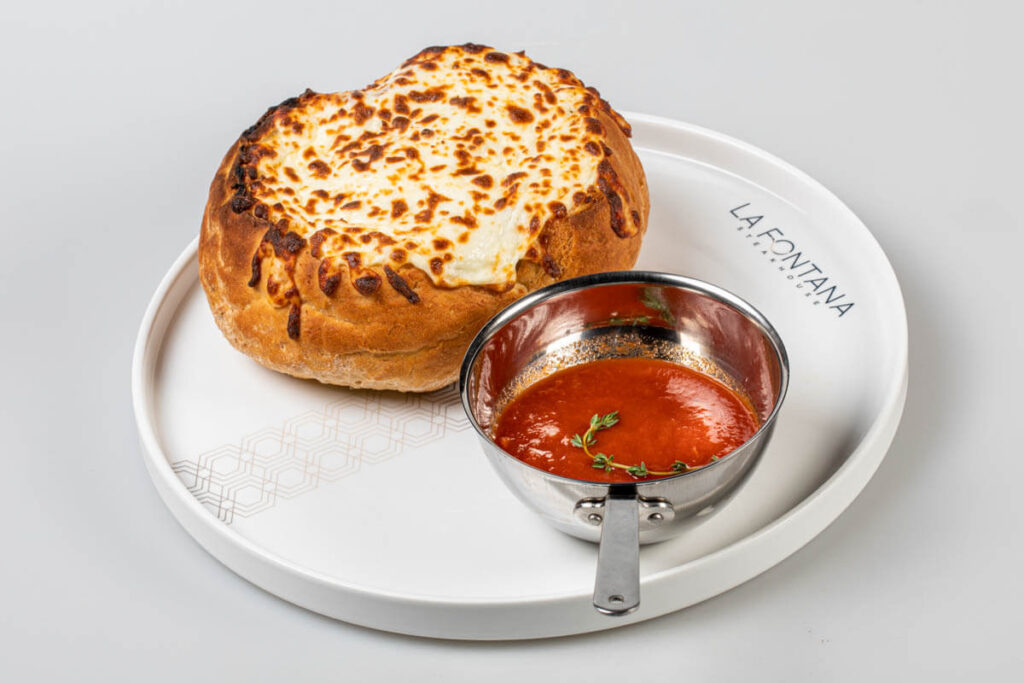 Ingredients
Yellow Onion ( 2 Cups)
Chopped Garlic ( 1tbsp)
Unsalted Butter (1tbs)
Heavy Cream ( 6 Cups)
Grated Parmesan Cheese ( 2 Cups)
Chopped Baby Spinach ( 4 Cups)
Rustic Bread (3 Units)
Mozzarella Cheese ( 2 Cups)
Instructions
In a medium heated pot, add the unsalted butter until melted. Add chopped garlic and yellow onion and sweat for 2 minutes.
Add the heavy cream and let it simmer for 10 minutes. Add the Parmesan cheese and turn off the stove.
In a blender, add the chopped baby spinach and the mix from the pot. Let it blend for 2 minutes.
Preheat the oven to 375 degrees.
Cut the top of the bread. Take out the inside dough of the bread. Fill it out with the creamy spinach.
On top, add the bread crumb and mozzarella cheese. 
Put the bread bowl in the oven for 8 minutes until the cheese is melted and brown.
Ingredients
Eggplant – 1500 grams
Roasted Garlic Cloves – 16 grams
Garlic – 6 grams
Lemon Juice – 50 grams
Extra Virgin Olive Oil – 100 grams
Kosher salt – 14 grams
Black pepper – 6 grams
Eggplant Juice – to taste
Instructions
Char whole eggplant over open fire until the skin has charred and the inside is soft but not smooshy. Keep in a container covered with plastic wrap.
Once at room temperature remove the charred skins and place the meat inside a robot coupe / food processor. Reserve the liquid from the container that held the eggplants after charring.
Add all of the ingredients in the robot coup / food processor and puree until a smooth paste is achieved.
Ingredients
74 Grams of Brussels sprouts
255 Grams of Mirin
200 Grams of Sake
250 Grams of Soy Sauce
100 Grams of Sugar
125 Grams of Balsamic Vinegar
Shaved Almonds
Scallions
Instructions
Cut out the core on the brussels
Deep fry till a dark golden brown
Balsamic reduction: Combine Mirin, Sake, Soy Sauce, balsamic vinegar and Sugar over heat until sugar is dissolved (yields 1.5 liters, which can be stored up to one month)
Once Brussels are fried, place in a mixing bowl and toss with 20 grams of the balsamic vinegar reduction
Add almonds, chopped scallions, and additional balsamic vinegar reduction to taste
5. Chilaquiles Con Huevos by Coyo Taco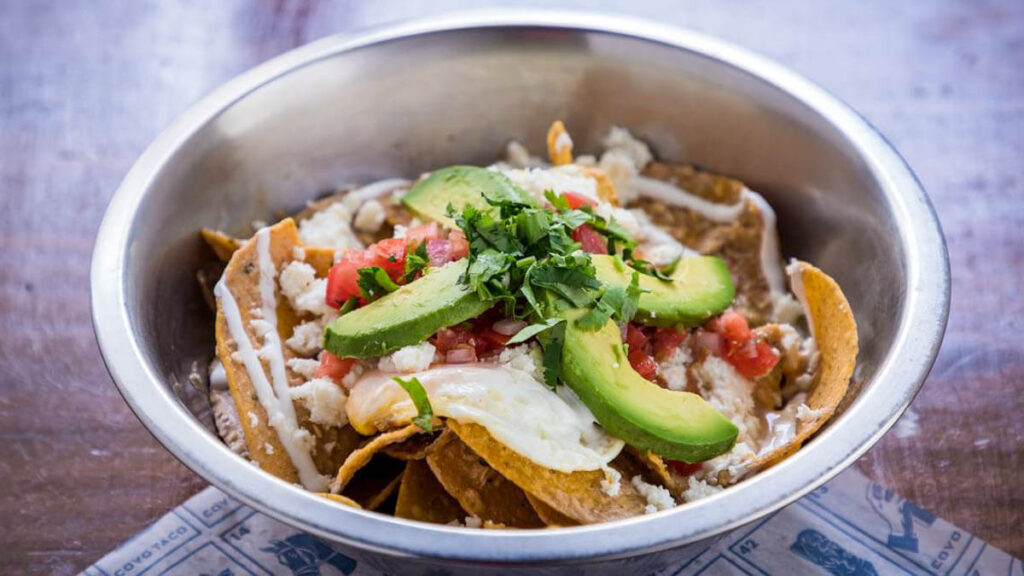 Ingredients
8 eggs cooked sunny side up or scrambled if you prefer
8 ounces tortilla chips
12 ounces salsa (opt for store-purchased salsa like Herdez salsa Verde)
4 ounces Mexican crema or sour cream
16 ounces grated white cheddar and Monterrey Jack cheese (store-bought options will work)
8 ounces refried black beans or canned refried beans, if available
4 ounces pico de Gallo
1-ounce guacamole
4 tablespoons cotija cheese
Pinch chopped cilantro on each serving
Instructions
Preheat the oven to 350 degrees. In a large-size mixing bowl, add chips, salsa, sour cream and half of the grated cheese and toss until all chips are coated with sauce, cheese, and crema/sour cream. Place the mixture in a large baking dish, sprinkle the remaining grated cheese over the top of the chilaquiles and bake for about 15 minutes until the cheese is fully melted and chips are lightly browned. In 4 medium-size serving bowls, spoon warm black beans in the center of each bowl and then pile the chilaquiles on top, place fried/scrambled eggs next, then spoon a dollop of sour cream and guacamole in the center of each portion, sprinkle with cotija cheese and pico de gallo, garnish with cilantro.
Ingredients
1.5 Heirloom tomatoes cut in wedges
Stracciatella – 2 oz
Balsamic dirt – 18 grams
2 basil leaves
Olive oil – to taste
Salt – to taste
Balsamic Dirt
Mix 15 grams of Lemon bread crumbs and 5 grams of Balsamic reduction in a bowl
Instructions
Toss the heirloom tomatoes with salt, pepper and olive oil, add the stracciatella on top and around the tomatoes, add the balsamic dirt on top of the cheese and tomatoes, and top with basil leaves.
7. Chocolate Skyscraper Cake by Big Pink

Ingredients
Chocolate Cake Layers
1 Pound Butter
2 Pounds Sugar
1 Tablespoon Baking Soda
1 Teaspoon Baking Powder
1 Teaspoon Salt
1.5 Cups Cocoa Powder
3 Cups Buttermilk
1 Pound All Purpose Flour
Chocolate Pudding Layers
1 1/2 Cups Sugar
1/2 Cup Cornmeal
1/2 Cup Cocoa Powder
2 Eggs
3 Cups Milk
1 Qt. Heavy Cream
1 Pound Semi-sweet Chocolate
2 Tablespoons Butter
Instructions
Chocolate Cake
In a large bowl, cream sugars and beaten eggs until light and fluffy and buttermilk until completely combined.
In a medium bowl, sift together flour, baking soda, baking powder, salt and cocoa powder, mixing until fully incorporated.
Add the flour mixture to the sugar mixture and beat until smooth.
Pour batter into greased layer pans. Bake for 35-40 minutes, until a toothpick comes out clean when inserted into the center of each cake. Set on a wire rack to cool, at least one hour, or frosting will melt.
Chocolate Pudding
Put cream, milk, sugar, and cocoa in a nonreactive saucepan. Bring to a simmer, over medium-high heat. Remove from the heat.
Whisk in cornstarch, eggs in a bowl.
Gradually whisk the hot milk into the egg mixture. Return to the saucepan and cook over medium-high heat whisking constantly, until the pudding comes to a full boil.
Reduce the heat to maintain a simmer, and add chocolate and butter, continue whisking until thick, about 2 or 3 minutes more
Cover with plastic wrap and refrigerate for at least 4 hours or ideally overnight until set.