In a party city like Miami, you're never short on options for New Year's Eve parties. But for those craving something beyond the typical champagne-soaked DJ-driven nightclub affair, we've got you covered. From a Gatsby-themed soirée and a nine-course culinary journey at the iconic Biltmore Hotel to global delicacies paired with an intimate performance by a Grammy Award-winning band at The Setai, these New Year's Eve parties offer the perfect mix of flavor and fun.
The historic Biltmore Hotel is all about Golden Era glamor, so it's only fitting that the theme of this year's New Year's Eve fete is "Ringing in The Roaring Twenties." In the Alhambra and Granada ballrooms, guests will enjoy a four-course dinner, an extravagant dessert buffet, hand-rolled cigars on the terrace, and a laser light show by Event Factor. Sounds will be provided by a visiting DJ and the band, Higher Ground. Once the clock strikes midnight, a fireworks show will light up the night. Tickets to this can't-miss event are $495 for the general public, $395 for members and $120 for teens. Guests are encouraged to wear white, gold and champagne colors.

Details: The Biltmore is located at 1200 Anastasia Avenue, Coral Gables. For more information, visit www.BiltmoreHotel.com or call 305-913-3230. Tickets won't be sold at the door, so make sure you purchase yours ahead of the event here.
---
To usher in 2020, Chef Giuseppe Galazzi has created a seasonally-inspired four-course feast at Fontana spotlighting delicacies included braised short ribs with polenta, Maine lobster stuffed with blue crab, homemade tortellini, and more. The New Year's Eve menu is $120 per person, but an additional limited menu will also be available. Stay after dinner and enjoy live music, fireworks, and more at the hotel.

Details: Fontana at The Biltmore is located at 1200 Anastasia Avenue, Coral Gables. For reservations, call 1-855-311-6903.
---
Foodies will find plenty to rave about at Palme d'Or's New Year's Eve dinner — a lavish nine-course culinary adventure curated by Chef Rogelio Fiallo. Priced at $175 per person, the gastronomic journey will feature dishes like Kumamoto oysters, Alaskan king crab, Jackman Ranch wagyu strip steak, and more.

Details: Palme d'Or at The Biltmore Hotel is located at 1200 Anastasia Avenue, Coral Gables. For reservations, call 1-855-311-6903.
---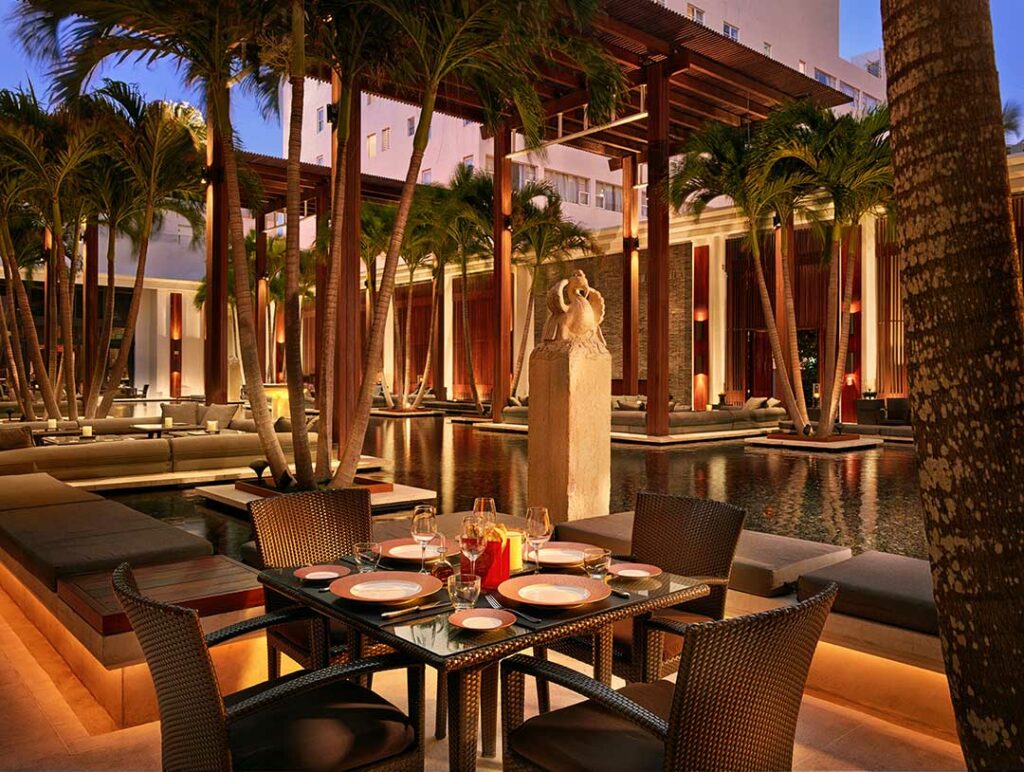 Jaya at the Setai is going all-out this New Year's Eve with "Vanderbilt Glory," an extravagant five-course feast that will blend southeast Asian flavors with all the glitz and glamor associated with the Vanderbilt empire. The evening will kick off with canapes, followed by a menu spotlighting delicacies like foie gras and brie, wagyu filet mignon, and more. Louis Roederer champagne will flow freely all night. After dinner, Grammy Award winner Marlow Rosado & Band will perform alongside dancers and Latin cabaret-themed stage acts. Pricing starts at $695 for adults and $320 for kids age 12 and under.

Details: Jaya at the Setai is located at 2001 Collins Avenue, Miami Beach, FL. To make a reservation, email dining@thesetaihotel.com, and kkelly@thesetaihotel.com, or call 855-923-7899.
---
Choose from a range of global cuisines to ring the new year in with at Fontainebleau Miami Beach. StripSteak by Michael Mina, Scarpetta by Scott Conant, and Hakkasan will each offer exclusive 4-course prix fixe dinners priced between $225 and $295 per person, depending on the seating time you select (later reservations are pricier). Chef Michael Mina's casual underground eatery, Pizza & Burger, will serve up a three-course prix fixe dinner for $79 per person from 6 p.m. until 1 a.m., and the oceanfront restaurant Vida will serve a walk-in-only New Year's Eve dinner buffet for $89 per person ($44.50 for children) from 5-11 p.m.

Details: Fontainebleau Miami Beach is located at 4441 Collins Avenue, Miami Beach. To make a reservation, call (877) 326-7412 or email NYEDining@fontainebleau.com.
---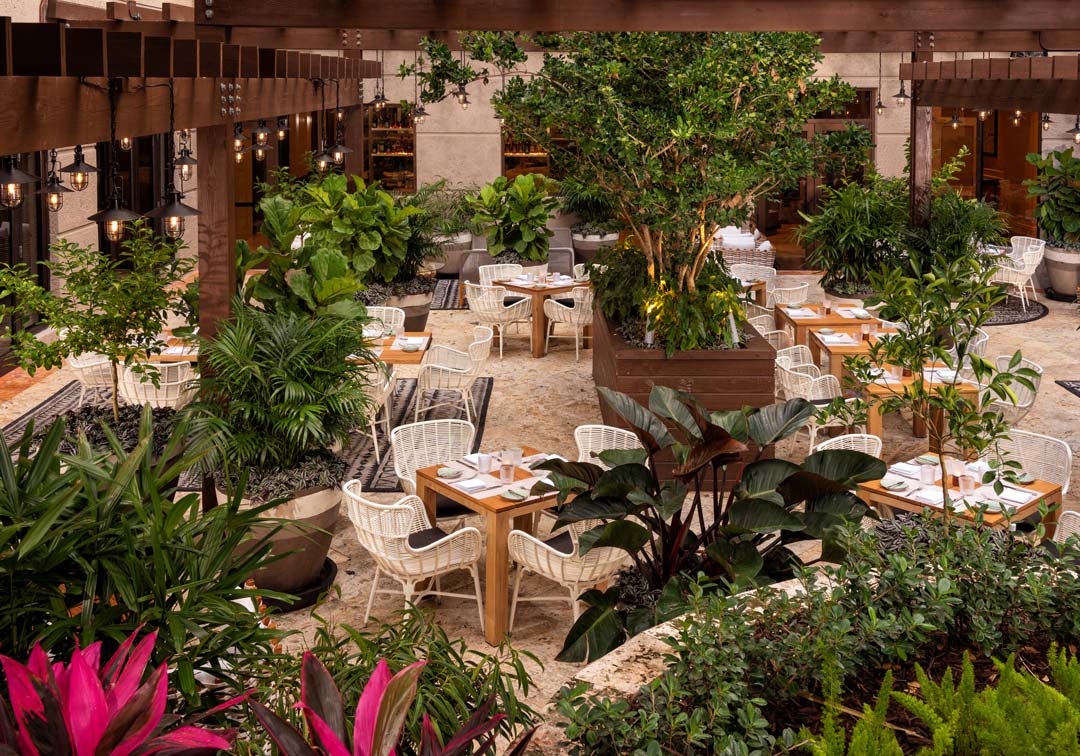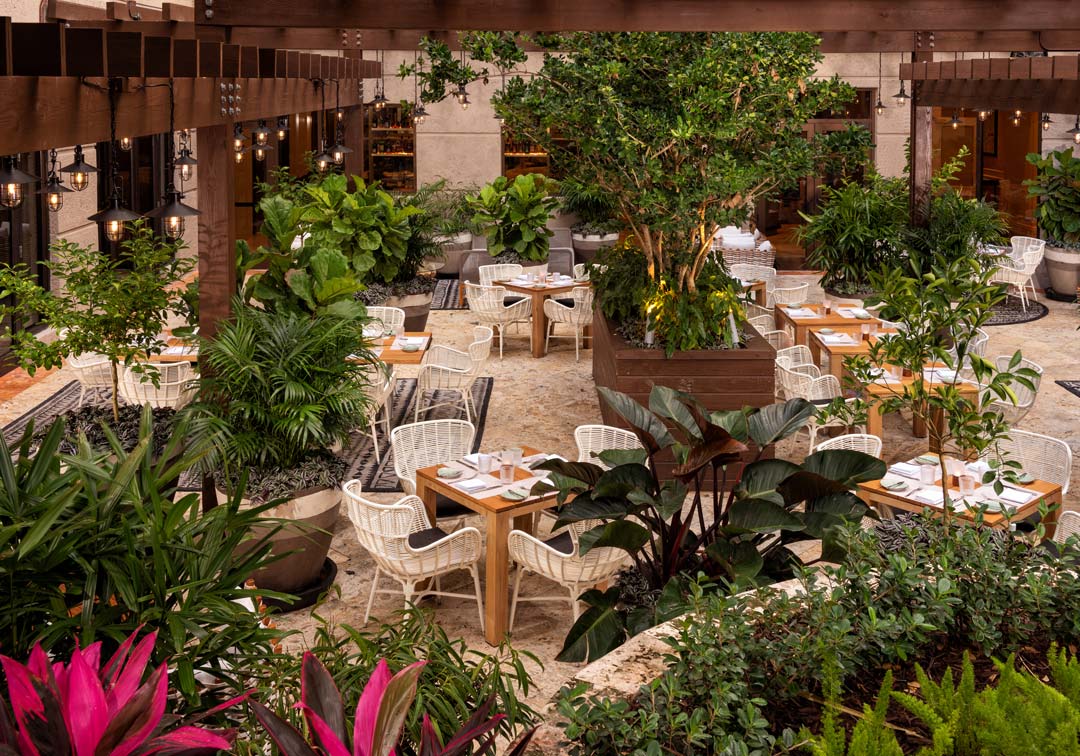 The jewel of the Ritz-Carlton Coconut Grove, Isabelle's Grill Room & Garden offers one of the most romantic settings in which to spend New Year's Eve. This year, the chic indoor-outdoor oasis will serve a prix fixe menu from 5-10 p.m. priced at $105 per person, which includes a complimentary welcome glass of bubbly, an amuse-bouche, and an exclusive three-course menu you can curate yourself form a range of options — think petit filet mignon, king crab, pan-seared halibut, crisp boneless Long Island duck and more. And save room for indulgent desserts like ginger snaps, chocolate, Rice Krispies and hot cocoa.

Details: Isabelle's Grill Room & Garden is located at the Ritz-Carlton Coconut Grove, 3300 SW 27th Avenue, Miami. For reservations, call 305-400-0562 or visit isabellescoconutgrove.com for more information.
---
Daniel Boulud's Miami outpost is dialing up dinner on December 31 with a three-course menu and optional wine pairing priced between $85 and $140 per person during the first seating. The second seating — known as the "Gala Seating" — will feature a five-course menu priced between $175 and $250, depending on whether you opt for the wine pairing (and you totally should — Boulud Sud boasts one of the most extensive wine lists in the area).

Details: Boulud Sud at the JW Marriott Marquis Miami is located at 255 Biscayne Boulevard Way, Miami. For reservations, call 305-421-8600.
---
Faena is going back a few centuries to Europe's baroque period — and adding a few South American touches — for its New Year's Eve party. Guests will be treated to welcome champagne and cocktails, followed by a multi-course dinner at either Pao or Los Fuegos. After, live musical acts will keep the party going in the hotel's Living Room as Perrier-Jouet and G.H. Mumm champagne flows. The countdown to midnight will take place at Damien Hirst's Golden Mammoth, where there will be live musical performances, a fireworks display, and more surprises. General admission tickets start at $250 per person, will dinner plus admission starts at $650 per person and includes Faena house wines, spirits, and champagne.

Details: Faena is located at 3201 Collins Avenue, Miami Beach. For reservations, call 305-534-8800.
---
Celebrity Chef Richard Sandoval is bringing the heat this New Year's Eve with a buffet spread fit for royalty at his acclaimed Pan-Latin Steakhouse, Toro Toro. Guests will find all their favorite holiday fixings here, including a seafood and raw bar and indulgent desserts, plus one bottle of champagne per couple. They'll also enjoy access to an exclusive firework viewing area with a complimentary glass of champagne and grapes at midnight. The New Year's Eve dining experience is priced at $225 for adults and $99 for children ages 6-12 (it's free for kids age 5 and under). After the big countdown, Toro Toro's lobby bar and lounge will keep the festivities going with a DJ and dancers.

Details: Toro Toro is located at the InterContinental Miami, 100 Chopin Plaza, Miami. For reservations, call 305-372-4710. You can purchase tickets for the NYE dining experience here.
---
This iconic South Beach hotel invites guests to close the year out at LT Steak and Seafood, where they'll enjoy a five-course tasting menu curated by Executive Chef Danny Ganem. There will be live music all night, and if you make a reservation for the restaurant's second seating at 8 p.m. you'll enjoy midnight access to the hotel's rooftop terrace for a midnight champagne toast, a live band, and a prime view of the fireworks. Reservations for the first seating at 5 p.m. are $250 per person. Reservations for the second seating at 8 p.m. are $295 per person. If you're looking for a more laid-back family-friendly vibe, The Alley will offer an a la carte menu all evening long, spotlighting pizza, pasta and gelato specials — no reservation needed.

Details: The Betsy is located at 1440 Ocean Drive, Miami Beach. For reservations, call 305-673-0044 or visit www.thebetseyhotel.com/dine/lt-steak-seafood and www.thebetsyhotel.com/dine/the-alley for more information.
---
Head to any of Novencto's locations — Aventura, Brickell, Doral or Key Biscayne — on New Year's Eve and you'll enjoy a sumptuous three-course meal for just $99 per person. Then, stay for an after-dinner celebration set to beats by a visiting DJ, including party favors and a champagne toast at midnight.

Details: Novecento has locations in Aventura, Brickell, Doral, and Key Biscayne. For reservations and information, visit https://www.novecento.com/.
By Amanda Mesa, a contributing writer