We interviewed THE PIZZA SLUT™️ ahead of a charity Pizza Party benefitting the Parkinson's Foundation
Interview and words by the Lincoln Eatery's Alan Roth A few months back, an associate pointed out Kaleigh Gardner's Instagram page, @itsthepizzaslut. Of course, I started to follow her out of sheer curiosity. Who doesn't love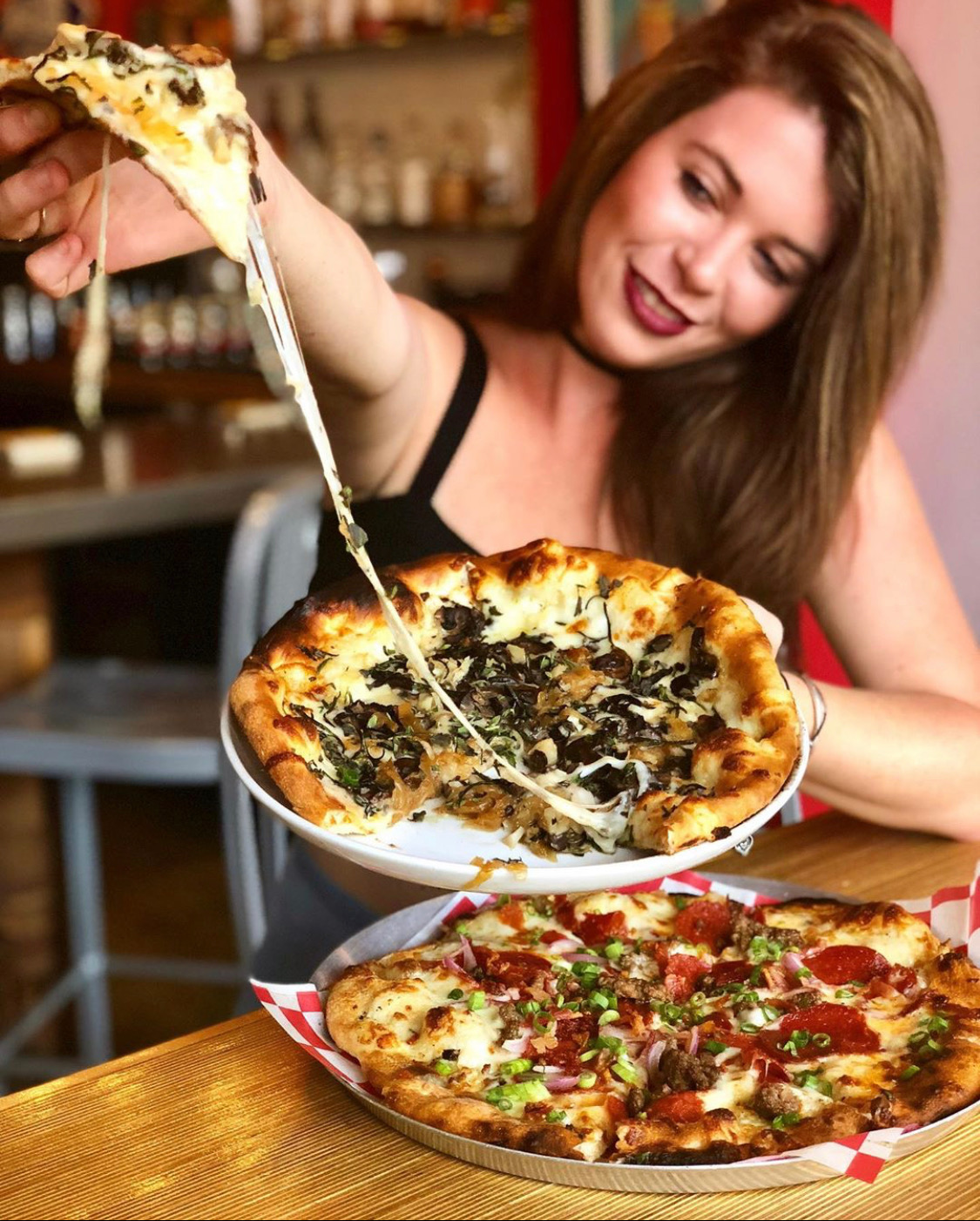 Interview and words by the Lincoln Eatery's Alan Roth
A few months back, an associate pointed out Kaleigh Gardner's Instagram page, @itsthepizzaslut. Of course, I started to follow her out of sheer curiosity. Who doesn't love a good pizza page? My wife was suspicious of the name at first, but after talking to Kaleigh, I quickly learned she is a pizza maker who loves to learn about and eat pizza. She takes what she does very seriously.
I chatted with Kaleigh so we could get to know her before she cooks at our charity Pizza Party benefitting the Parkinson's Foundation at the Lincoln Eatery in South Beach on October 16th. This laid-back, indoor-outdoor benefit event will run from 6-8 p.m. Attendees can register online here — the cost of admission is one pizza pie order for $25. All proceeds will benefit the Parkinson's Foundation. The Lincoln Eatery is located at 723 North Lincoln Lane, Miami Beach.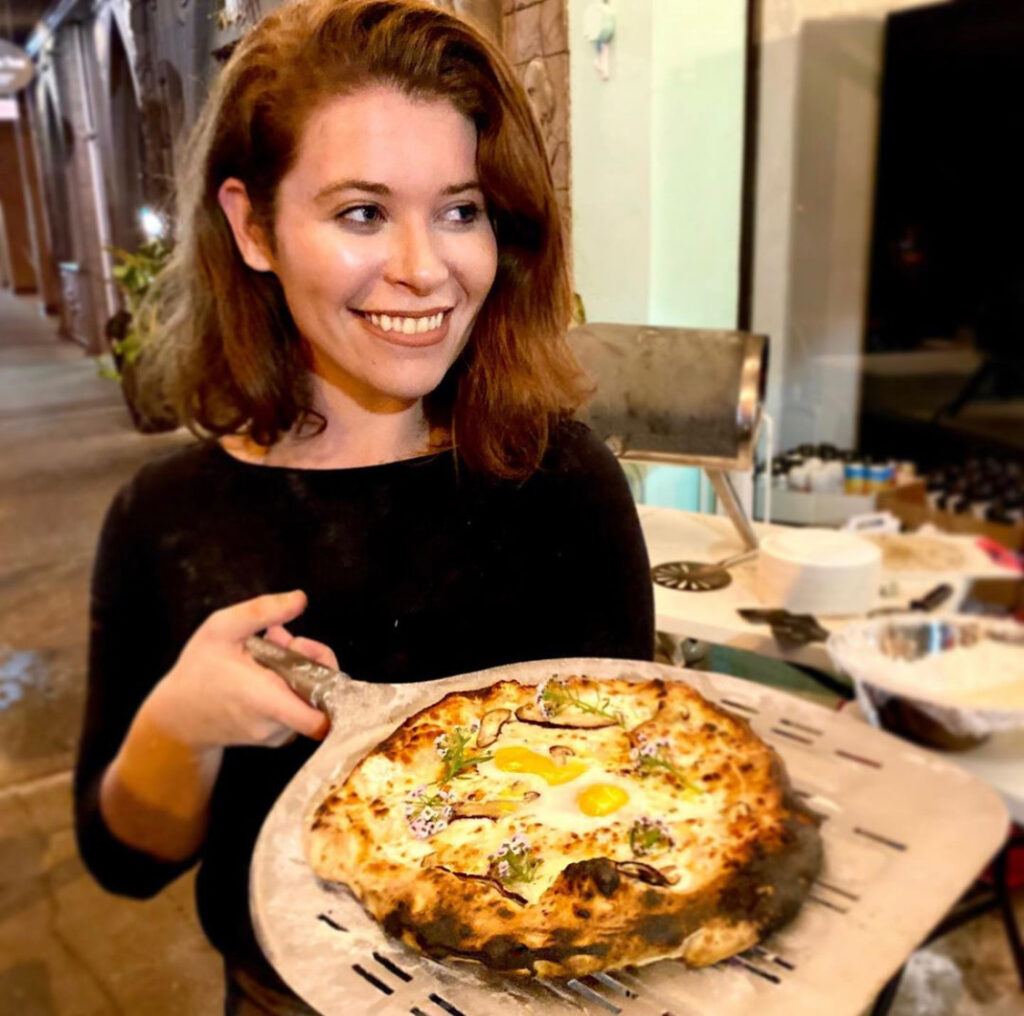 Where you from?
Kaleigh: I was born and raised in Florida! Born in Port St Lucie, and moved to the beachside of a small town, Vero Beach, during my childhood. Then to Orlando for high school, traveling across the country and out of the country throughout. I just turned 25 this summer!
Have you always loved pizza?
Kaleigh: Food, in general, has always had my whole heart. And I truly did [love pizza], but I didn't eat a lot of it as a kid. Neither of my parents are fond of pizza, and I remember Fridays specifically we would go to a little spot for pizza called Frank & Al's. And when I turned 18, I ate it every day for two years, almost. 
Is your family in the food business?
Kaleigh: Yes! Both of my parents are chefs! My mom is currently a food and beverage director here in Florida.
What's your favorite pizza spot?
Kaleigh: That's a tough one! I have eaten at almost 500 spots across the world…I would say a Neapolitan place, but instead, let's say an NYC-style spot. I frequently fly to NYC for a slice or square of Frank's pizza from Mama's TOO!
What's your favorite type of pizza?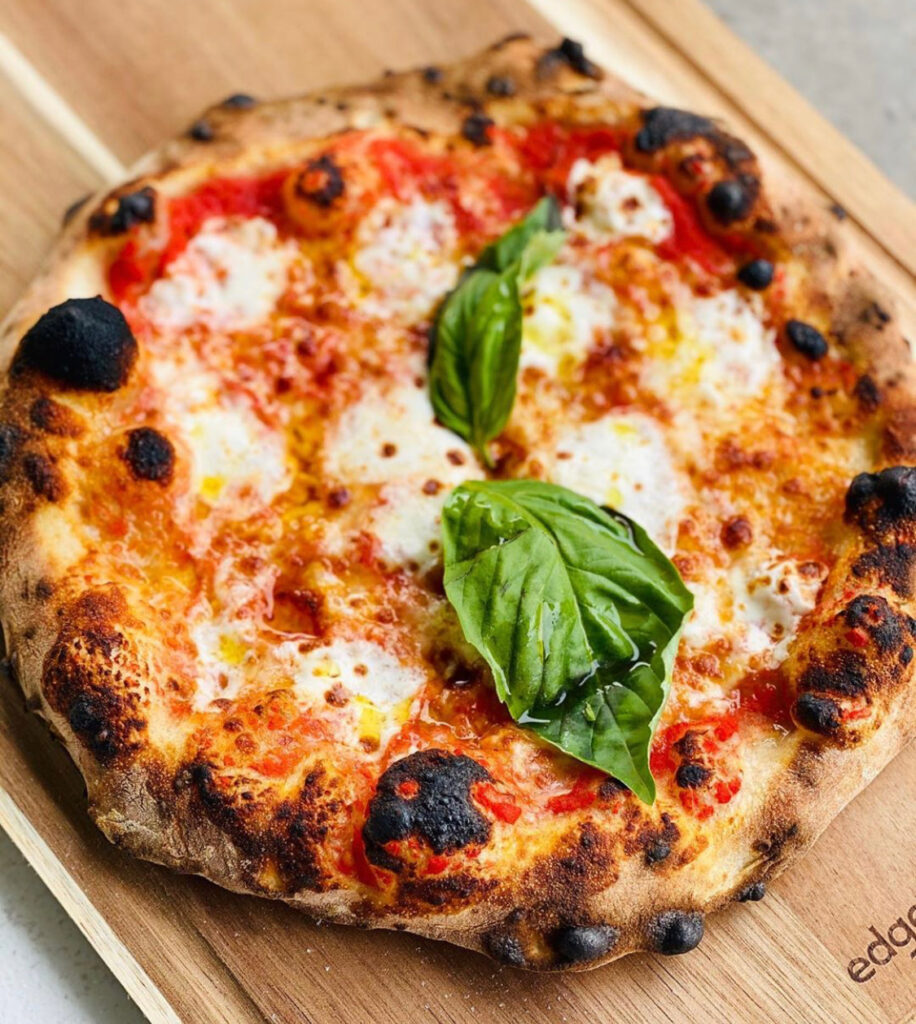 Kaleigh: I would say Neapolitan-ISH pizza! It's thin and crispy, but puffy and airy. I love when the crust is what shines.
Do you make pizza for yourself at home?
Kaleigh: Of course! I'm always experimenting with my sourdough and different styles of pizza, flavors, toppings. You can literally never learn enough about pizza.
What's your ultimate goal relating to this pizza journey?
Kaleigh: I just want to really be a bright voice in the pizza and food community! I want everyone to love pizza as much as I do; share my passion and love for pizza with other pizza makers or even people who solely just wanna indulge in good food. I love the taking over of restaurants, pop-ups, and collabs across the country so far. But who knows — maybe [I'll have] my own brick and mortar one day!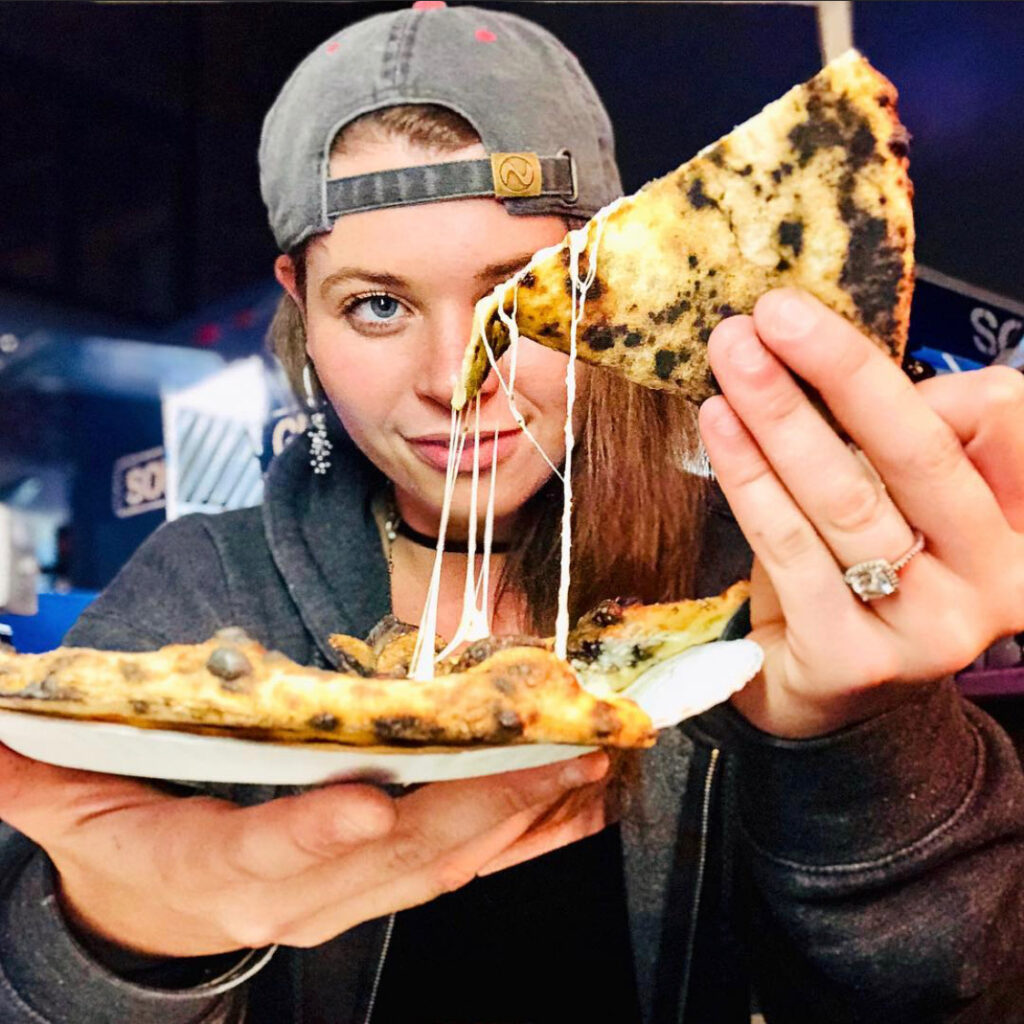 What kind of reactions have you received from your name?
Kaleigh: I'd say it's a hit or miss right off the bat. It definitely gets attention. But, as you get to know me or even talk to me for a minute while I'm slinging a pie for you or sharing my story, the word "slut" shouldn't even cross your mind. I've traveled for the past four years eating and learning about pizza in every aspect, which is why I called myself and my brand that.
Do people take your pizza making serious?
Kaleigh: I hope so. I think they do. I've learned and worked with some of the greatest people in the industry. All different types, and processes, cause every single person does everything differently, down to dough, to the way you top or fire it in the oven. So I really wasn't just eating pizza the past four years, but always asking to learn or stretch a pie. And I've taken all that and really just started practicing and letting my creativity take over. I hope my passion really shines through, and that my true colors and reason for loving pizza and making it for others shows!
What are you thoughts on Miami?
Kaleigh: I have NEVER had a bad time in Miami! So I'm super stoked to be coming down to make some pizza for everyone, as well as for a great cause.