How to make R House's Lechon Tostones
What you need for the pork/marinade: 4-6 lb. pork shoulder                4 cups of sour orange                             40 cloves of garlic                                   4 tbsp of salt                          2 tbsp of oregano                              2 tbsp of cumin                                  4 tsp of ground pepper                                   4 tbsp of rosemary                            4 tbsp of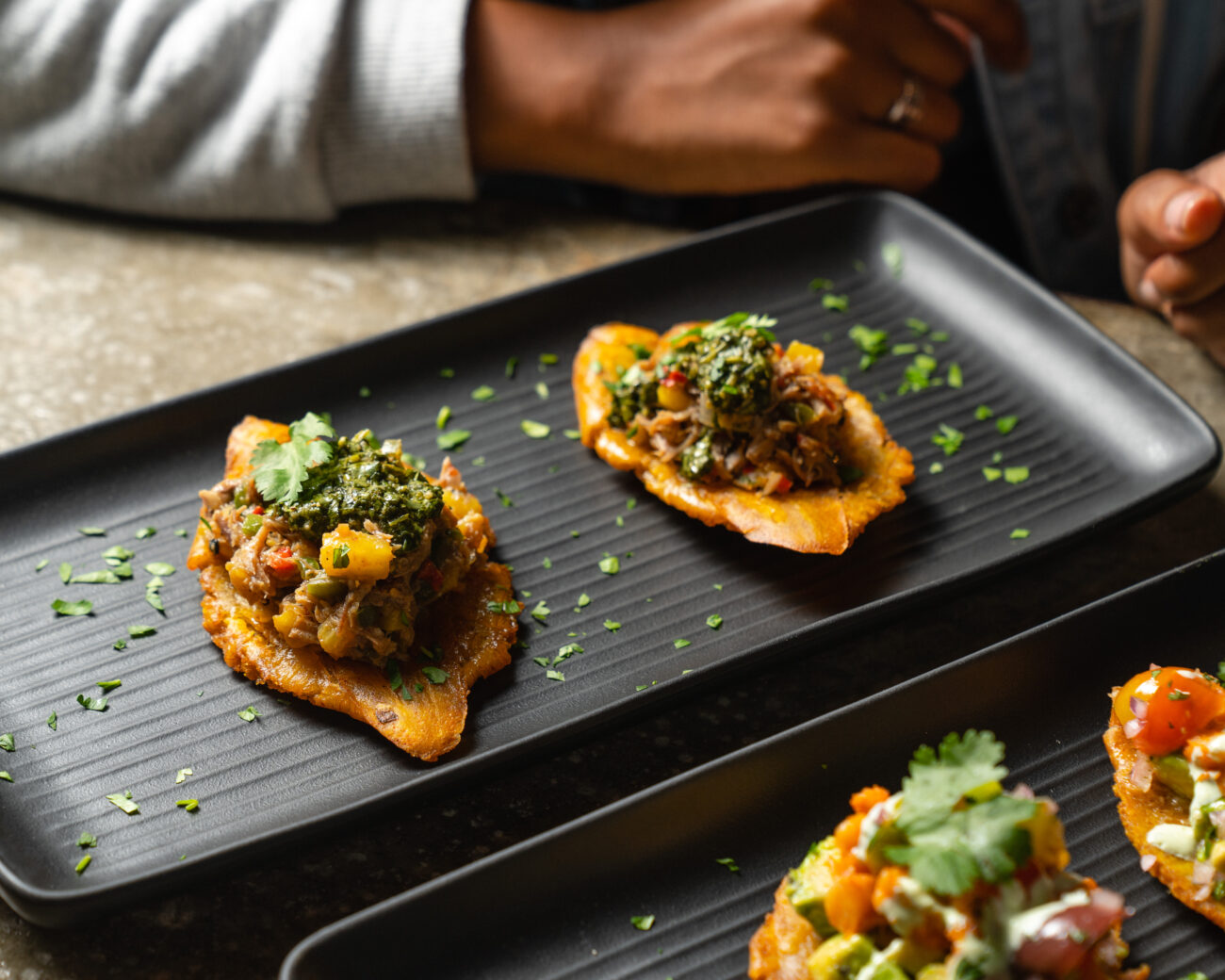 What you need for the pork/marinade:
4-6 lb. pork shoulder                
4 cups of sour orange                             
40 cloves of garlic                                   
4 tbsp of salt                          
2 tbsp of oregano                              
2 tbsp of cumin                                  
4 tsp of ground pepper                                   
4 tbsp of rosemary                            
4 tbsp of thyme                                                         
For the pork/skin:
4 lbs. of coarse salt                          
4 egg whites                           
½ cup of white vinegar                                    
½ cup of apple cider vinegar
For the prepared lechon mix:
2 tbsp of olive oil
10 oz. of diced pork
18 oz. of pineapple slices
4 tbsp of shallots
4 tbsp of green bell pepper
4 tbsp of red bell pepper
4 tbsp of red onion
2 tbsp of jalapeno      
For the mojo verde:
2 cloves of garlic
1 tsp of salt
½ tsp of cumin
¼ tsp of course ground pepper
1 ½ bunches of cilantro
4 tbsp of lime juice
½ cup of olive oil 
For the tostones:
2 platanos
¼ cup of pork mix
1 tsp of mojo verde
Fresh cilantro leaves to garnish
How to make it all:
Preheat the oven to 350 degrees. Begin by preparing and roasting your pork shoulder joint in the oven. Before roasting, marinade the pork shoulder overnight then cover with salt.
At R House our marinade is made with sour orange juice, chopped garlic, salt, oregano, cumin, ground pepper, rosemary, and thyme. We then make a thick salt coating using coarse salt, egg white, regular vinegar and apple cider vinegar. Roast the marinated pork shoulder in the oven for 2 hours. After roasting, remove the salt crust – this salt will have taken on lots of flavor and can be used to season
the dish just before serving – then cool, de-bone, and dice the meat into small chunks. Prepare a simple sofrito by sauteeing four tablespoons each diced shallots, green bell pepper, red bell
pepper, and red onion and two tablespoons diced jalapeños. Separately, grill 9 oz. of pineapple slices until dark grill marks form. Dice the pineapple then add to your sofrito mix. When mixed well, add 5 oz. diced pork and continue to mix. Next, to make the tostones, fry 16 thick slices of platano. After initial frying, smash platano slices so they form thin and wide slices, then re-fry until golden brown. When crispy, remove from the pan and pad off any excess oil. Place the toston slices on large plates, then on each piece place a quarter cup of your pineapple-pork mix. Place 1 teaspoon of mojo verde on top then season with the salt from your original salt crust. Garnish each toston with cilantro leaves then serve!