Morton's the Steakhouse's Crispy Diablo Squid
Crispy Diablo Squid from Morton's the Steakhouse serves two Ingredients Diablo Glaze: 4 oz fresh ginger, peeled 2 whole garlic cloves 1 oz sesame oil 1 c orange juice 2 c white vinegar 1/2 c sambal chile paste 3 c sugar 2 Tbsp cornstarch 2 Tbsp orange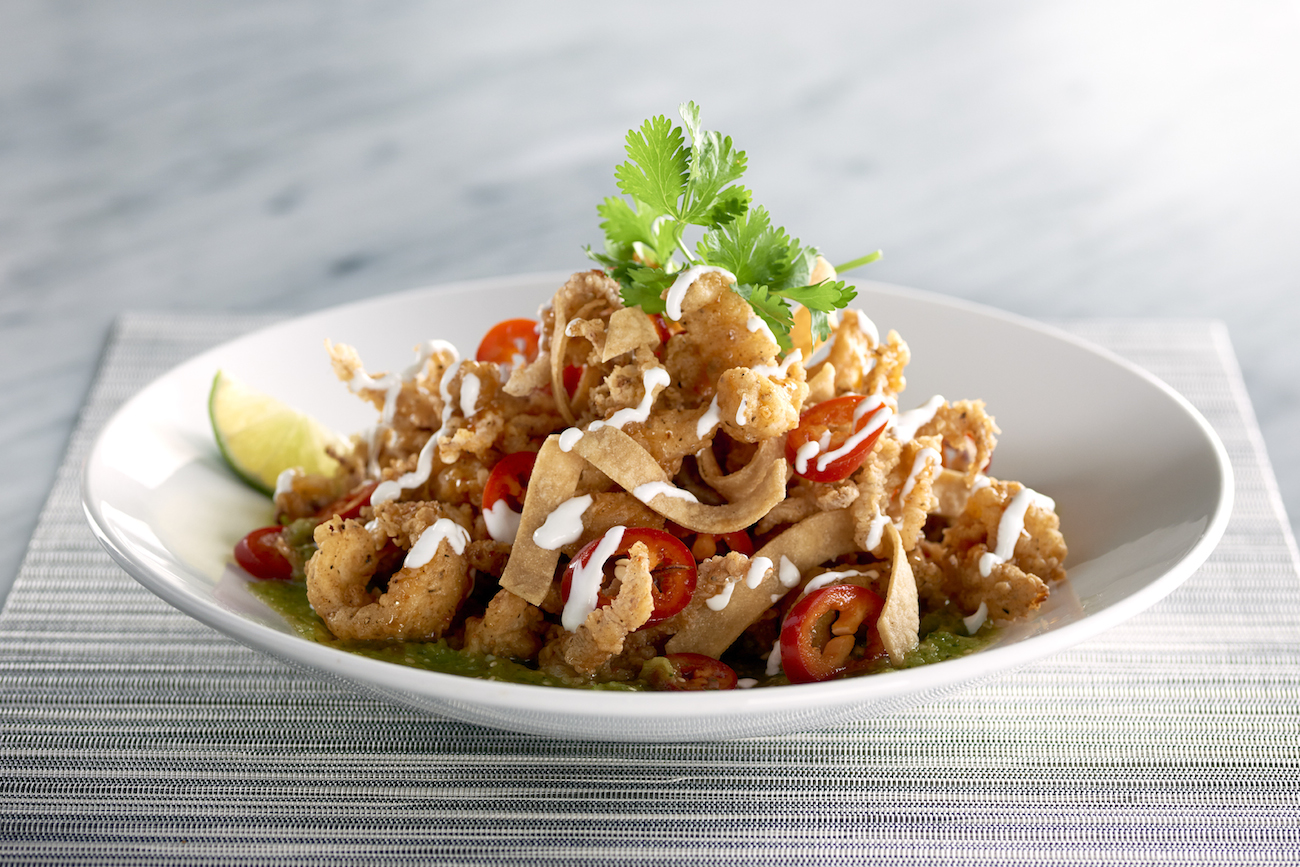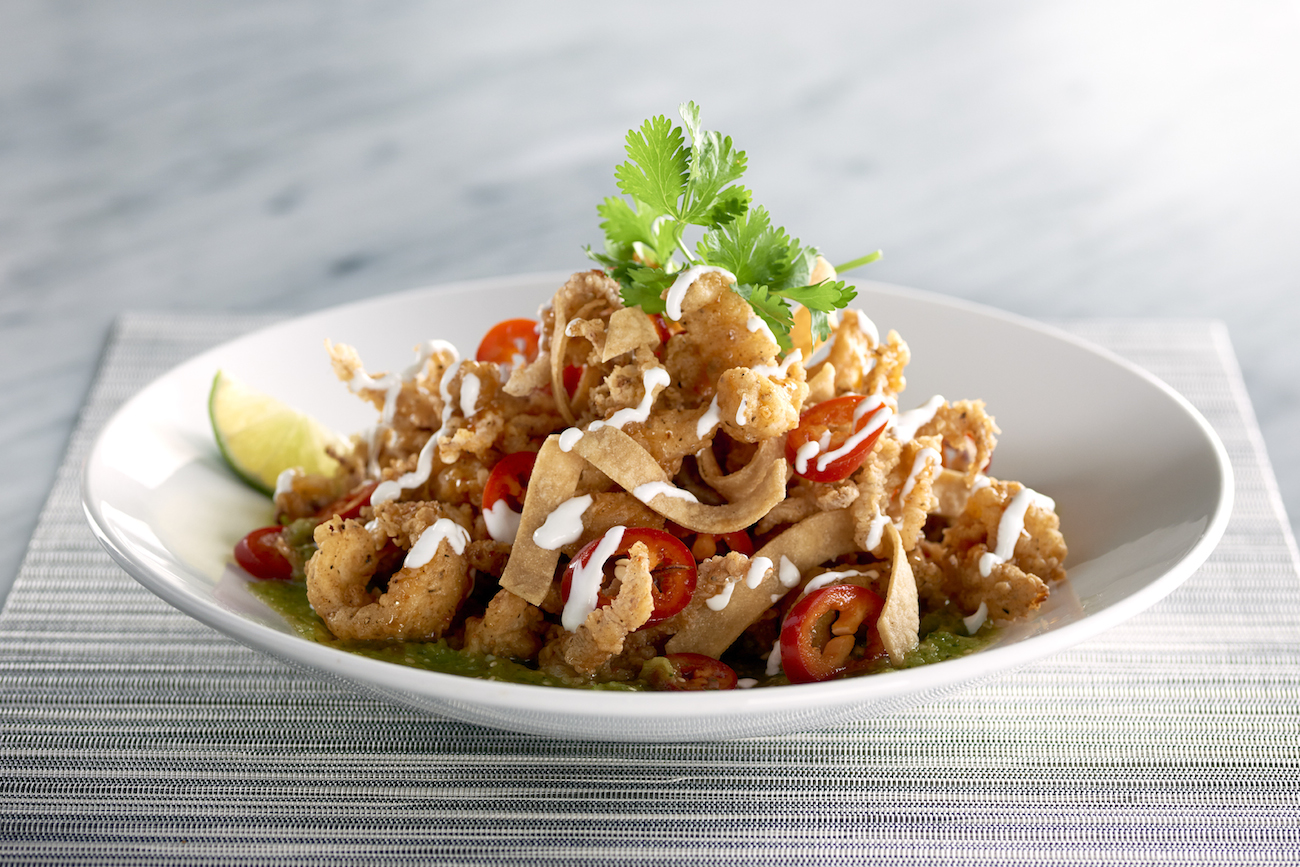 Crispy Diablo Squid from Morton's the Steakhouse
serves two
Ingredients
Diablo Glaze:
4 oz fresh ginger, peeled
2 whole garlic cloves
1 oz sesame oil
1 c orange juice
2 c white vinegar
1/2 c sambal chile paste
3 c sugar
2 Tbsp cornstarch
2 Tbsp orange juice, divided
Calamari:
8 oz calamari squid (including tubes and tentacles)
1 c cold water
1 tsp Cajun spice
1 tsp Old Bay seasoning
2-4 qts vegetable oil
For frying:
2 c all-purpose flour
1 tsp paprika
1 tsp salt and pepper
4 oz crispy tortilla strips
1 red Fresno chile, thinly sliced
Garnish:
2 oz salsa verde, mild (any brand)
2 Tbsp lime crema (store-bought)
1 bunch fresh cilantro leaves
1 lime, cut into wedges
Method
For the Diablo Glaze: In a medium-sized saucepan over medium heat, add the ginger, garlic, and sesame oil. Cook until browned and fragrant, about 10 minutes. Add orange juice, vinegar, sambal, and sugar, and bring to a boil. Reduce heat to a simmer and cook over low heat for 10 minutes until all the sugar is dissolved.
Make a slurry with the cornstarch and 2 tablespoons orange juice, and whisk until smooth. Whisk the slurry into the simmering mixture and allow the glaze to thicken. Continue cooking over low heat for 15 minutes while whisking occasionally until the starch is completely incorporated.
Remove from heat and pass the glaze through a large-holed strainer to catch the ginger and garlic, but allow the crushed chile to come through. Set aside, or store in the refrigerator.
For the calamari: Rinse the calamari under cool water and pat dry with paper towels. Cut the body of the squid into 1/2-inch rings and trim the tentacles as necessary. Combine the water, Cajun spice, and Old Bay in a bowl; mix with a fork. Put the prepared calamari in the water mixture and store in the refrigerator until chilled, about 15 minutes.
Pour about 2-3 inches of oil to a fryer (or large, heavy pot) and heat to 350 degrees. Mix the flour and paprika in a pie dish or plate and season with salt and pepper. Drain the calamari from the seasoned water and toss in the seasoned flour to coat. Shake off the excess.
Carefully add to the hot oil and fry for 1 to 3 minutes or until golden brown. Using a slotted spoon, transfer the fried calamari to paper towels to drain.
To serve: In a large bowl, toss the hot fried calamri with tortilla chips, sliced chile, and the Diablo Glaze until lightly coated. Spoon the salsa verde onto a serving platter and top with glazed calamari and tortilla mixture. Drizzle lime crema over the calamari, and garnish with cilantro leaves and lime wedges.