Recreate these recipes from some of your favorite Grove Bay spots
Grove Bay Hospitality Group has been creating a variety of whimsical, fresh and delicious restaurants for a decade. The masterminds behind some of Miami's most cherished eateries like Glass & Vine and Stiltsville are sharing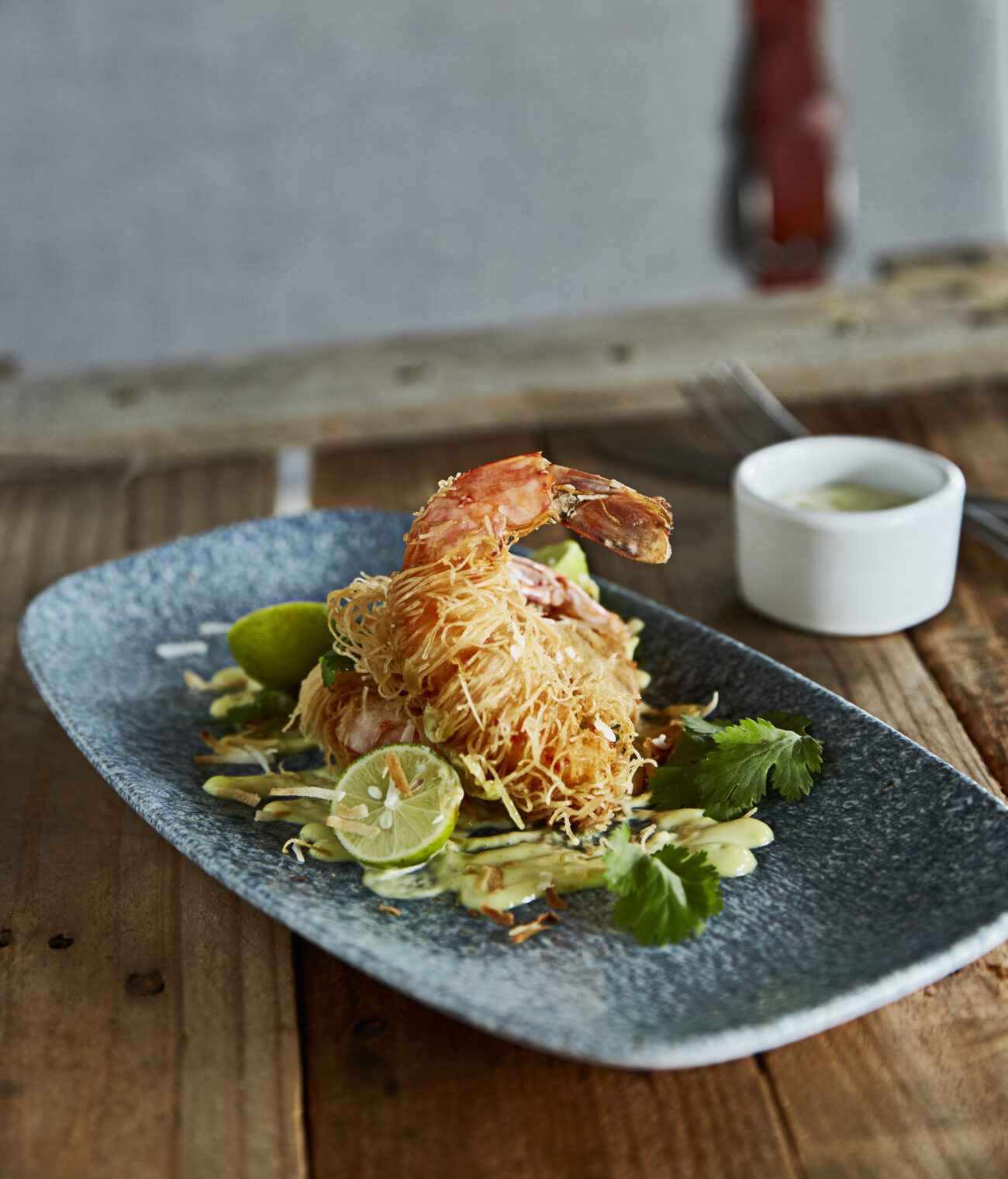 Grove Bay Hospitality Group has been creating a variety of whimsical, fresh and delicious restaurants for a decade. The masterminds behind some of Miami's most cherished eateries like Glass & Vine and Stiltsville are sharing with us some top-secret recipes that you can now make at home. Each restaurant's recipe is a staple dish so regardless of what you're craving, we have got you covered. Pick a favorite or challenge yourself to make them all, it's all up to you.
Restaurant: Stiltsville
Recipe: Coconut Shrimp
Ingredients for the coconut shrimp:
1 box, kataifi shredded filo dough
12 Royal Red or Key West pink shrimp, peeled and deveined, tails left on
1 quart, coconut oil
Sea salt
Ingredients for the cilantro-key lime aioli:
1/4 cup, key lime juice
1 tablespoon, honey
1/2 teaspoon, salt
1/4 cup, grapeseed oil
1 handful cilantro leaves, picked
1 handful basil leaves, picked
1½ cups mayonnaise, cold
Separate the filo dough removing about 4-5 dozen strands and roll them around the shrimp, like a mummy from top to bottom and back again. Place on paper towel-lined tray until ready for cooking.
In a large fry pan heat approximately 1/2-inch amount of coconut oil at approximately 350°F over high heat. Carefully add 6 shrimp and pan fry for about 1 minute until golden and flip over and pan fry for about 45 seconds until crispy. Repeat these same steps and fry the remaining 6 shrimp. Season shrimp with salt while hot.
Directions for the cilantro-key lime aioli:
Using a high-powered blender add lime, honey, oil, salt, cilantro and basil. Turn blender on medium-high speed and blend until smooth. Add the cold mayonnaise and blend again until the aioli is bright green and smooth, about 45 seconds.
Yield – 12 shrimp
Restaurant: Glass and Vine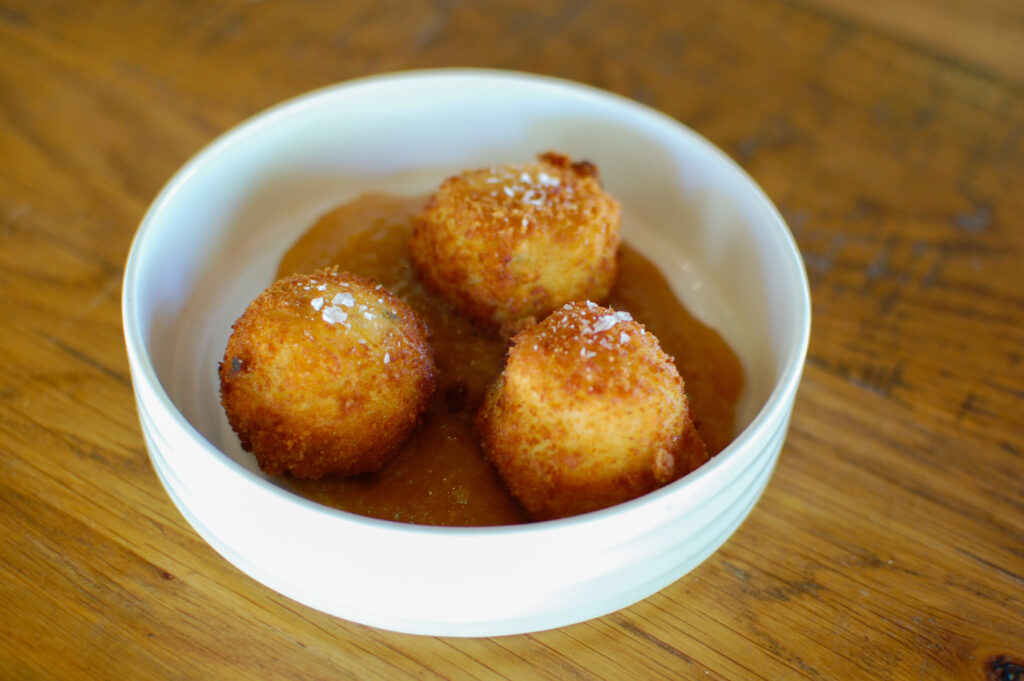 Recipe: Carbonara Bacon Arrancini with Black Truffle Aioli
Ingredients:
1 tbsp extra virgin olive oil
4 ounces apple wood smoked bacon
½ yellow onion, finely chopped
8 cloves garlic, minced
Kosher salt
Black pepper
1 cup + 1 tablespoon all-purpose flour
1/3 cup chopped Italian parsley
1 cup + 1 oz grated grana padano cheese
3 cups cooked and cooled arborio rice
3 large eggs, 1 beaten and 2 separated
1 cup panko breadcrumbs
Canola oil, for frying
In a medium saucepan, heat the olive oil. Add the bacon cut into ¼ in strips and cook over moderately high heat, stirring occasionally, until browned and nearly crisp (5 minutes). Using a slotted spoon, transfer the bacon to paper towels to drain.
Add the onion and a generous pinch of salt to the saucepan and cook over moderate heat, stirring occasionally, until the onion is softened and well browned (12 minutes). Stir in 1 tablespoon of the flour and cook until a paste forms. Gradually whisk in 2 cups of milk and bring to a simmer, then cook over moderately low heat, whisking, until thickened and no floury taste remains (5 – 7 minutes). Scrape the onion béchamel into a medium bowl and stir in the bacon, parsley, 2 tablespoons of the cheese, 1/2 teaspoon of salt, and the crushed pepper. Let the filling cool completely.
In a large bowl, mix the rice with the beaten egg and the 2 egg yolks until evenly coated. Stir in the remaining 1 cup of grana padano cheese until the rice becomes sticky.
Line a large baking sheet with wax paper. Scoop 3 packed tablespoons of the rice mixture into one moistened hand and press it into a 3 1/2-inch round. Scoop 2 teaspoons of the cooled filling into the center and wrap the rice around it, pressing to form a tight ball. Transfer to the baking sheet. Repeat with the remaining rice mixture and filling to make 14 arancini.
Place the breadcrumbs and the remaining 1 cup of flour in 2 separate shallow bowls. In another shallow bowl, beat the egg whites until frothy. Dust the arancini with flour, tapping off the excess. Roll them in the beaten egg whites and then in the breadcrumbs. Transfer the arancini to the baking sheet and refrigerate, uncovered, until firm, about 1 hour.    In a large saucepan, heat 2 inches of canola oil to 350°. Add half of the arancini to the hot oil and fry over moderate heat, turning occasionally, until golden and heated through, about 4 minutes. Using a slotted spoon, transfer to paper towels to drain. Repeat with the remaining arancini. Pile the arancini on plates or a platter, garnish with grated grana padano.
Ingredients for the black truffle aioli:
1 cup, Dukes mayo
1 tablespoon, black truffle paste
½ cup, Greek yogurt
2 cloves, minced garlic
1 ½ teaspoon, lemon juice
1 tsp, freshly ground black pepper
1 pinch, Kosher salt
Add all ingredients into a bowl and mix until incorporated.  Transfer into an airtight container, refrigerate and store for up to 2 weeks.
Restaurant: Mi'talia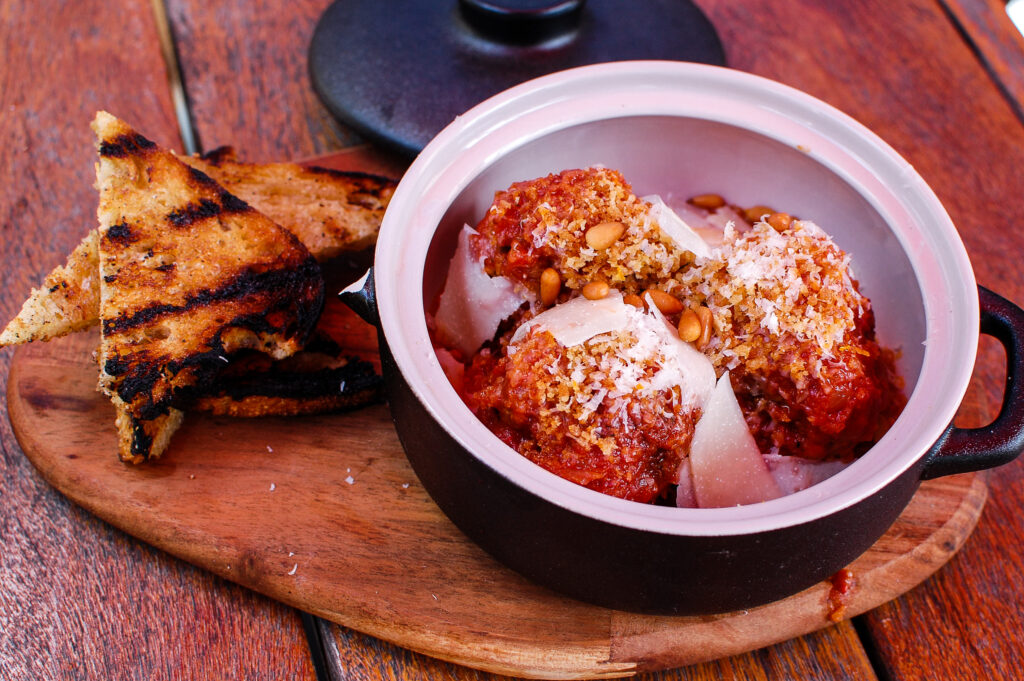 Recipe: Mi'talia's Signature Meatballs
Ingredients:
1.5 lbs,  ground beef (80/20 beef blend)
4 cloves, garlic, minced
1 each, large egg
1/3 cup, grated parmesan
25 grams, milk
50 grams, panko bread crumb
2 tsp, diced Fresno chili
2 tsp, diced fresh rosemary
2 tsp, diced fresh parsley
½ tsp, sumac
1 tsp, orange zest
1 tbsp, kosher salt
½ tsp, black pepper
 8 basil leaves, chopped
Mix all ingredients together, careful to not over mix. Using a scale, weigh out 2oz balls and roll with hands until smooth and round. Once balls are formed, let rest for at least 30 minutes in the refrigerator. To cook, fry in a deep fryer set at 400F for 45 seconds, remove from oil, transfer into a baking dish. Cover with your favorite marinara sauce and bake for at 350F for 20 minutes. Pro tip – Serve with fresh ricotta cheese and crunchy garlic bread.
Yield – 16, 2 oz meat balls
Restaurant: Root & Bone
Recipe: Pimento Cheese Crudité
Ingredients for the pimento cheese:
1.25 lbs, cream cheese
3 lbs, grated sharp cheddar cheese
1.5 cups, Duke's mayonnaise
2 cups, roasted red bell peppers, chopped
2 cups, chopped pickles
¾ cup, Spanish onion, grated
1 tbsp, Kosher salt
½ tbsp, black pepper
1 ½ tbsp, Tabasco sauce
Ingredients for the crudités
Baby carrots
Watermelon radishes
Celery stalks – 4 inches in length
English cucumber sliced
Broccoli flowerets
Mini bell peppers
Endive
Place cream cheese in an electric mixer and beat until smoother.  Add all of the remaining ingredients until thoroughly mixed.  Taste for seasoning and refrigerate until needed. Wash and prepare vegetables into bite size pieces, arrange on a platter, serve with a large bowl of pimento cheese. Yield – 2 cups.
By Christie Galeano-DeMott