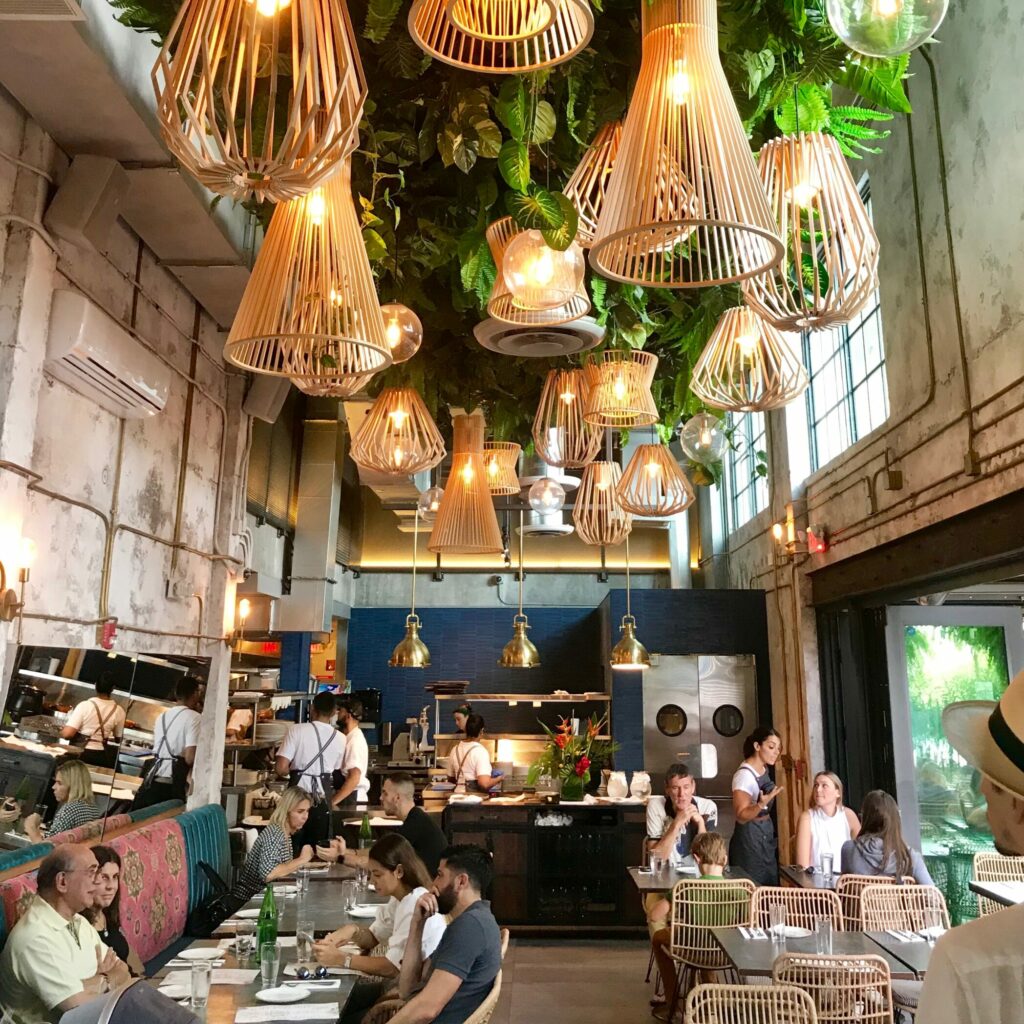 Vista Miami
At Vista Miami, seafood and vegetables are the stars of the show. Inside this two-story eatery, guests will find a diverse menu with Mediterranean influences galore. Portions are large and designed for sharing. Hearty, delectable selections, like Fisherman's Crudo with mango salad and Zucchini Flowers will have you fighting over the last piece. Even lighter selections like the Beet Salad are sizeable enough to double as a full meal—leftovers are not uncommon.
Mains run the gamut from Branzino and Seared Scallops to Maltagliati, Wagyu Bavette, and the ever-popular Vista Burger. Wash everything down with a bourbon-based Stone Sour or another stiff drink from the creative cocktail list. Once dinner is done, head up to the restaurant's rooftop for more libations and some mingling; the bar offers a distinct view of Upper Buena Vista.
Word of advice: Bring friends along for the experience. Vista Miami's extensive menu is best enjoyed with a group, as there's just so much to consider!
Sample Menu Selections
starters::
Burrata   19
12-year balsamic, citrus confit baby heirloom tomatoes, and maldon salt
Crackling Calamari   19
Sesame salt, pickled peppers, and Meyer lemon sabayon
Seared Scallops   20
Boniato purée, charred scallions, brown butter, and onion dust
Octopus   24
Grilled artichokes, black bean hummus, yuca crocante, baby potatoes, and salsa verde

from the farm::
Beet Salad   16
Fennel, apple, basil bread crumbs, and Greek yogurt
Artichokes and Greens   16
Haricot vert, avocado, charred artichokes, mixed greens, and lemon vinaigrette
Zucchini Flowers   18
Smoked eggplant, dried mangos, wild rice, pistachio, cilantro buttermilk, and piquillo emulsio
Grilled Pear   15
Arugola, stracciatella, toasted pine nuts, and lemon vinaigrette
mains::
Niman Ranch 12oz Bone-Out Rib-Eye   42
Bonita purée and demi glace
Salmon a la Plancha   26
Boniato purée, scallions, and fermented black bean vinaigrette
Wagyu Bavette   36
Cafe du Monde Coffee and Chicory spiced rub, chocolate butter, and island couscous
Frito Misto   30
Shrimp, calamari, octopus, local catch, house-cut fries, and coleslaw
Veal Milanese   26
Arugula, tomatoes, and Parmigiano-Reggiano
Branzino   30
Spinach and heirloom tomato butter
Vista Burger   20
Sundried tomato spread, arugula, heirloom tomato, mozzarella, and bacon
Cioppino   32
Shrimp, calamari, octopus, scallop, catch of the day, white wine, fennel broth, and Sullivan St. toast
Contact Information
5020, Northeast 2nd Avenue, Little Haiti, Miami, Miami-Dade County, Florida, 33137, United States
Contact Listings Owner Form