11 Recipes From Miami Restaurants and Bars to Try During Coronavirus Lockdown
As we all practice social distancing due to COVID-19 lockdown, we have a lot of time in our hands to try new recipes. Some of us are occupying ourselves with sourdough starters, some of us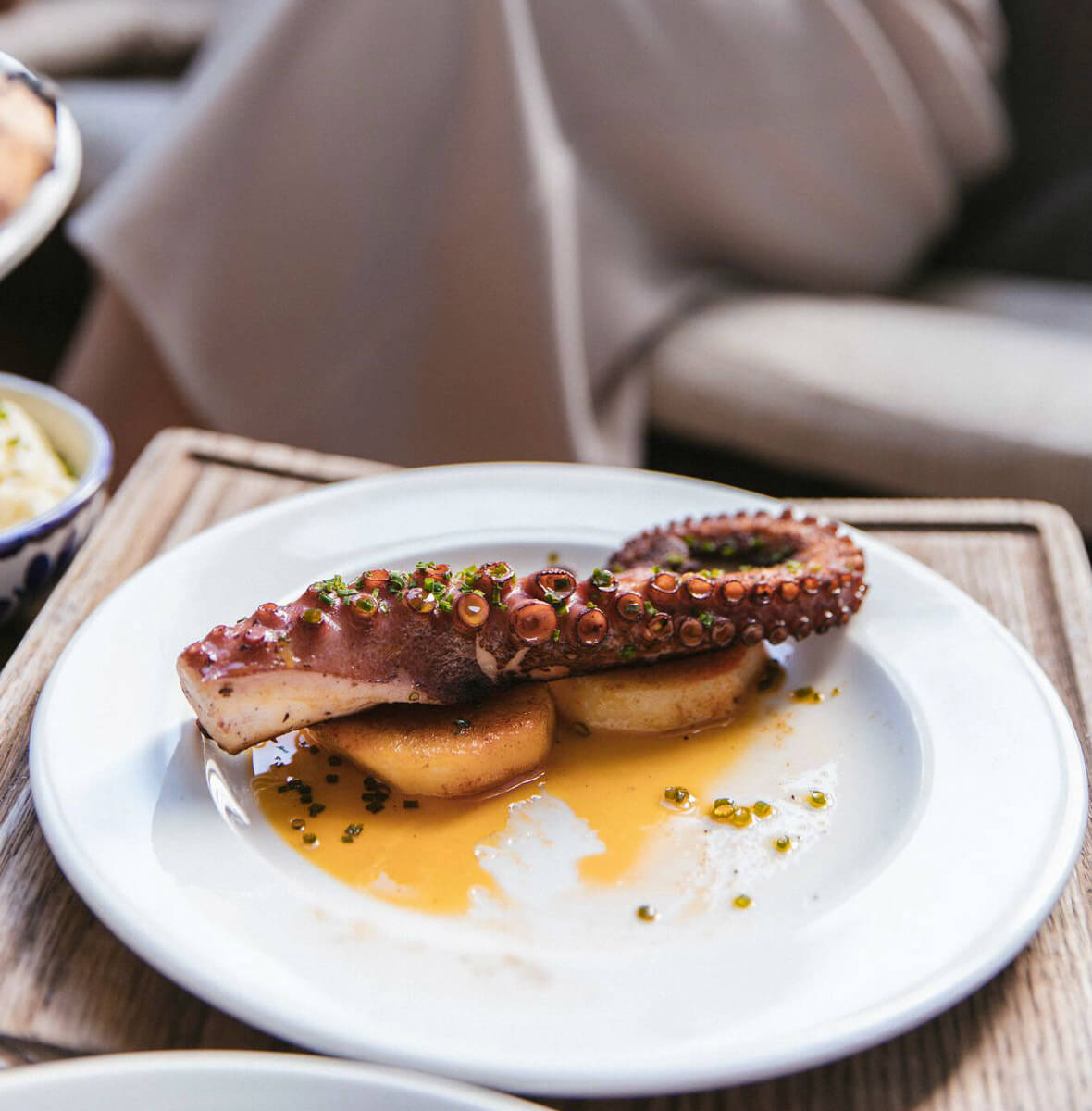 As we all practice social distancing due to COVID-19 lockdown, we have a lot of time in our hands to try new recipes. Some of us are occupying ourselves with sourdough starters, some of us are spending more time cooking. We have rounded up 11 recipes we have received from Miami restaurants and bars for you to try.
1. Stuffed Zucchini from Meraki Greek Bistro
Ingredients
8 medium round or white zucchini
1 pound of ground beef
1 onion, finely chopped
4 full spoons of chopped parsley
1/3 cup olive oil
½ cup Glacé rice
½ cup of water
2 medium potatoes, chopped in quarters
2 eggs
Juice of 1 lemon
Salt and pepper to taste
Directions
Cut the top off of the zucchini and carefully empty the insides.
Chop all fresh herbs.
Heat half of the oil in a large pan and cook on medium heat and add the onion.
Add the ground meat and raise heat to medium-high using a wooden spoon to break down the meat and mix with the onion.
Stir in the parsley, dill, rice, salt, and pepper (to taste) and lower the heat and stir for around 2-3 minutes or until all ingredients are mixed together.
Add ½ cup water to the pan and let it boil until the liquid is absorbed all over, stirring so the ingredients don't stick to the pan.
Fill the zucchini with the meat mixture and close them with their "lids".
In the same pan, place the stuffed zucchinis upright and add pieces of potatoes around them to make sure they stay still.
Then, add water to the pan to 2/3 to the top of the zucchinis along with salt and pepper (to taste).
Lower the heat, cover the saucepan and simmer for about 40 minutes until soft.
Remove the zucchinis from the pan and add them to an oven-safe serving container.
Start beating the eggs, pour in the lemon juice, and continue to beat them. Warm the egg-lemon mix by adding a little bit of broth from the pan.
Add the mixture to the pan and stir until it starts to boil. Pour it over the zucchini and serve.
2.Greek Stuffed Peppers from Meraki Greek Bistro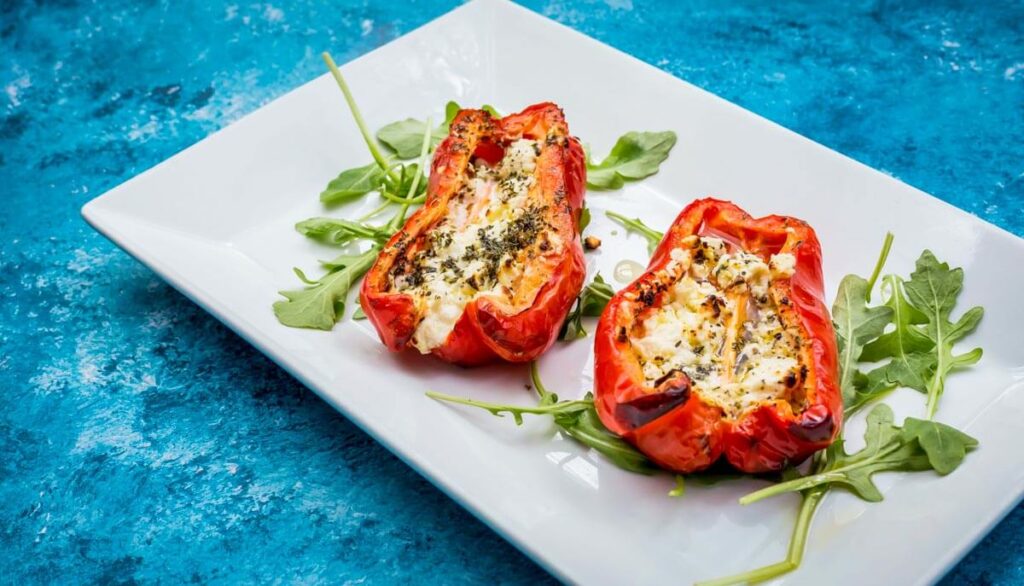 Ingredients
3 onions
2 potatoes
6 tomatoes
3 peppers
4 tablespoons extra virgin olive oil
1 ½ grams Glacé rice
2 ½ cups of water
2 tablespoons of minced garlic
Salt and pepper to taste
1 small bunch parsley
1 small bunch spearmint
1/3 small bunch dill
1 tablespoon of tomato paste
Directions
Preheat oven to 375 degrees.
Chop onions, all fresh herbs and garlic (keep separate).
Remove insides of the tomatoes.
Remove insides of the peppers and place them on a cooking tray.
Heat oil in a pan on high heat. Add onions, garlic and cook until golden.
Season to taste with salt and pepper.
Add and sauté the rice for 3-4 minutes until it absorbs all the liquid.
Add 1 tablespoon of tomato paste and sauté.
Add 1 ½ cups water and cook for 5 minutes.
Turn off the heat and continue to stir.
Add the filling removed from the tomatoes; add in the herbs (save a bit for serving) and continue to stir with no heat.
Add the filling to the peppers with a spoon; whatever stuffing is left add it inside the tray.
Add 1 cup of water inside the cooking tray.
Sprinkle with olive oil, cover with aluminum foil and bake for 60 minutes on 375.
Remove the aluminum foil and bake for another 10-20 minutes until the liquids evaporate.
Sprinkle with olive oil and the remaining fresh herbs and serve.
3.Linguine and Clams from Steve Martorano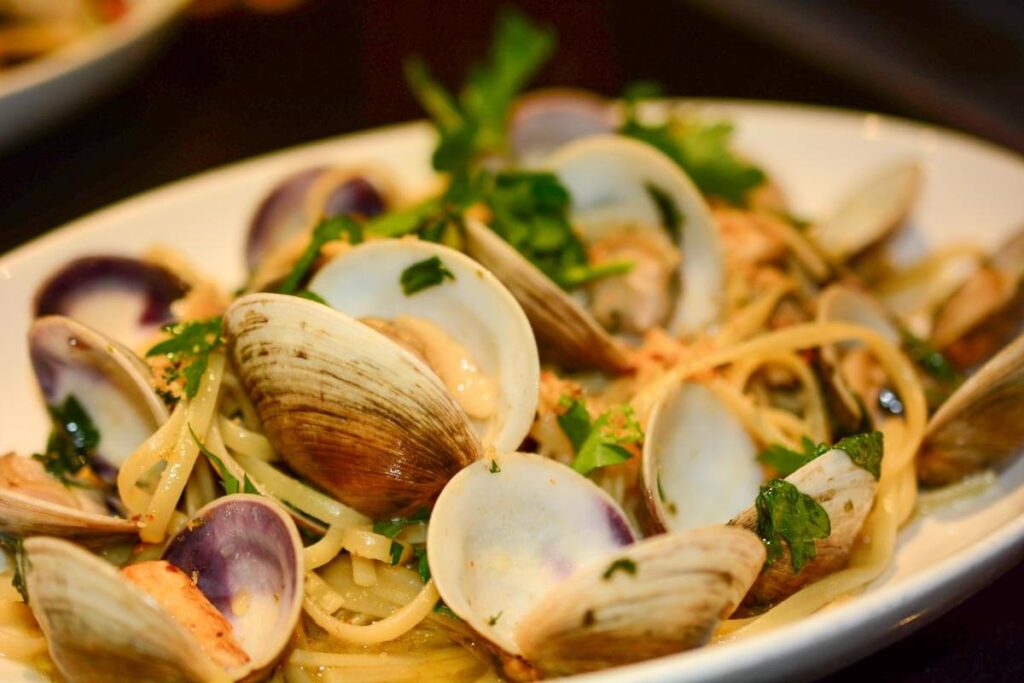 Ingredients
25 littleneck clams (washed underwater)
1/4 cup or 4 tablespoons extra virgin olive oil
4 Large garlic cloves smashed
1 pinch Tutto Calabria red pepper flakes
1 pinch Tutto Calabria oregano
2 teaspoon coarse Italian parsley
¼ cup dry white Santa Margarita pinot grigio wine
5 ounces gentile linguine
Instructions
In a medium-sized sauté pan heat oil with the smashed garlic and red pepper flakes.
Cook ingredients until the garlic are golden brown but not burnt.
Remove the pan from the heat and add in the 25 littleneck clams. Also, add in the Santa Margarita wine and cover the pan. It will begin to bubble.
Next, add in the clam meat, along with coarsely chopped parsley, and oregano.
Put on medium heat and in 5-6 minutes, shake the pan with the lid on. At this point, the shell of the clam should open. If not, disregard the clams with an unopened shell.
Meanwhile, in salted boiling water cook the linguine until al dente (firm), remove from the water, and toss macaroni in with the littleneck clams and natural clam sauce.
Finally, plate into a bowl and garnish with a touch of Extra Virgin Olive Oil, red pepper flakes, and fresh parsley.
4. Pulpo a la Plancha (Grilled Octopus) from Quinto la Huella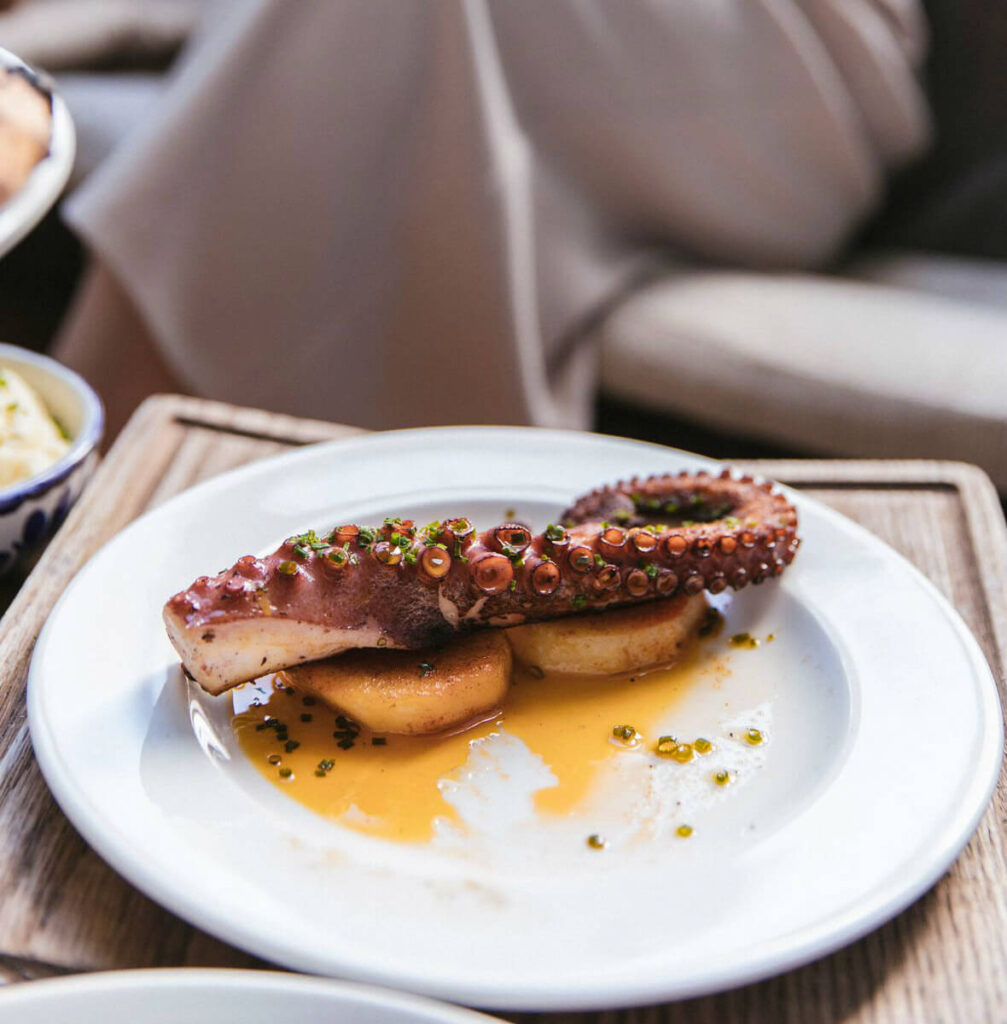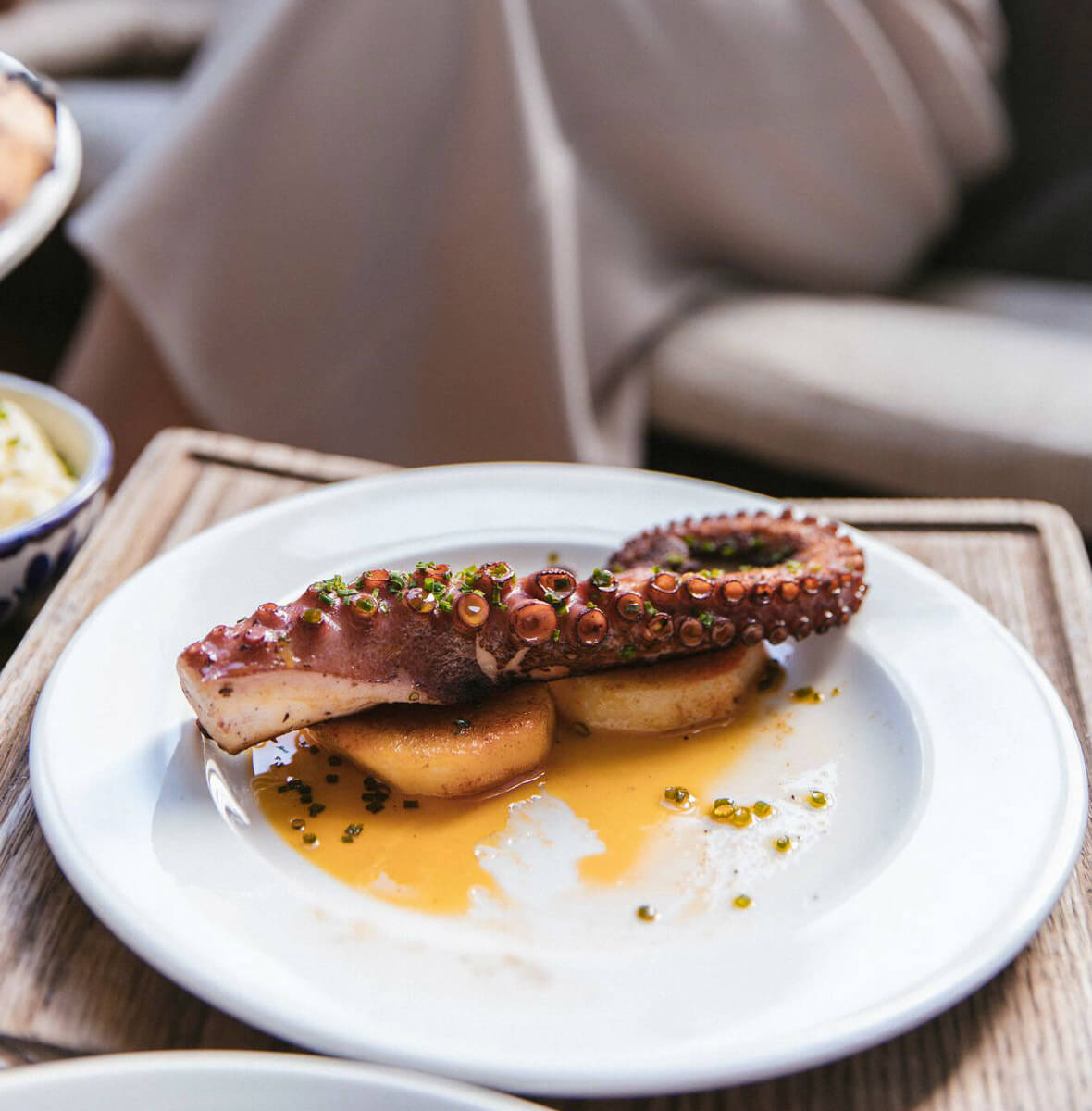 Ingredients:
1 Octopus of 3 pounds
6 medium potatoes
3 cups + 5 tbs extra virgin olive oil
1 tbs paprika
2 tbs chives/ciboulette
Instructions
Cook the octopus. Separate the tentacles and set aside (the rest of the octopus is not used in this recipe). Peel the potatoes and cut them into 1 cm thick slices. Place them in a saucepan and bathe them with 3 cups of olive oil, so that they are submerged. Bring them to very low heat (between 110 and 120 ° C) for approximately 30 minutes. When they are tender by pricking them with a toothpick or skewer, remove them and place them on a baking sheet. Sprinkle with salt and hot paprika, bathe them with 2 tablespoons of olive oil (to moisten the paprika) and take them to a strong oven (200 ° C) for a few minutes to heat and brown the paprika. As they bake, heat a skillet over high heat with a tablespoon of olive oil and brown the tentacles. Turn them over to cook them on all sides; when they are very golden brown and the crust begins to get crispy, they will be ready to serve. On each plate, place 3 or 4 potato slices; on top, a tentacle. Bathe with the last jet of extra virgin olive oil and finish with ciboulette or chopped parsley.
5. Volcan Dulce de Leche from Quinto la Huella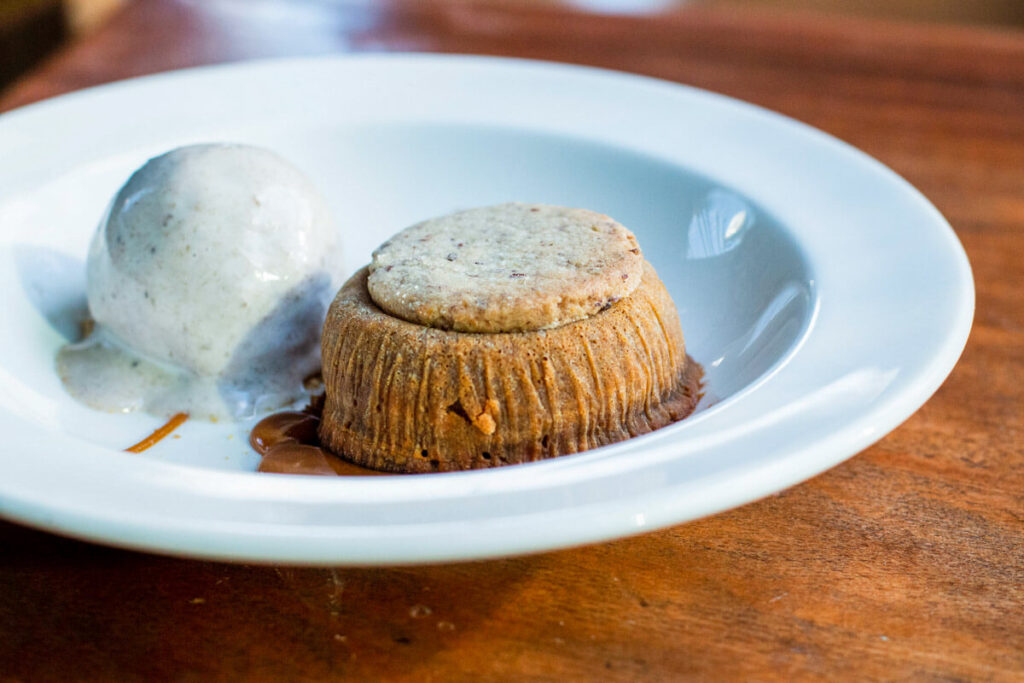 Ingredients:
1 egg
2 yolks
400 gr of Dulce de leche
2 tbs flour
Preparation: Beat the egg with the yolks to double its volume. Add the dulce de leche and mix until integrated. Finally add the flour twice, beating until the preparation is homogeneous. Evenly butter and flour (this is key to then easily unmold) six molds for custards or muffins of 100 ml capacity and fill them with the mixture almost to the edge. Heat the oven to moderate-strong temperature (200 ° C). Place the molds on a tray and cook for 8-10 minutes. The exact cooking time may vary depending on the oven; to find out if they are in their right place (cooked on the outside but liquid on the inside), take the mold out of the oven and, touching the surface, test if it's soft but easily detaches from the edges. Unmold on the same plate in which it is going to be served and serve with banana ice cream
6. Sake glazed chicken wings from Zuma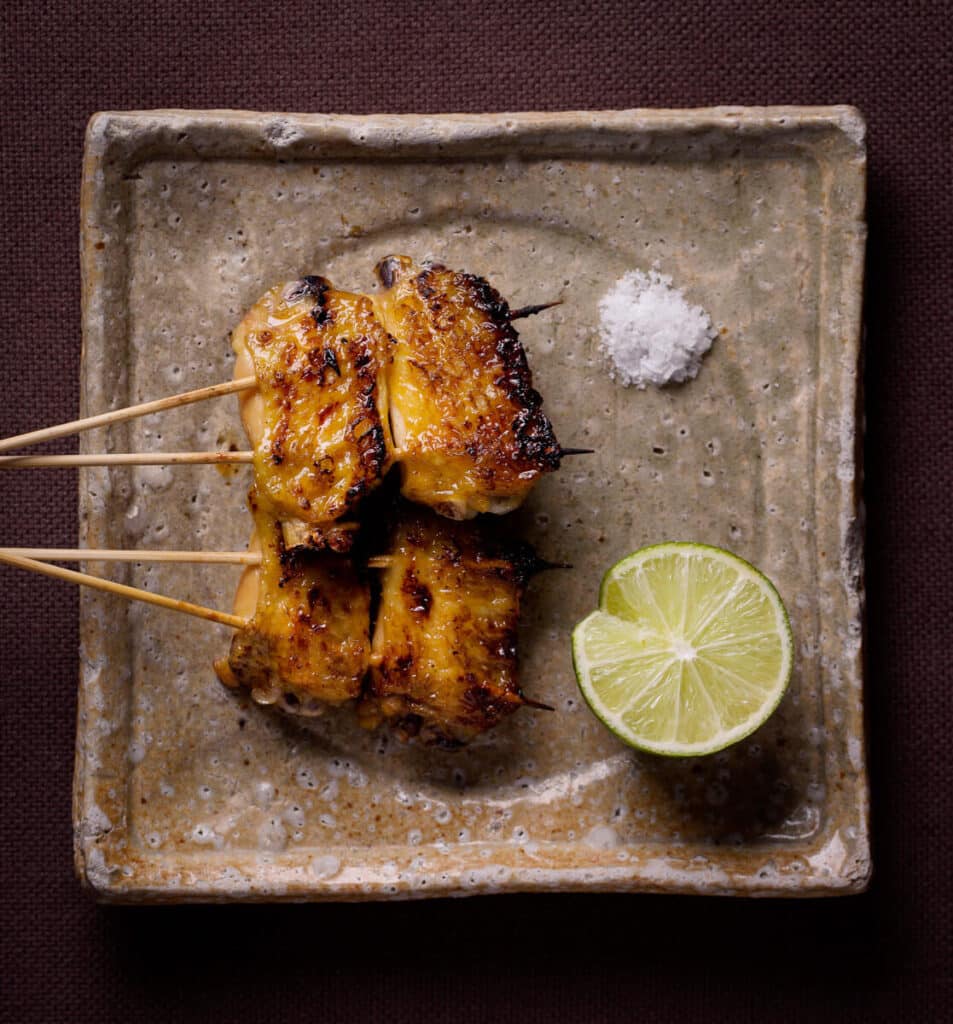 Ingredients:
Medium-sized chicken wings (flats only),
Bamboo skewers (soaked in water for 5min),
Sake,
Mirin,
Kosher Salt,
Maldon Sea Salt,
Lime

Instructions:

Cut off 1/4in of wing ends, slightly revealing bone. (This step is optional, reduces cooking time and makes eating a lot easier.)
Start skewering the chicken! Each portion will contain 2 wings and 2 skewers. Keep each piece of chicken about an inch and a half away from each other on the skewer. Skewers should be pierced between the bone and skin.
Spray or rub a generous amount of sake onto skewered wings. Season both sides of wings with a generous amount of salt.
Place wings skin side down on an elevated rack, above the grill, on med-high heat. Cook skin side down until crispy and slightly blistered; about 6-7 minutes
Flip wings meat side down. Cook for an additional 4-5 minutes.
Before serving spray mirin on both sides of chicken wings. Cook both sides for about a minute more. Be sure to keep skin crispy, blistered and golden brown. Honestly, a little char won't hurt.
Be sure to inform your guest to squeeze some lime and sprinkle some additional sea salt to taste before consuming.
7. Vegetarian Power Bowl from Moxie's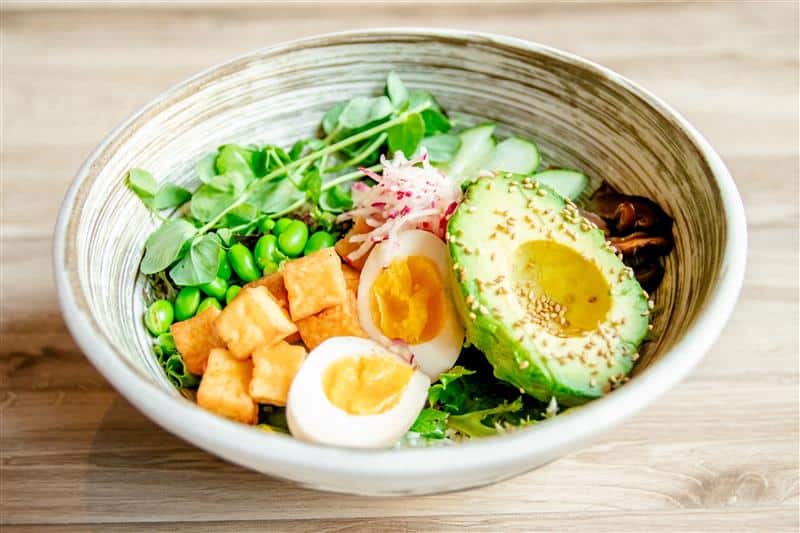 Ingredients
1 cup cooked rice (jasmine, white)
1 fl oz mayo
1 handful salad greens
1 tsp soy sauce
10 pieces sliced cucumber
1 each boiled egg
10 pieces edamame beans (peas)
10 pieces sautéed mushrooms
10 pieces tofu, 1" cubes
1 each radish, grated or sliced
10 sprigs pea shoots or cilantro
½ each avocado, sliced
½ tsp sesame seeds

Instructions
Place the hot cooked rice into the bottom of the bowl. Cover rice with mayo (note: add a little sriracha hot sauce to mayo to give it a kick!). Toss greens with soy sauce, place greens atop rice. Place each item; cucumber, egg, beans, mushrooms, tofu, radish, pea shoots and avocado around the edge of bowl atop greens. Sprinkle with sesame seeds and enjoy. Add a little sriracha hot sauce to mayo to give it a kick! Drizzle the whole finished bowl with soy sauce to punch up the flavor. Interchange ingredients with what you like and have available in your fridge. For the soft boiled egg, cook for exactly 7 mins, cool in ice water then peel.
Cocktails
8. Big Boy Pastelito Cocktail Recipe from Sugar at EAST Miami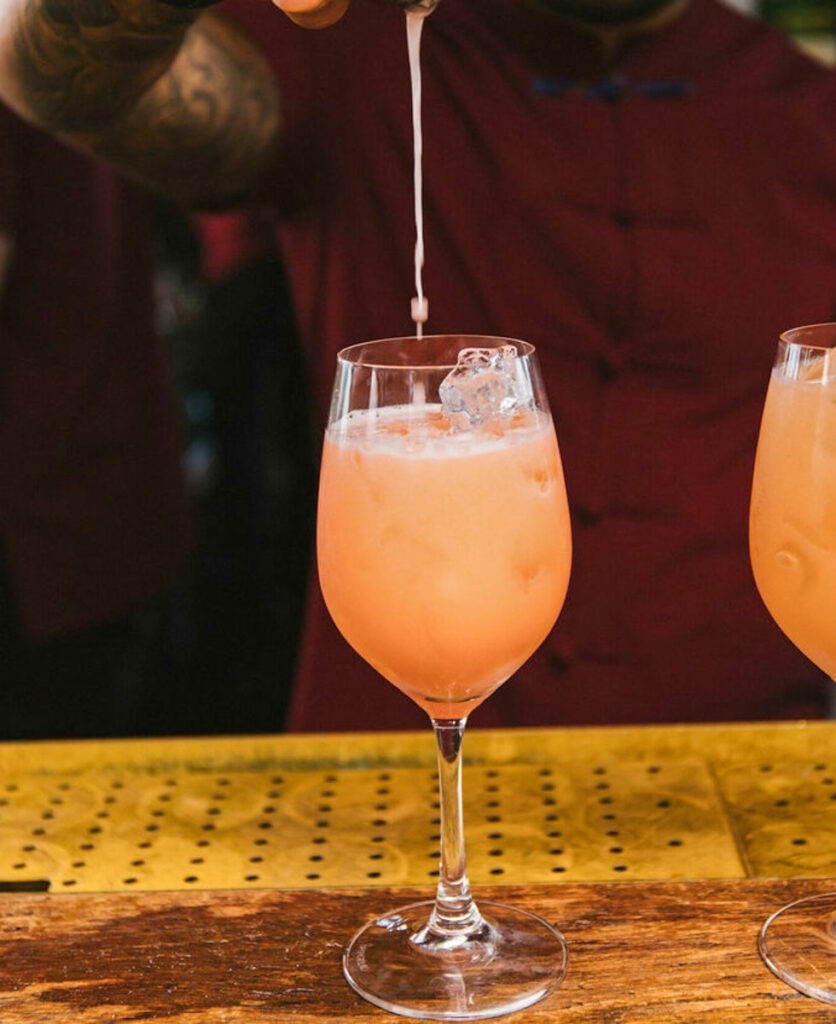 Ingredients
1 ½ oz reposado tequila
½ oz cointreaunuar
¾ oz lime juice
1 ½ guava puree
½ oz agave
Mint
Preparation
Place all ingredients in a cocktail shaker, mix well and enjoy!
9. Midnight Detox from Tea Room at EAST Miami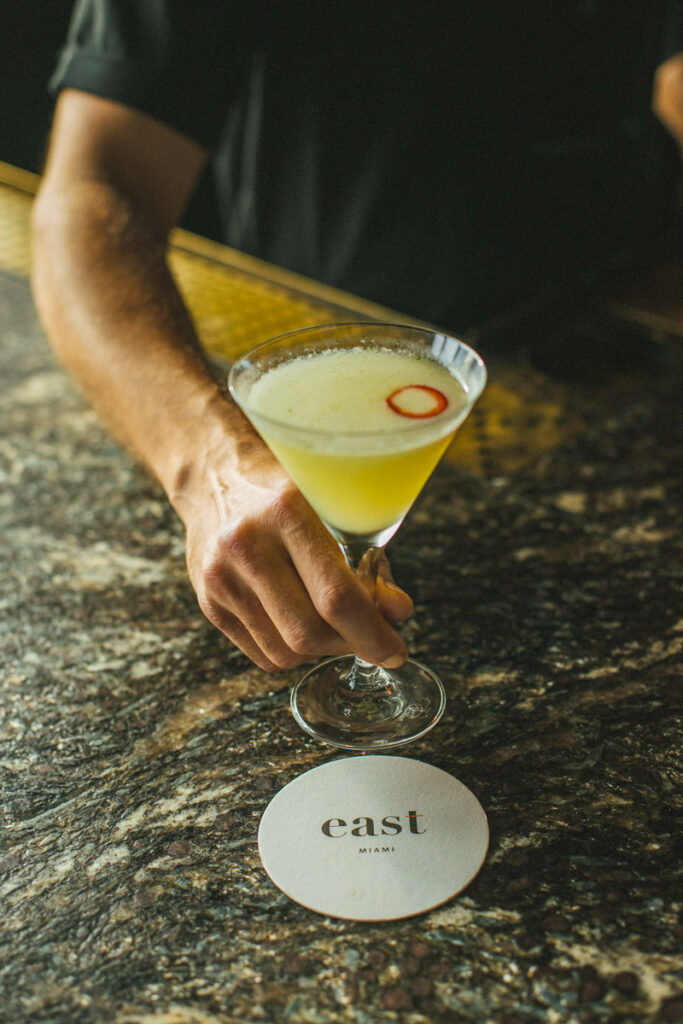 Ingredients
1 oz tequila
1 oz mezcal
¾ lime juice
½ oz agave
Cilantro,
Jalapenos
Preparation
Place all ingredients in a cocktail shaker, mix well and pour!
10. Mojito Recipe from Quinto la Huella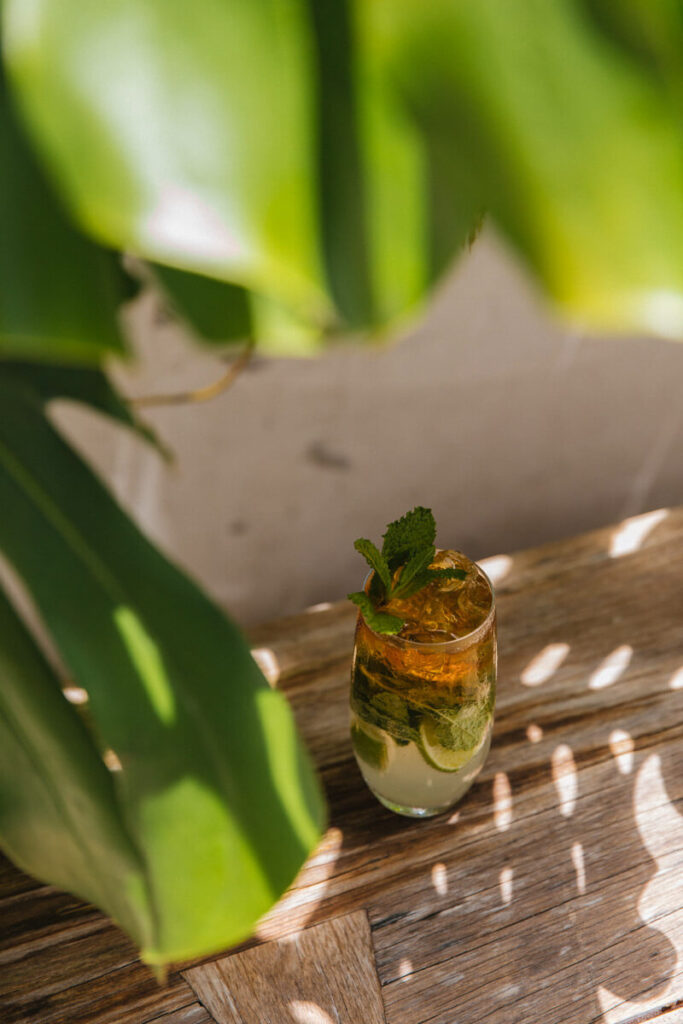 Ingredients
For 1 Glass (350 ml)
1 tbs Sugar
1 tbs lime juice
1 tbs water
½ cup of spearmint
2/3 cup of ice cubes
¼ cup of rum
¼ soda water
Preparation
Place all ingredients in a cocktail shaker, mix well garnish the cup with fresh fruit and enjoy!
11. Tokyo Drifter from Zuma
Instructions
Muddle 2 shiso leaves and 4 -5 mint leaves in a tin shaker.
Add 1.75oz sapphire gin, 0.25oz jack ruddy tonic, 1 oz lemon juice, 0.75 oz simple syrup.
Fill shaker with ice.
Shake vigorously. 
Fine strain into a chilled coupe. 
Garnish with lemon twist.