Miami's Best Hotel Bars: January Edit
Much has changed since the days hotel bars were just a waystation for jet-lagged, bleary-eyed travelers. Players in hospitality are focusing more than ever on turning their onsite watering holes into buzzed-about hubs for locals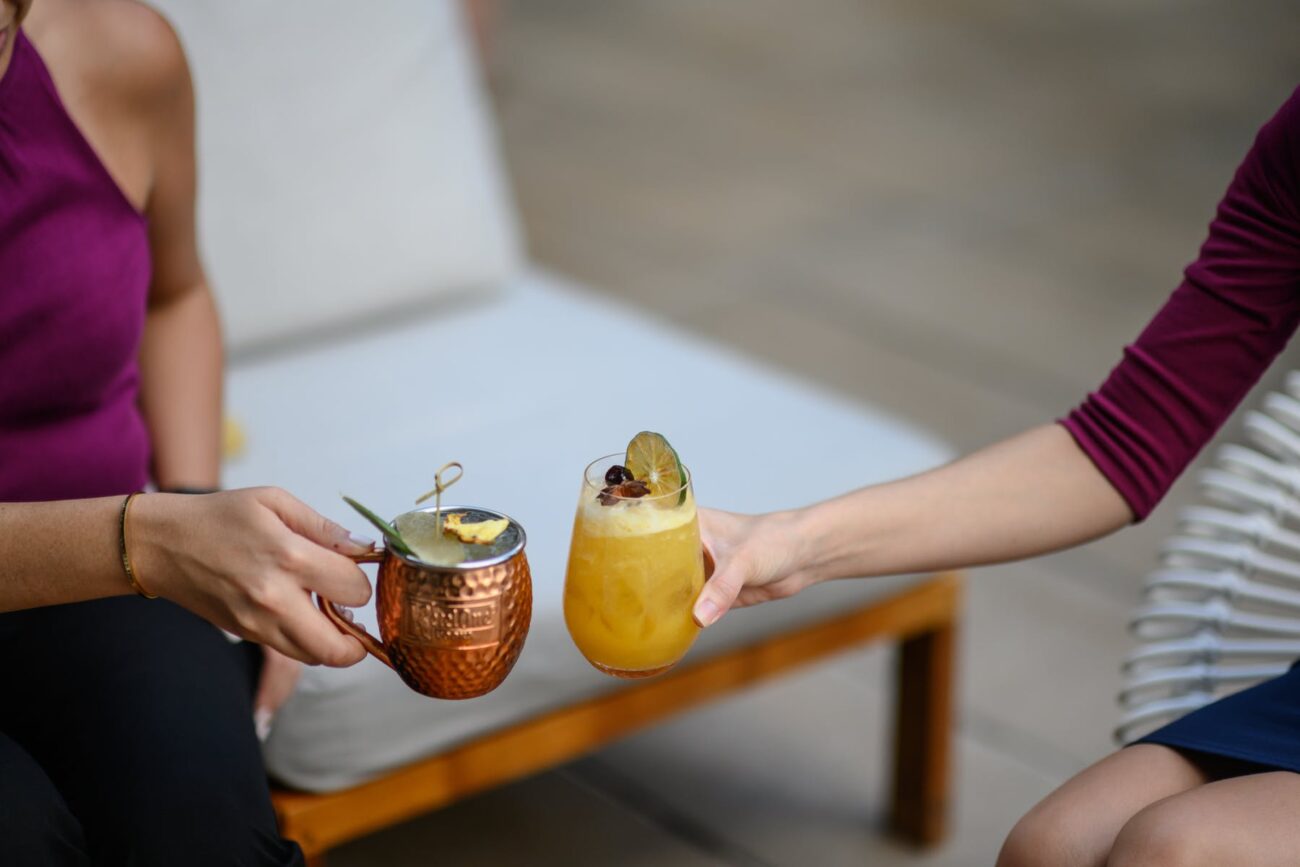 Much has changed since the days hotel bars were just a waystation for jet-lagged, bleary-eyed travelers. Players in hospitality are focusing more than ever on turning their onsite watering holes into buzzed-about hubs for locals and visitors alike. From speakeasy-style drinking dens, like The Blind Barber at Nautilus by Arlo, to gilded havens that harken to a glitzy past, like Le Sirenous at Four Season Hotel at The Surf Club, these Miami hotel bars are shaking up the scene with the first-class service, prime people-watching, and plenty of personality.

Minnow Bar at Kimpton Angler's Hotel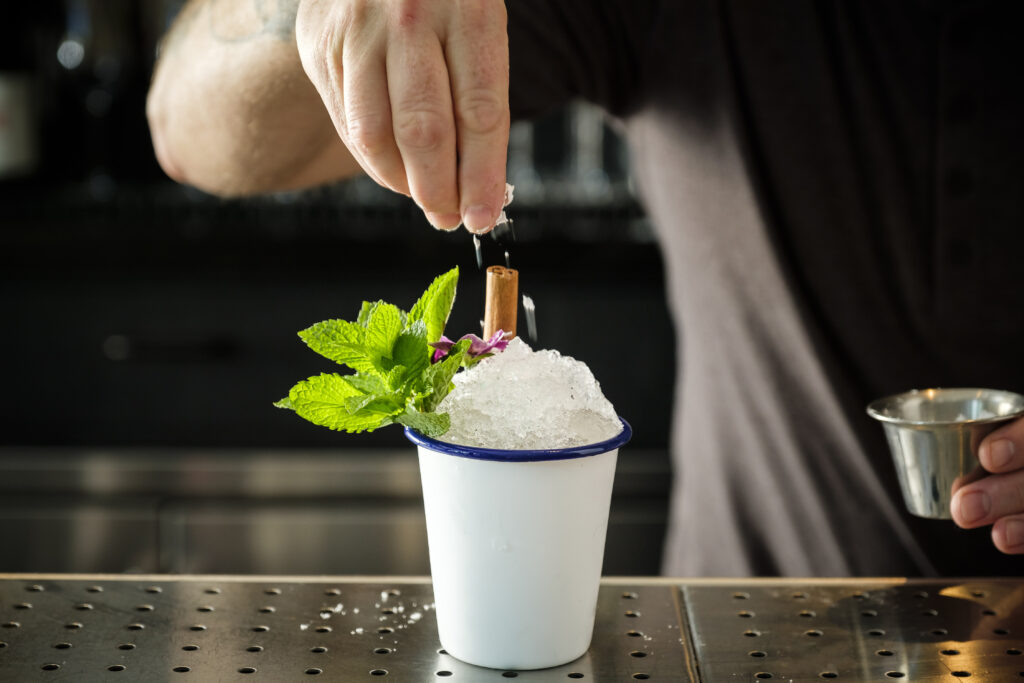 If you love gin, head to Minnow Bar at the reimagined Kimpton Angler's Hotel (also home to Seawell Fish n' Oyster). The menu here spotlights herb-infused craft cocktails made to complement unique gins from around the world. The atmosphere is great, too — sip a martini inside at the intimate counter, or enjoy a G&T al fresco in the bar's breezy outdoor terrace. Not the biggest fan of gin? Don't worry. The talented staff can shake up something delicious with pisco, cachaca, or white rum as a base, and there's a great wine and beer list, too.
660 Washington Ave, Miami Beach
Boulud Sud at JW Marriott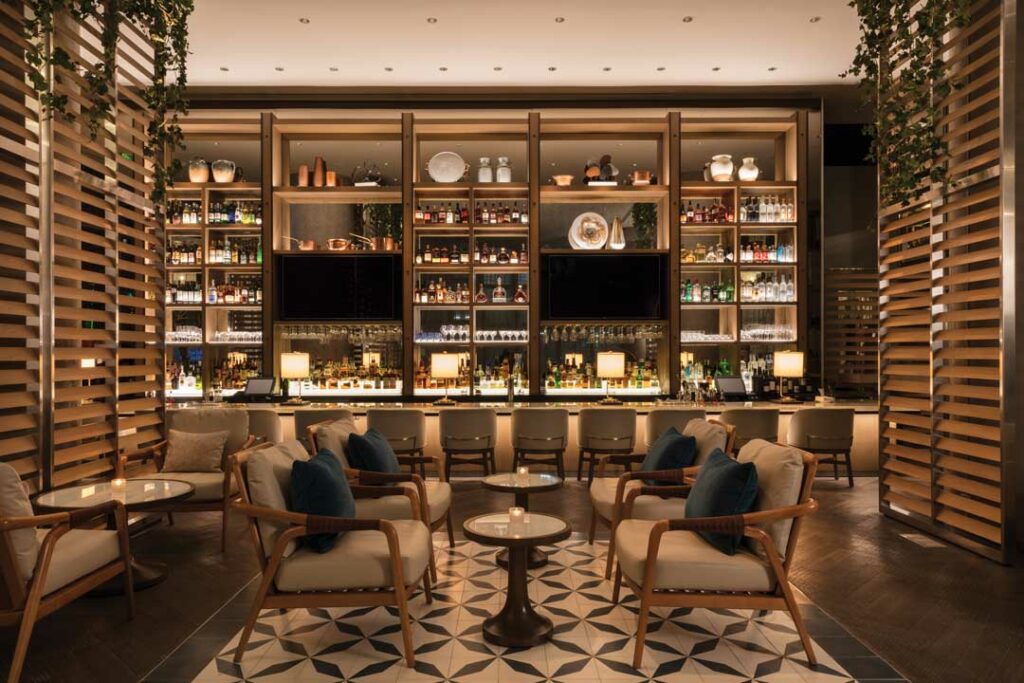 Beloved by Brickellites for its great daily happy hour deals, the bar and lounge at Boulud Sud inside the JW Marriott is perfect if wine is your thing. The selection sources heavily from the Mediterranean (though you'll find some French, South American and domestic offerings). We especially love their Greek and Middle Eastern wine selection, which includes Assyrtiko from Santorini, Agiorgitiko from Nemea, and rose from Lebanon — all available by the glass and served with a side of gorgeous views.
255 Biscayne Boulevard Way, Miami
Zucca at Hotel Place St. Michel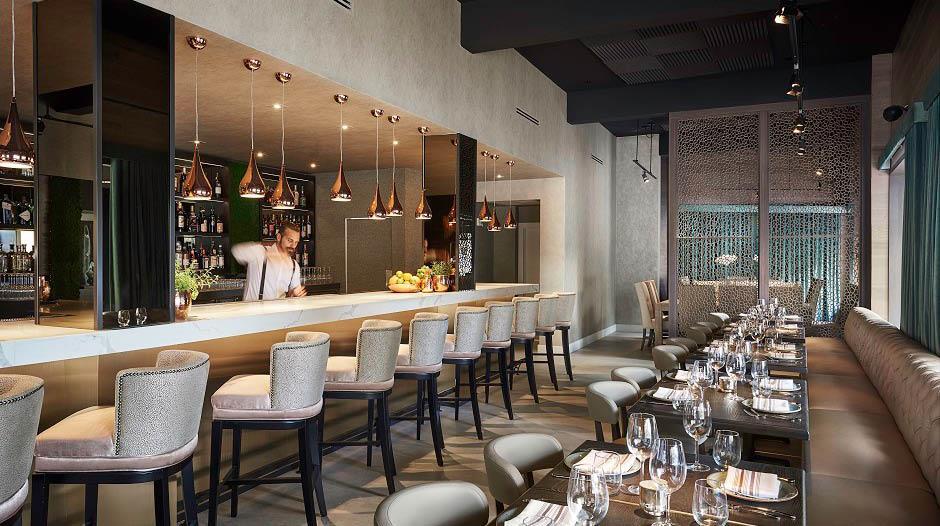 Hotel St. Michel is one of Coral Gable's best-kept secrets. A true hidden gem with nearly a century of history behind it, Hotel Place St. Michel is the best place to go if you're looking for Old World charm in the heart of South Florida. The bar here is located inside the hotel's acclaimed Zucca Ristorante and offers a great selection of light bites, charcuterie, global wines, and Italian-inspired craft cocktails.
162 Alcazar Avenue, Coral Gables
The Biltmore Bar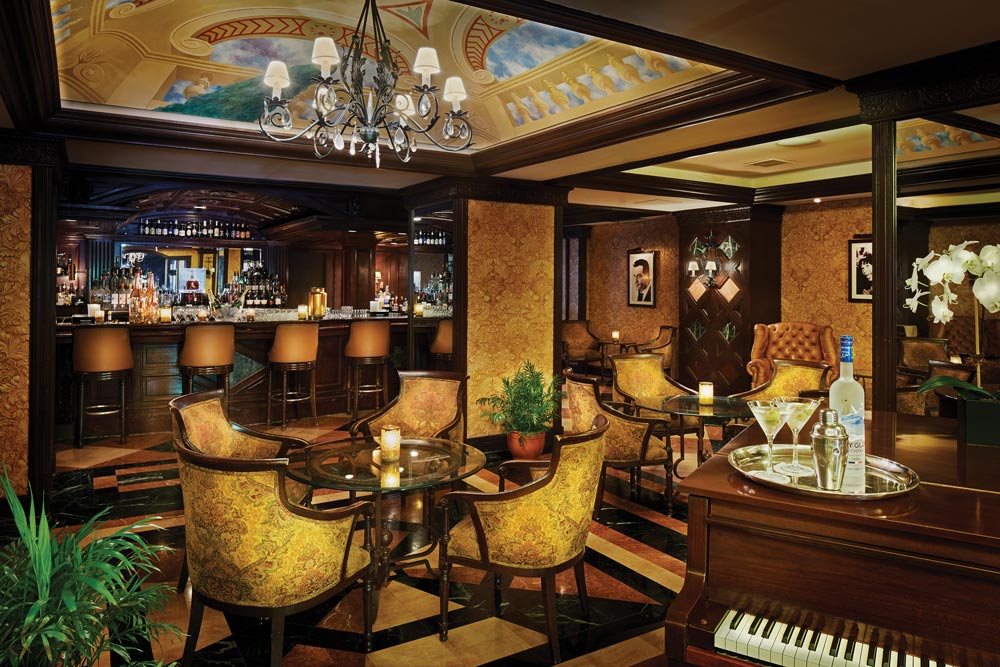 The Biltmore Bar is famous for a number of things — it's where you'll find the best Vesper martini in Miami and one of the city's most extensive collections of vintage liquor and cognac (the hotel even keeps a cognac expert on staff to help guests navigate the menu). And with its dark wood paneling, gleaming marble floors, and dim golden lighting, it's the perfect place to unwind like it's 1926. Get there between 5 and 7 p.m. Tuesday through Friday and you'll enjoy half-off select drinks. Premium cigars are also available to smoke in the bar's loggia.
1200 Anastasia Avenue, Coral Gables
Le Sirenuse Champagne Bar at Four Seasons Hotel Surf Club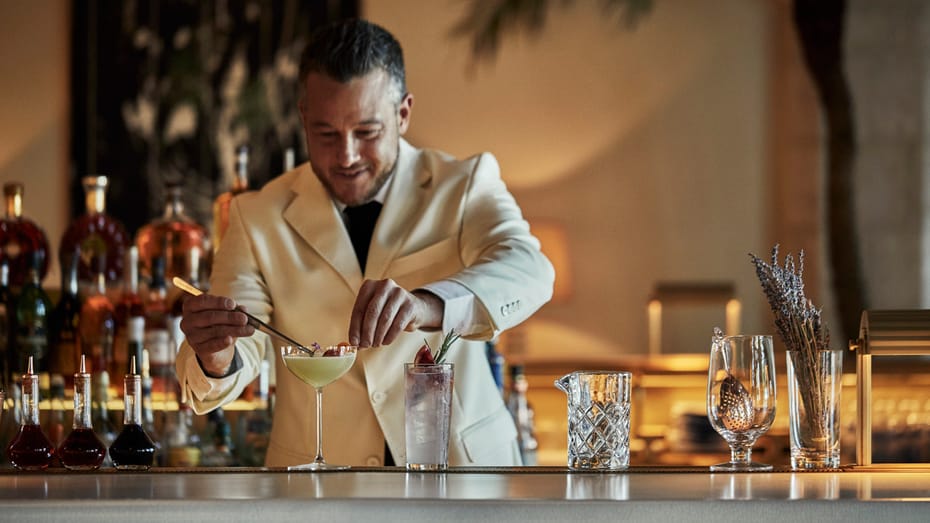 For those who like to sip champagne with a heady dose of glamor, there's no place like Le Sirenuse Champagne Bar at Four Seasons Hotel at the Surf Club — the first U.S. outpost of the iconic brand in Positano. The bar seems to exist between two worlds; housed in a ballroom where legends like Elizabeth Taylor and Frank Sinatra once danced, with white wooden windows thrown open to reveal the Atlantic Ocean, a crowd that's always smartly dressed, and white-jacketed bartenders that serve the greatest negronis in the country, Le Sirenuse keeps you wondering if you're truly in Miami, or if you've fallen through the rabbit hole and emerged somewhere on the Amalfi Coast.
9101 Collins Avenue, Surfside
Edge Steak & Bar at Four Seasons Miami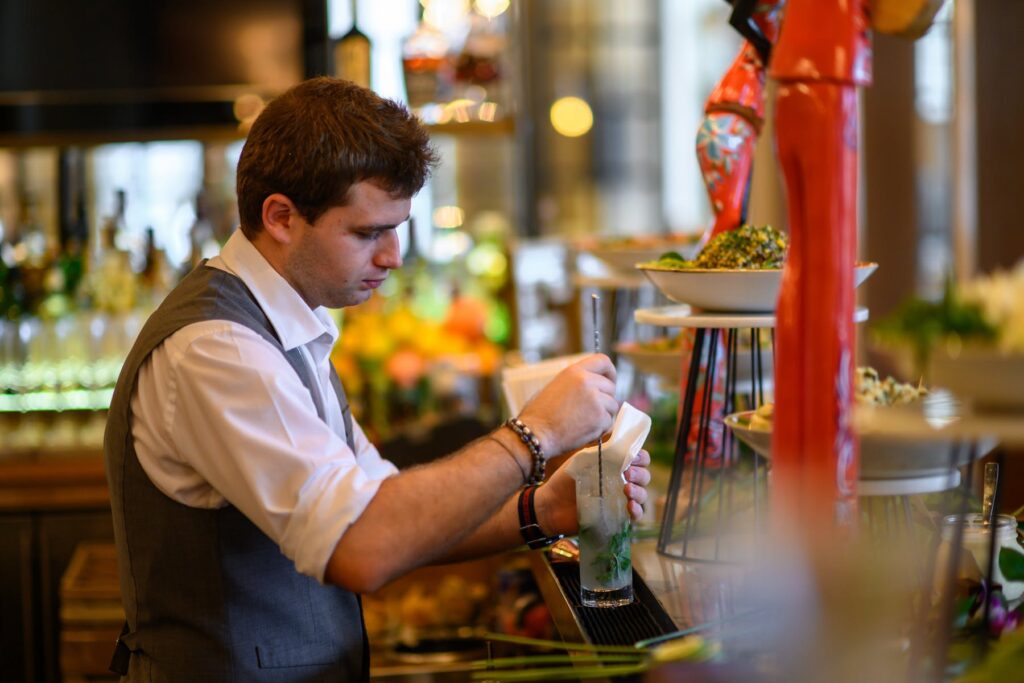 Also popular among downtown Miami and Brickell's professional scene, Edge Steak & Bar at Four Seasons Miami checks all the boxes. It has a great selection of bites, like chorizo and cheddar croquetas, spiced lamb meatballs, spiced onion rings, and foie gras and truffle bonbons. The craft cocktails are top-notch, blended with housemade syrups and infused spirits (you can't leave without trying the Double Cask Auld Fashioned). The wine list is well-rounded and robust. And during happy hour, which happens on weekdays from 4-7 p.m., you can enjoy it all at a discount.
1435 Brickell Avenue, Miami
Blind Barber at Nautilus by Arlo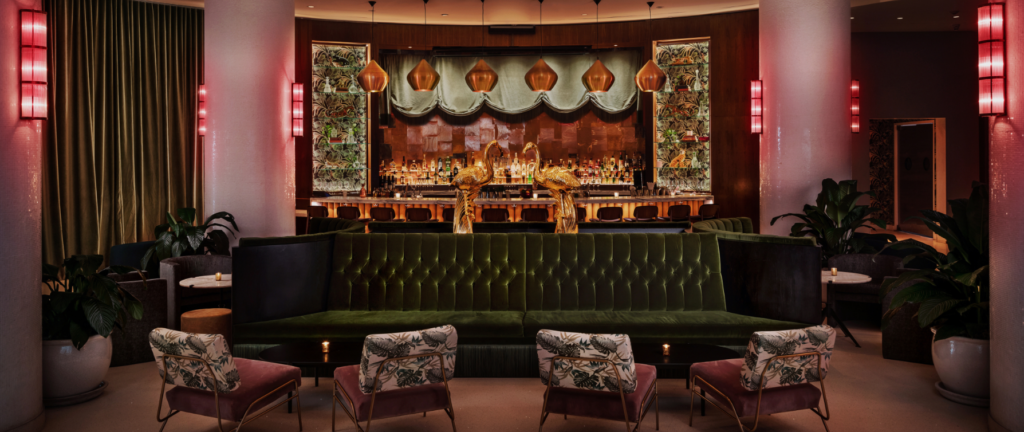 Speakeasy-style bars have become as commonplace in Miami as vape counters and exotic car rental shops. But Blind Barber at Nautilus by Arlo has managed to maintain ]a high cool factor with its unique brand story, its barbershop-meets-bar concept, and its delicious drinks. Cocktails here are creative, pairing flavors like hibiscus-infused vodka with sparkling wine, sage, and grenadine, or reposado tequila with Campari, sweet vermouth and cacao nibs. And while there's a solid menu of small bites to choose from, the real gem here is the bar's selection of artisanal grilled cheese sandwiches (there are five varieties in total).
1825 Collins Avenue, Miami Beach