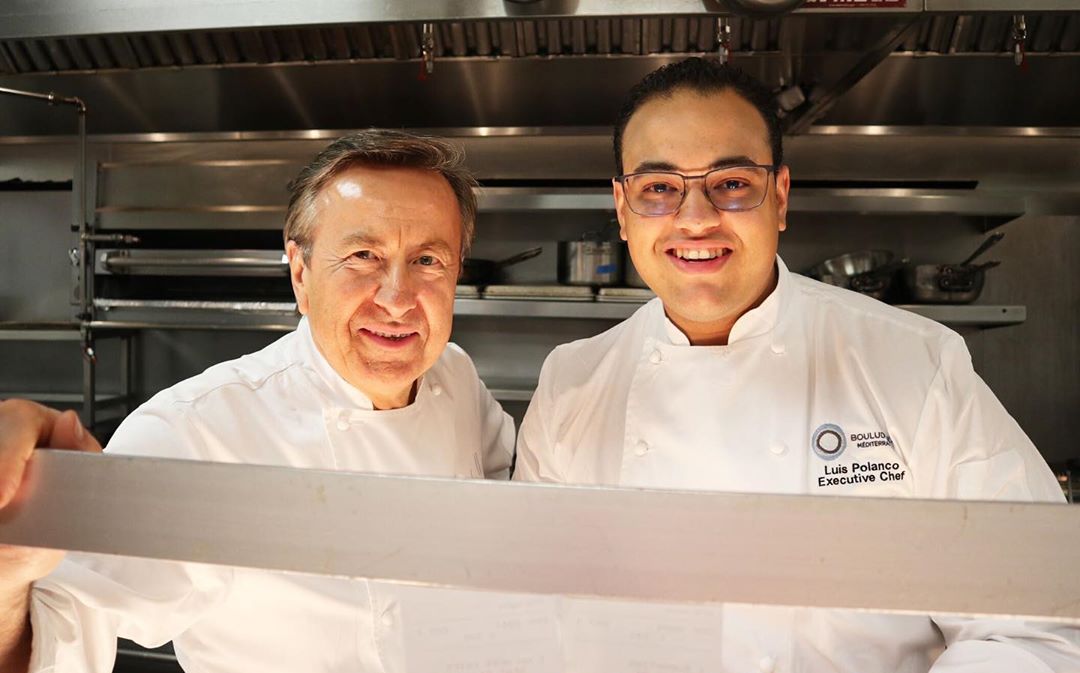 As Easter Sunday is fast approaching what are your dinner plans? How can we maintain any sense of "normalcy" during this unprecedented time of COVID-19? Grab your laptops, iPhones, iPads—any tool to set up your virtual family dinner and indulge in a delicious homecooked meal.
So, what should you make?
Well, DiningOut had the opportunity to speak with executive chef Luis Polanco of Miami's trendy Boulud Sud Méditerranée and he says, why not bring a taste of the Mediterranean right to your kitchen?
Maybe we can't physically go on an adventure during this time, but our taste buds sure can!
First stop: the Mediterranean for Chef Luis' favorite dish, Braised Lamb Rigatoni. (Cue the applause!)
While the dish is a slow cookin' commitment, Chef Luis makes a great point: during this lockdown "we all have the time, so why not?"
Chef Luis added, the best part about this recipe is, regardless of how complex the dish seems, the ingredients can be bought (use your delivery services) from your local grocery stores.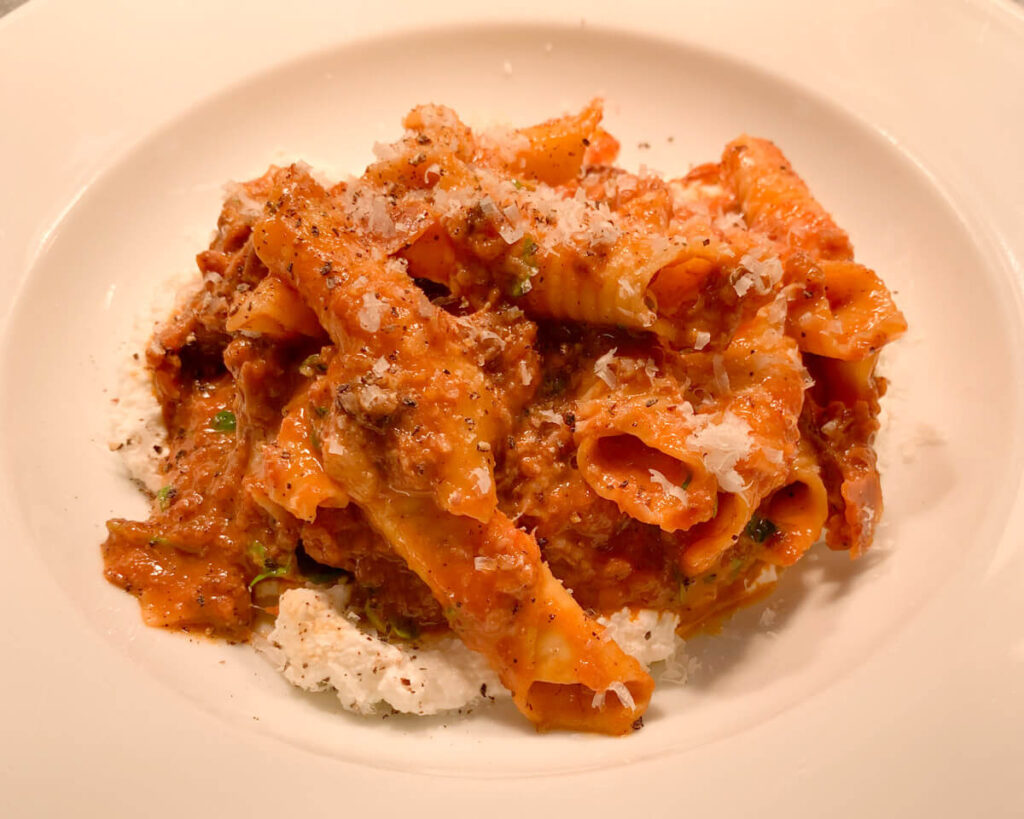 Ingredients:
3 lb. boneless lamb shoulder
1 ea Spanish onion
1 ea stalk of celery
1 ea carrot
16 oz. can of DOP San Marzano tomatoes
1 bottle of your favorite red wine
1lb. of butter
4 oz. oil (Grapeseed or any high smoking temperature oil)
32 oz. beef broth (store bought)
salt
black pepper
1lb. of your favorite dry rigatoni
8 oz. ricotta cheese
1 ea lemon
Parmesan cheese
Directions:
Use a pot large enough to fit all the contents. Add 4 oz. of oil and half a pound of butter and let your butter brown, but ensure it doesn't burn—this could change the taste of the final result!
Clean your lamb of all bone and hard cartilage.
Season your lamb with salt and black pepper.
Once your pan is hot, add in your lamb and brown evenly on both sides.
While your lamb is roasting in a food processor add your onions, celery, and carrots and pulse until they become small pieces. (Do these separately because they break up differently).
Once your lamb is roasted remove from the pot and let sit until the braising liquid is ready.
Remove the fat you used to roast the lamb and add in 4 oz. of butter. Then, add your onions, celery and carrots. Cook this out until tender for about 10 minutes at medium heat.
Once your vegetables are tender add in 1/2 of your bottle of red wine. Simmer your wine until it reduces by half and the smell of alcohol is gone. It will smell sweet.
Add your tomatoes, beef broth, and lamb back to the pot. Bring it to a simmer. At this point, you can cover it and cook it on a stove top until tender or place the covered contents into a 350 F oven for about 2-3 hours, depending on your oven or until the lamb is tender.
While your lamb is cooking, now it's time to get your ricotta ready!
In a small bowl add in your ricotta, zest of 1 lemon, some grated parmesan, and black pepper.
Once your lamb is done let it rest in the liquid.
Bring a pot of salted water to a rapid boil. Cook your pasta for about 10-13 minutes until it is al dente.
Once your lamb has rested, remove the meat from the pot and choose nice big pieces of the lamb for the final dish.
While you shred it, put the braising liquid back on high heat and simmer it until it becomes the consistency of a nice tomato sauce.
Add your pieces of Lamb back to the pot then add in your cooked rigatoni, 4 oz. of butter, and parmesan and mix until nice and creamy.
Grab your favorite pasta bowl and place some of the ricotta mixture to the bottom of the plate. Next, add your beautiful Lamb Ragu Rigatoni on top, grate some fresh parmesan cheese and fresh black pepper and enjoy with a glass of wine!
Chef Luis' Cooking Tips for Success:
DO: What is your go-to cookware for this dish?
Chef Luis: "My go to for this dish at home is my 4.5 qt. Le Creuset."
DO: Why is it important to clean the lamb of all bone and hard cartilage?
Chef Luis: "if bone and cartilage is still intact, it will not cook out during the braising process."
DO: What if you don't have a food processor?
Chef Luis: "if you do not have a food processor you can cut the vegetables into small pieces, just dice with a knife"
DO: What is the secret behind a perfect pasta dish?
Chef Luis: "You want your pot of boiled water for the pasta to be salted enough so the pasta can soak up the flavor. It's a crucial step for making the perfect pasta dish."
Boulud Sud decided to temporarily close on March 20th as a safety precaution for their staff and customers. They're looking forward to welcoming their guests back soon! Until then, Bon Appétit and let us know how your recipe turned out!