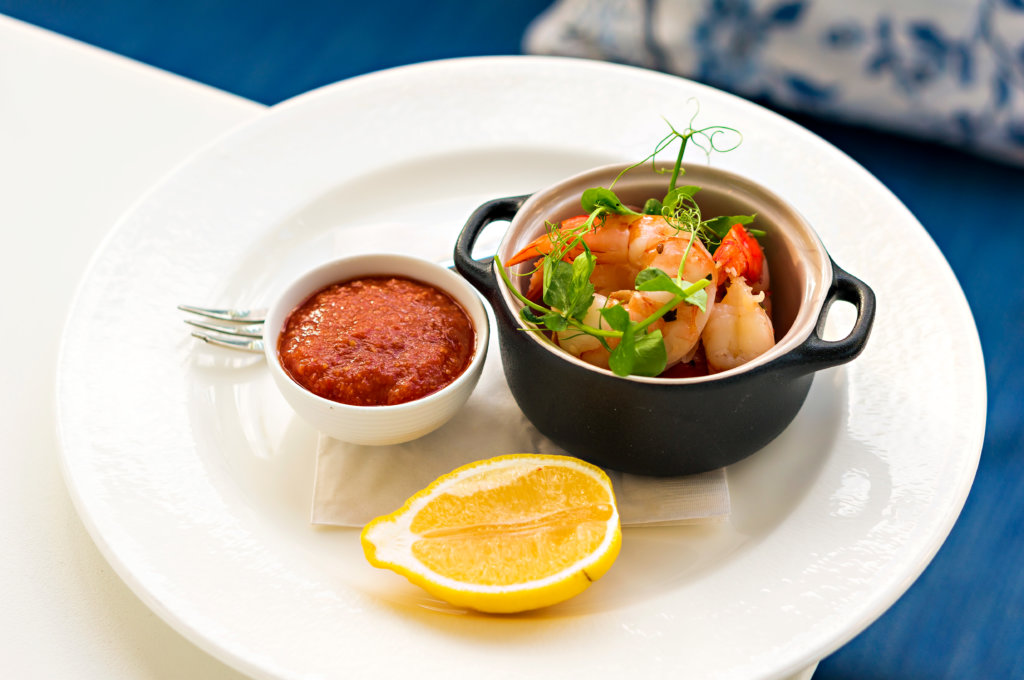 Casual Dining With a Coastal Twist
When you think of water park food, what usually comes to mind? We think of hot dogs, burgers and other casual bites—nothing out of this world. At places like amusement parks where thrill and entertainment is the focus, food is typically an afterthought.
At Surf House Bar & Grill inside Tidal Cove Waterpark, however, the kitchen is elevating park fare into something that's more than just passable. You can tell a lot of thought went into the menu at this Coastal American locale on the JW Marriott Miami Turnberry Resort & Spa property. It reads impressively with a wide range of fresh seafood options for all palates and ages. Key Lime Biscuits with honey butter, Tempura Oysters, Shrimp Cocktail, and Charred Octopus are just a few of the many appetizer selections that let you know Surf House means business.
That said, don't skip over less exciting items like the salads—you'll miss out. The Seafood Louie in particular is a star: Tasty lobster, lump crab, and shrimp make for a stellar meal you'll remember well after it's over. Handheld selections are plentiful and substantial, but you won't feel too weighed down to continue exploring Tidal Cove. Standouts in this section include the Blackened Mahi-Mahi Sandwich and Fish Tacos, both of which can be easily shared between two people.
Although the menu is predominantly seafood, there are still ample choices for those who prefer meat or vegetables. Non-seafood items like Buffalo Chicken Wings, Nashville Hot Chicken or the Vegan Burger help ensure that everyone in your party has something to savor. That's what we love the most about Surf House: its versatility.
Case in point: Whether you're looking for a quick bite for lunch or if you prefer a more leisurely experience, Surf House delivers. Entrées like Steamed Mussels and Swordfish Churrasco are things we'd expect to find at Turnberry's other upscale restaurants—not in the middle of a water park. But having these more refined selections available is a welcome treat; especially when all you want to do after a long day of fun in the sun is relax and indulge.
Speaking of fun, the cocktails at Surf House are also not to be missed. Curated by Miami's own Cocktail Cartel, the libations list is home to familiar frozen drinks like Strawberry Daiquiris and Piña Coladas, as well as more creative concoctions like a Strawberry Stormy (strawberry-infused rum, nutmeg, ginger) or a Smokey Tommy (mezcal, lime and agave with a savory salt rim). In a large group? Get your preferred cocktail in a pitcher.
The next time you find yourself at Tidal Cove and need to fuel up for all the slides and pools, pay a visit to Surf House. Its approachable yet elevated seafood offerings and refreshing cocktails are rare in a world of water park food that's phoned in. Other parks need to take note.
By Geoffrey Anderson Jr. | Contributing Writer