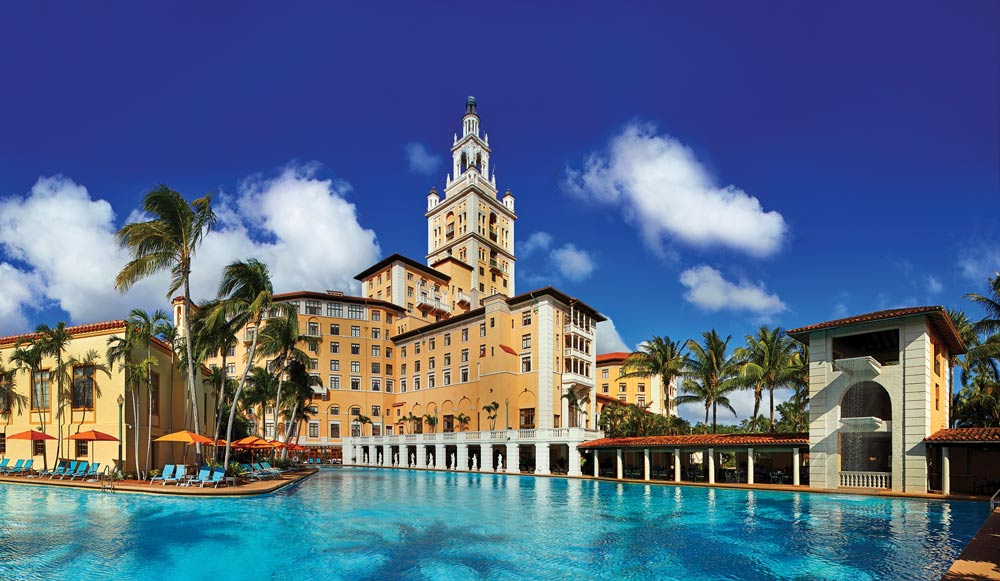 In Miami, everyone who's anyone has heard of—and likely been to—The Biltmore. Perched on Anastasia Avenue like a European castle that somehow found its way to The City Beautiful in 1926, The Biltmore's exquisite architecture, hand-painted frescos, vaulted ceilings, and that glamorous pool have made it a neighborhood icon. The brainchild of Coral Gables founder George Merrick, this rare hotel is a place where the world's finest can do what they love most: sleep, relax, be pampered, and of course, eat.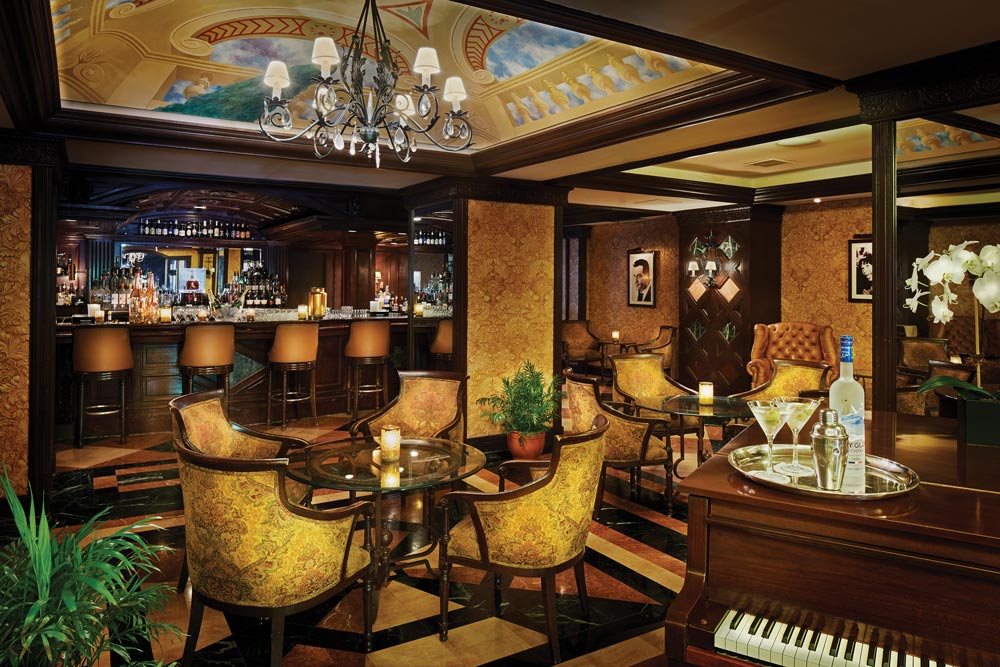 At The Biltmore, it doesn't take long for guests to realize that the hotel's restaurants are some of the best in Miami and beyond. Since its inception, The Biltmore has always drawn cultural influence from the Mediterranean, evident in the property's fine dining outlets. Yes, you read that correctly; there are nine dining experiences in total (not including private dining and room service), from the award-winning Palme d'Or and Fontana to the casual bites of Cascade and 19th Hole Bar and Grill to the swanky Biltmore Bar, The Cellar Club, Succo Juice Bar, a daily Afternoon Tea experience, and the hotel's now-famous Sunday brunch.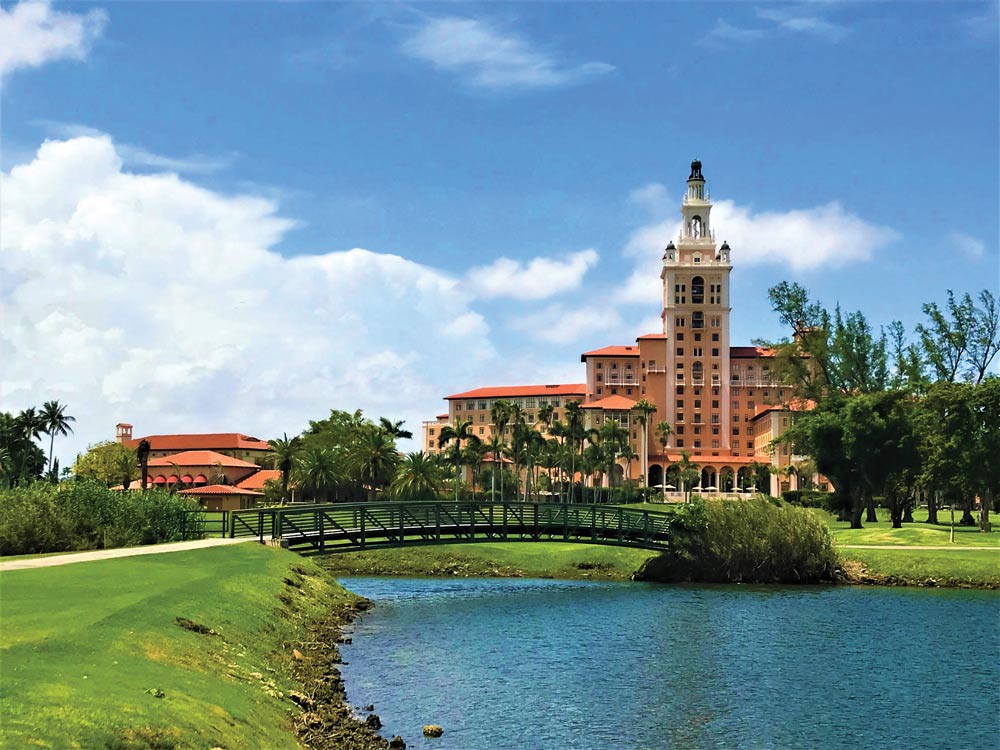 "We have a great variety of dining destinations," says Philippe Parodi, Vice President of Sales and Marketing at The Biltmore.
"Whether you're seeking the warmth of a traditional restaurant or the bliss of dining alfresco, either formal or casual, we provide an unforgettable culinary journey. I think it's one of the reasons why our team is internationally-recognized for our food and service."
And it's because of that caliber of restaurant quality and service that you could map out a whole day at The Biltmore in food alone. Start your day at the hotel's extraordinary fine-dining Italian restaurant, Fontana, which has an extravagant daily breakfast that locals and visitors alike swear by. When you get there, take your pick of everything from fresh-baked croissants, bagels, and smoked salmon to perfectly ripe Florida fruit, made-to-order omelets, a mimosa bar, and so much more. If you like to start your mornings on a healthier note, head to Succo Juice Bar, where you can sip on green juices and Bananas Foster smoothies, the latter of which is tastefully crafted using almond milk, bananas, vanilla protein, and cinnamon.
When you're ready for lunch, take a break from your pool day and pull up a chair at the blissful Cascade. Tucked under a 23-foot waterfall, this alfresco joint is your go-to for a classic like the Cascade Burger or Maine Lobster Salad Sandwich paired with sparkling pool and golf course views. Want to get even closer to the green? Head to 19th Hole Bar and Grill, a casual terrace bar and restaurant that overlooks the hotel's Donald Ross Golf Course. Diners can watch a golf game, tune in to sports on multiple flat-screen TVs, savor some signature Cilantro Lime Shrimp, and enjoy a cool, refreshing beer from the restaurant's "Brews of the World" menu.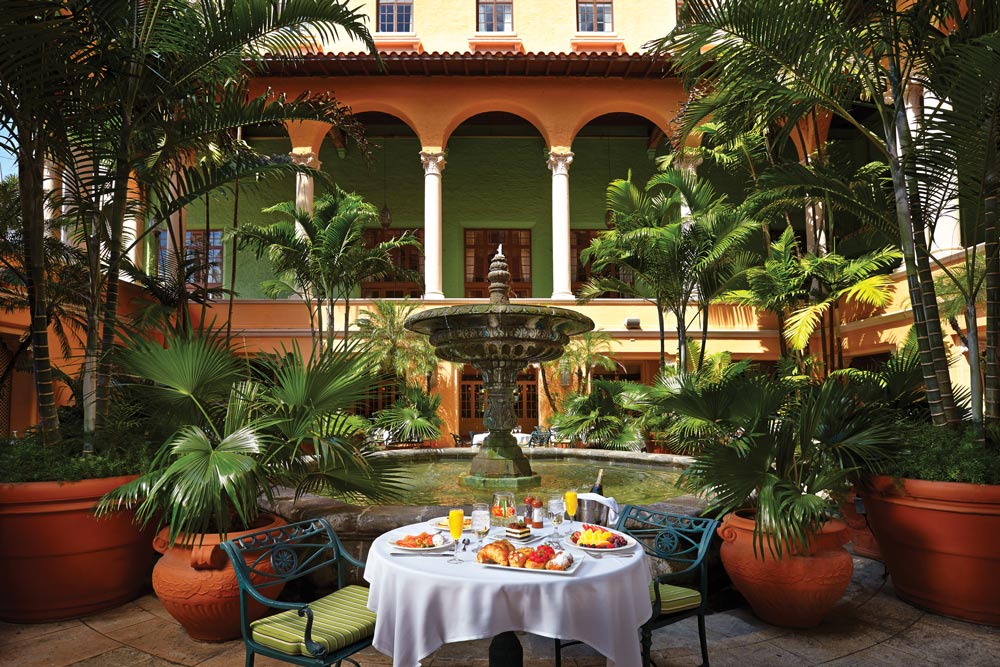 When that 3 pm break time hits, grab a glass of wine or a cold, tropical drink from The Cascade Bar, and to ensure the rest of your night is deliciously hands-on, sign up for one of The Biltmore Culinary School's full-scale cooking classes. Of course, Afternoon Tea is always a good idea. It takes place every Wednesday through Sunday in The Biltmore's magnificent lobby and has a harpist who will serenade you as you drink bespoke teas and Champagne and nosh on traditional scones and petit fours.
And while all of that is bar none, its two fine-dining establishments are where The Biltmore really shines. Unlike anything on the Miami dining scene, the five-diamond, James Beard Award semifinalist Palme d'Or immerses guests in another era of French fine dining. Here, indulge in a set menu of farm-to-table fare, like the Sautéed Corvina, in an ornate setting that nods to the Jazz Age. But, if Italian is more your style, the same Fontana where you had breakfast continues to impress at dinner. This elegant and romantic courtyard restaurant dots tables and chairs around a Mediterranean fountain and serves Italian-inspired cuisine from Chef Beppe Galazzi, like Pappardelle Bolognese made with homemade pasta and béchamel. Come back Sunday morning for the hotel's lavish Sunday brunch, which you've no doubt heard of before; it boasts an entire wall of desserts you won't be able to resist.
With so much remarkable, palate-pleasing food to eat, cocktails and tea to drink, and cooking classes to attend—not to mention the hotel's elegant spa, fitness classes, golfing, shops, and glamorous pool—the real luxury of The Biltmore is that guests' time there can be anything they want it to be.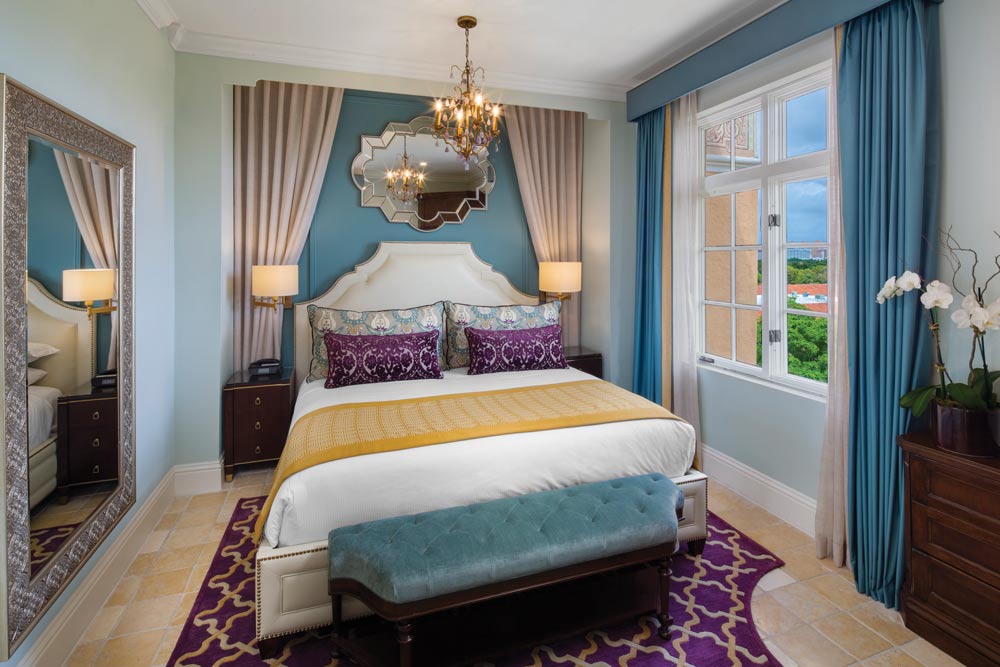 "No two stays are ever the same at The Biltmore, but if I were to pick the perfect day for myself, I would start with breakfast in bed inside one of our newly renovated rooms," says Parodi.
"From there, I would head over to the gym for a TRX class, then practice my swing on the golf course. Later, I would meet with my family and friends for lunch at Fontana and invite them to stay and enjoy the swimming pool. I would wind down from the afternoon with a relaxing massage at The Biltmore Spa, and then top the day off with an exquisite meal at our French fine dining restaurant, Palme d'Or."
There's a word for a day like that: Paradise.
By Jennifer Agress, a contributing writer