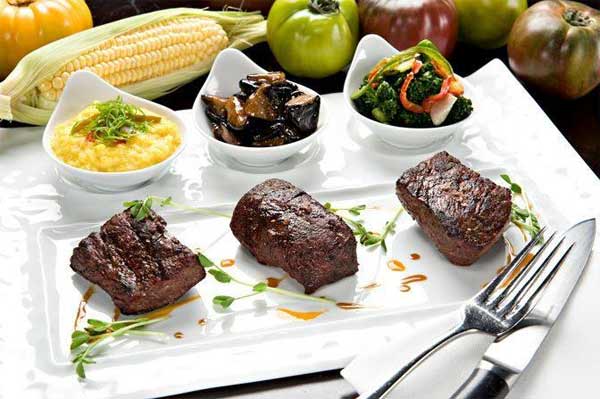 Steakhouse selections that shine


Bourbon Steak {19999 West Country Club Drive, Aventura; 786.279.6600}
When you have the word "steak" in your restaurant name, you're setting the bar high for your beef. This is especially true when celebrated Chef Michael Mina is attached to the concept. Unsurprisingly, the fine-dining establishment inside JW Marriott Miami Turnberry Resort & Spa offers diners plenty to like—both in the steak department and beyond.
First things first: Bourbon Steak isn't cheap. The steakhouse fare comes at a premium, with entrees as high as $95 (and even $195 for an 8-ounce Japanese A5 Striploin). Prepare to spend a pretty penny on your meal. But you should also prepare to leave the restaurant in awe.


From start to finish, Bourbon Steak doesn't disappoint. Instead of bread service, guests are welcomed with a trio of Duck Fat Fries, each with tasty sauces and seasonings like Smoked Paprika, Spicy Ketchup, and Smoky BBQ Sauce. As tempting as it is to gorge on these fries, overdoing it will leave less room for notable starters like Steak Tartare and Spicy Beef Lettuce Cups.
Make sure to balance all that meat with some seafood. The chilled seafood section of the menu features favorites like Jumbo Shrimp Cocktail, a Chef's Oyster Selection, and Caviar Parfait. Larger groups can indulge in heftier items like a Cast-Iron Broiled Shellfish Platter or an Ice-Cold Shellfish Tower.


There's so much on the menu that sounds great—so much so that you're likely to skip over the salads section. Pro tip: don't. While Simple Greens may not sound exciting, the salads are done really well; The 'Wedge" is big enough for the table and dazzles with its blue cheese, bacon and a heavenly buttermilk ranch.
Obviously, you can't visit Bourbon Steak without ordering steak—it's a crime (we read that somewhere). A range of options are available, including an 8-ounce Filet Mignon, a 16-ounce Delmonico Rib Eye and a 32-ounce Porterhouse. Notably, the 8-ounce, Chef's Favorite Cut 'Rib Cap' gets its own little box on the menu and rightfully so: It's the perfect balance of tenderness and flavor.


If steak isn't your thing, a diverse Land & Sea section includes Day-Boat Scallops, Scottish Salmon, Veal Chop and more. Or you can enjoy one of Bourbon Steak's Signature selections such as the Miso-Glazed Sea Bass or the $95 Maine Lobster Pot Pie (a deliciously decadent affair). Daily specials are also up for grabs, so listen to your server.
Should you have room for dessert, you can stick to something light such as a Chef's Selection of Cheeses or go all out with Molten Chocolate Cake with malted milk ice cream or the Bourbon Steak Candy Bar with dulce de leche and Guanaja brownie.


In the end, you get what you pay for at Bourbon Steak. A phenomenal dining experience is waiting for you here: You may walk out with your wallet a little lighter, but you'll be grinning ear-to-ear with a full belly. So treat yourself—you deserve it.
By Geoffrey Anderson Jr. | Staff Writer