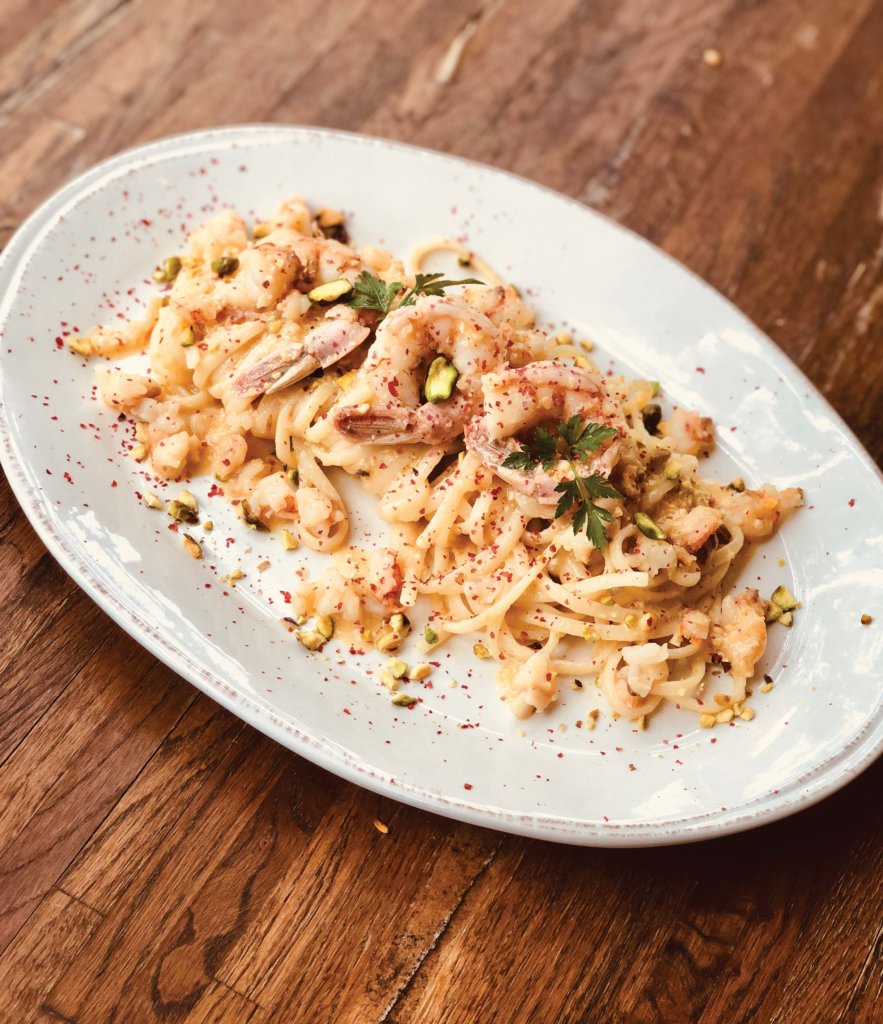 Their recipes, your kitchen…
INGREDIENTS
7 oz linguine pasta
4 Tbsp coarse marine salt
2 oz pistachios
lemon zest, medium-sized lemon
1 medium-sized orange
1 Tbsp extra virgin olive oil
pinch of salt
10 large shrimp, deveined and peeled
1 garlic clove
pink peppercorns
METHOD
In a large pot, boil pasta in water. Add coarse marine salt while pasta is boiling. Cook pasta according to box instructions. Toast pistachios in a hot pan for a few minutes, then set aside to cool. Peel the orange and put it in a blender with the toasted pistachios, lemon zest, extra virgin olive oil, and a pinch of salt to create a citrus pesto. Set aside.

In a sauté pan, add a tablespoon of extra virgin olive oil. When hot, add peeled garlic clove and cook until brown. Discard the garlic and add the shrimp. Cook for approximately 5 minutes. Remove from heat and add the citrus pesto. Drain the linguine and toss in the pan with the citrus pesto and the shrimp until well coated. Arrange on a plate and sprinkle with crushed pink peppercorns.

---
INGREDIENTS
Aji Amarillo Potatoes:
6 Yukon gold potatoes (about 2lbs)
3 Tbsp aji amarillo paste
1/2 lb butter
1 tsp salt
Huacatay BBQ:
2/3 c huacatay paste
1-1/2 c agave
5 Tbsp rice vinegar
1 tsp salt
1 Tbsp squid ink
Scallops:
12-14 scallops
1-2 Tbsp grapeseed oil
salt and white pepper to taste
METHOD
For the potatoes:
Peel, then boil potatoes until soft. While the potatoes are boiling, mix aji amarillo paste, butter, and salt in food processor until thoroughly combined. Once potatoes are fully cooked, drain and push though a sieve or ricer. Fold together puréed potatoes and mixture from the food processor.
For the barbecue:
Blend all of the ingredients on high.
For the scallops:
Pat raw scallops dry on an absorbent towel. Place a sauté pan over medium-high heat with 1-2 tablespoons of grapeseed oil; pan should be hot enough that smoke is beginning to rise from it. Season scallops with salt and white pepper to taste and place carefully into the sauté pan. Sear scallops until golden brown on each side (about 2 minutes per side). Serve with mashed potatoes and barbecue sauce.

---
Seared Sea Scallops and Caviar Butter
From Morton's The Steakhouse
Serves 1
INGREDIENTS
2 oz unsalted butter
2 oz oyster mushrooms
3 oz fresh sweet corn kernels, shaved off the cob
1 oz red bell pepper, diced 1/4-inch cubes
2 tsp fresh tarragon leaves
2 oz cooked lobster meat
1-1/2 oz baby arugula
1 Tbsp clarified butter (or olive oil)
1/4 tsp kosher salt
1/8 tsp ground black pepper
4 U-10 sea scallops
1/4 tsp Hackleback caviar
1/8 tsp micro-greens (or fresh chives)
METHOD
In a sauté pan over medium heat, melt 1 ounce unsalted butter and add the oyster mushrooms. Cook the mushrooms until lightly browned. Add the corn, peppers, tarragon, and lobster meat. Sauté the mixture for 2 minutes or until hot. Remove from heat and add the baby arugula and mix together.

Season the scallops with kosher salt and pepper. In another sauté pan over medium-high heat, add the clarified butter. Once the pan is hot, add the scallops to the pan and cook until golden brown (approximately 2 minutes on each side). The scallops should be nicely browned and crisp on the outside and slightly opaque in the middle. (If you prefer the scallops cooked further, place in a hot oven until desired doneness.) Remove the scallops from the pan and place on a paper towel. Note: the scallops will leach liquid while resting. To plate, arrange the sweet corn and lobster mixture on a plate, place scallops on top of the mixture. In a small bowl, combine 1 ounce melted unsalted butter and caviar and lightly mix. Pour the caviar sauce on the plate around the corn and lobster mix. Garnish with micro-greens and serve.

---
INGREDIENTS
3 pearl onions
4 pickled chilis, sliced
1 tsp charred onion powder (thinly sliced onions, baked until black, then blended into a powder)
lime zest
mustard flowers (or other bitter greens)
Poaching Oil:
12 large portobello mushrooms
4 bottles rice bran oil
3 Fresno peppers, cut into fourths
1 small ginger bulb, peeled and diced
15 cloves of garlic
1 white onion, sliced
3 bay leaves
handful thyme sprigs
1 stalk lemongrass
2 Tbsp whole black peppercorns
2 Tbsp coriander seed
zest from 3 lemons
Ponzu-Brown Butter Sauce:
4 oz brown butter
4 oz vegan ponzu
1 oz fresh lime juice
pinch of yuzu kosho
10 cracks of fresh black pepper
METHOD
For poaching oil:
In a deep six-inch pan, combine all ingredients except mushrooms. Place the pan across two burners on very low heat. Clean the mushrooms and add to the pan, making sure the oil covers the mushrooms completely. Cook until mushrooms are tender inside (about 20-30 minutes, or when a skewer can go through the middle without resistance). Remove the mushrooms and store the oil. (Oil can be used two more times.)

For the sauce:
In a small pot, combine all the ingredients and heat up. Serve hot, and stir well before serving.
To serve:
Take two cooked mushrooms and slice at an angle. Fan the mushroom slices out on a plate, and pour 3 tablespoons of hot ponzu-brown butter sauce on top. Finish with some charred pearl onion layers, pickled chili slices, lime zest, and a sprinkle of charred onion powder. Garnish with mustard flowers.
By DiningOut Staff