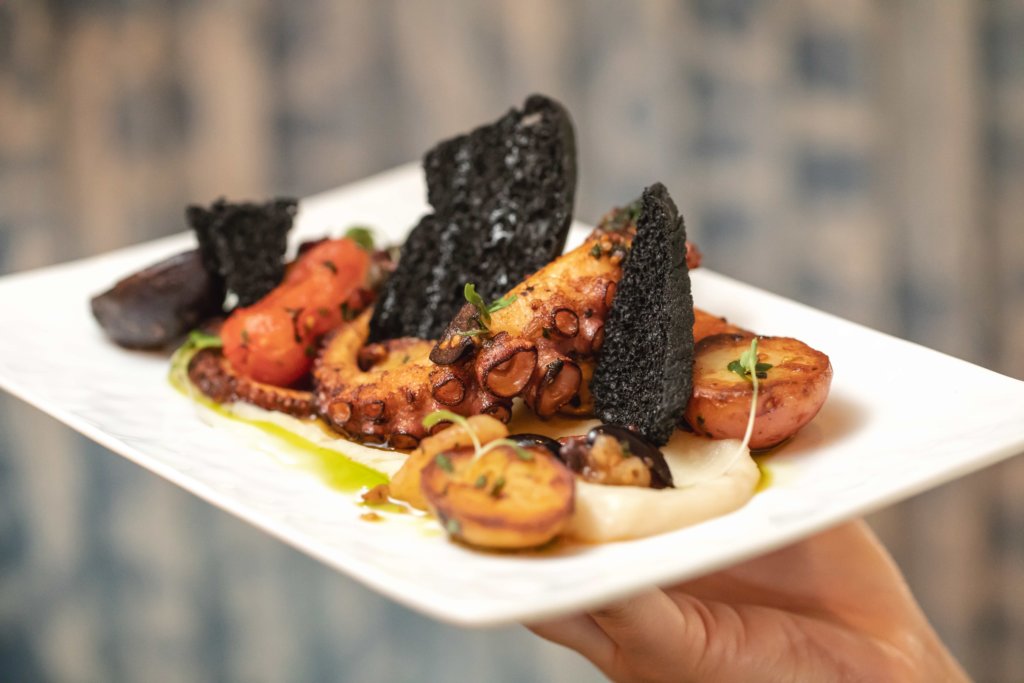 The latest room package includes up to three complimentary Miami Spice meals
Miami Spice is an exciting time in the Magic City. Giving locals and visitors yet another reason to check out Miami's mouthwatering restaurant scene, these tasty two months of the year are when the city's most popular, and often most expensive, restaurants offer three-course lunch, brunch, and dinner menus for just $23 and $39 per person, respectively. This year, guests can couple Miami's most iconic restaurant deal with its most iconic hotel! Thanks to the Fontainebleau Miami Beach's new Spice & Stay Package, you have no reason not to indulge in both.
The deal is simple: Stay at the Fontainebleau between August 15 and September 30, and for every night you stay, you'll get a free Miami Spice dinner for two at Scarpetta by Scott Conant, StripSteak by Michael Mina, or Hakkasan. These are the hotel's three signature restaurants, and where you choose to take advantage of the deal is completely up to you. In addition to meals, you'll get an Ocean View room or higher, complimentary overnight valet for one vehicle, and a copy of the "Little Bleau Book"—which offers coupons and savings throughout the hotel—when you check in. The best part? Rooms start at just $249 a night.*

MIAMI SPICE CUISINE

As it goes every year, the Miami Spice 2019 offerings at the Fontainebleau Miami Beach won't disappoint. Guests of Scarpetta, the hotel's world-renowned destination for Italian fine dining, can choose from options like its famous Spaghetti, Mediterranean Octopus with smoked crema, and the Amedei Bar dessert with a hazelnut crunch, passion fruit, and praline ice cream. If a steak dinner is more your style, StripSteak by Michael Mina will offer choices like "Instant Bacon"—braised pork belly with smoked pineapple and radish salad—Salmon Bourguignon, the 8-ounce Moyer Farms Filet Mignon with a charred onion soubise, and housemade Key Lime Pie with a blackberry-ginger frozen yogurt.

The best Miami Spice offer of all, however, is undoubtedly at Hakkasan. Both the lunch and dinner menu requires a two-guest minimum, and for good reason: all appetizers and entrées are brought to the table and served family-style, so guests get a taste of everything on the menu. On weekends, Miami Spice ties in with the restaurant's popular Dim Sum Lunch, serving top dishes like Hakkasan's Dim Sum Basket, Sautéed Shanghai Pak Choi with Mushroom, and Stir-Fry Udon Noodles with Duck and Black Pepper. On the dinner menu, find plates like Beef Fried Brown Rice, Sautéed Diced Chicken in a black pepper sauce, and Steamed Snapper with green ginger. Both menus let guests pick their choice of an individual dessert, either the Mango Custard with coconut sorbet or the Black Sesame Cheesecake with blackberry yuzu sherbet.

Miami Spice dinner menus will be available at Scarpetta by Scott Conant, StripSteak by Michael Mina, and Hakkasan every night of the week. Hakkasan will also offer a Miami Spice lunch menu on Saturdays and Sundays only.

*In order to take advantage of this deal, bookings must be made before September 30 and stays must happen between August 15 and September 30. Each stay can only be a maximum of three nights. Bookings can be made here. Use the promo code "SPICESTAY" to get the deal. Blackout dates: August 30-31, September 1, and September 22-23. Nightly room rates exclude tax and gratuity.

By Jennifer Agress, contributing writer