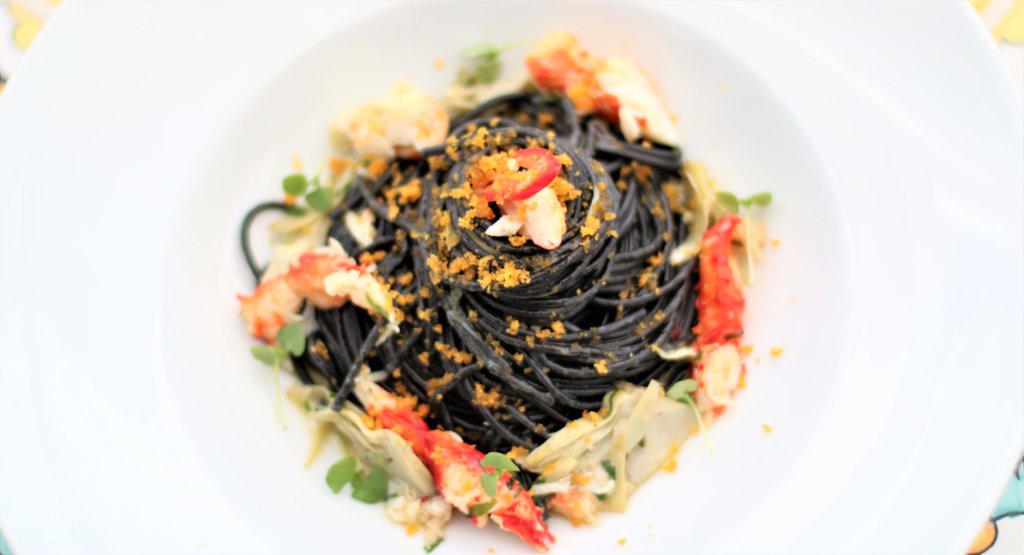 South of Fifth's Italian newcomer tempts with fresh pasta and a gorgeous courtyard
Finding a good Italian restaurant is not necessarily difficult. But finding a good Italian restaurant where the waiter may entertain during a quiet interlude by belting out an Italian aria—that is increasingly hard to find. Which is why Amare, the handsome Italian newcomer in South of Fifth is such a refreshing addition to Miami's dining scene. A collaboration between Gino Iovino of Girasole in Atlantic City and Franco Ricatti and Chef Cosimo Cassano of the Michelin-starred Bacco Osteria in Puglia, Italy, the indoor-outdoor spot is one where you'll bring a group of friends to revel in the joys of pasta made from scratch, with forays into vegetables and seafood dishes heretofore unseen in South Beach. An Italian food lover's dream come true, Amare's Michelin-starred Chef Cosimo Cassano brings a taste of the Amalfi Coast with classic dishes made in-house with seasonal ingredients flown directly from Italy. A main dining room awash in azure, white, and coral hues inspired by the Bay of Naples, intricate, hand-painted ceramic tiles flown in from Naples, and an al fresco terrace transports diners from Miami to the Italian coastline. On cool nights, request a table on the outdoor patio overlooking a dramatically-lit courtyard. And if you're lucky, one of the waiters will serenade you in Italian opera or the famous Bocelli rendition of "Con Te Partiro" (Time to Say Goodbye). Service here is friendly with many of the waitstaff speaking Italian and bringing that polished sense of hospitality to the proceedings.
We were impressed with the meticulous yet unfussy approach to cooking here. A must-order dish is the Fiori di Zucca e Baccalà, zucchini blossoms stuffed with Atlantic cod and robiola, the delicate flowers keeping their integrity while enrobing the fish and cheese treasure. The Cappellacci di Branzino, a Sea Bass-Filled Ravioli with mascarpone, sorrento lemon, butter, and sage was a pasta-lover's revelation for its marriage of dough and filling. The Lasagna di Mare, layers of housemade artisanal lasagna, fish ragu, mascarpone, and light tomato sauce, once again united seafood and Italian staple for a satisfyingly complex dish.
Daily specials underscore the made-from-scratch approach and the homey vibe: Mondays feature warm Maine lobster salad; Tuesdays bringing slow-roasted porchetta; Wednesdays are lasagna days; and Thursdays feature pan-baked black rice with seafood. Saturday, don't miss the Osso Buco, and on Sunday is the traditional family dinner with rigatoni in a slow-cooked ragu sauce.
The restaurant's Miami Spice offerings reflect the upscale yet accessible menu of Italian classics that will elevate a power lunch or a fancy night out. Mirroring all dishes available during lunch, additional dishes available during dinner include starters like the Carpaccio di Tonno with yellowfin tuna, avocado, pear, lemon, and mint, and the Carpaccio Amare, a warm, thinly sliced filet mignon with artichoke, asparagus, shaved Parmigiano-Reggiano, and truffle. Belly-filling entrées include Tagliatelle Bolognese with veal, pork, and beef ragu with bay leaf, and Branzino, a one-pound grilled Mediterranean Sea bass with fresh herbs and capers. Desserts keep things classic with the Tiramisù with mascarpone, lady fingers, espresso and chocolate shavings, and the Torta di Formaggio, a ricotta crema cheesecake with mascarpone and strega liqueur.
Amare Ristorante is located at 1 Collins Avenue in Miami Beach, and is now open for dinner. Reservations are available by calling the restaurant at 786.598.8622 or via OpenTable.com/AmareRistorante.
By Sara Liss, contributing writer