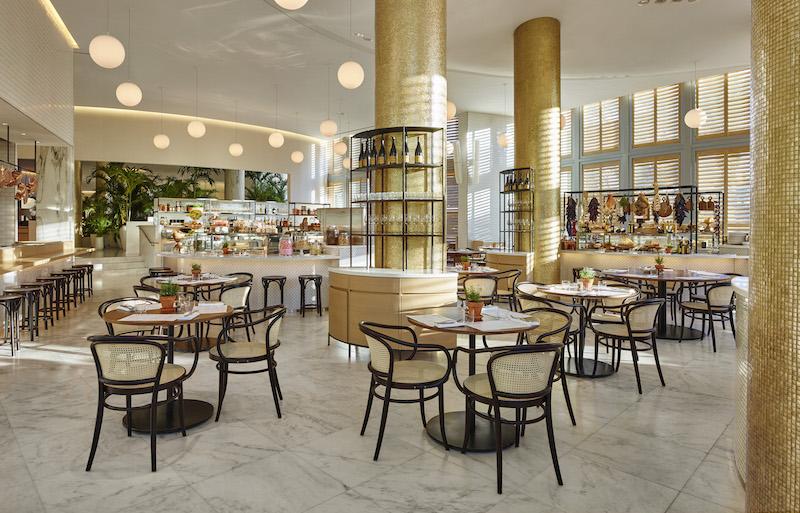 1. Old Favorite, New Look at the River Seafood & Oyster Bar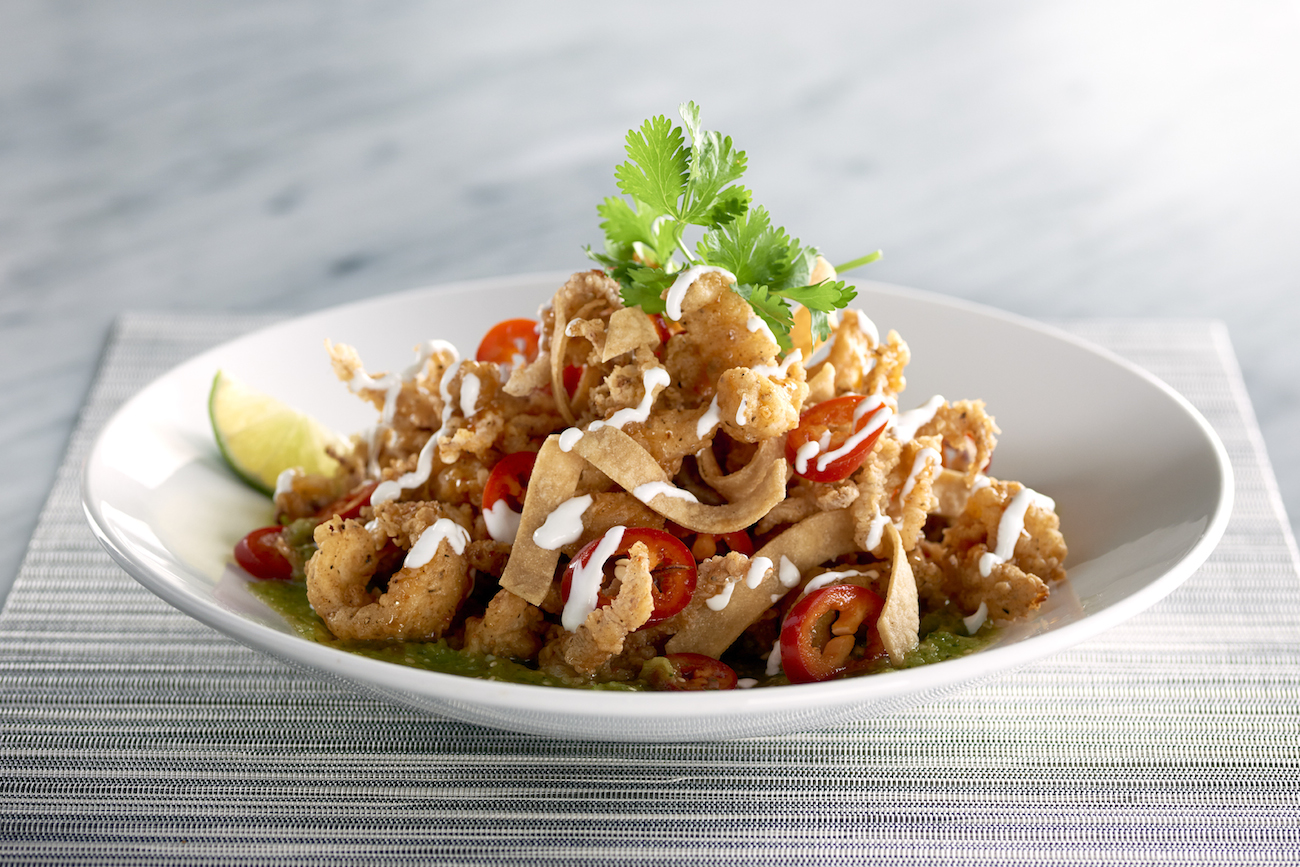 2. Crispy Diablo Squid from Morton's the Steakhouse
3. Rotating Art at R House
R House brings art to Wynwood in the form of a restaurant. In fact, some even consider the entire setting an art installation. A large-scale mural greets guests outside, and movable pieces give the feel of an art gallery. R House is always full of fashionable and eccentric guests who come
to view the rotating art by local artists, and the floor plan is often adjusted to give guests a different dynamic each time they visit. The result is a fresh, engaging fine-dining experience every time. 305.576.0201; rhousewynwood.com 
4. The Chef's Choice at Naoe
If art were food, NAOE would be a museum with Chef Kevin Cory as its sole artist. The room is sparse, like a blank canvas, and soft music plays in the background as Cory creates his masterpieces. The menu is completely original each evening with several courses of the chef's choosing, and he presents each edible gem one-by-one in a succession fit for an emperor. Two seatings occur each evening and three hours are set aside for this sensory indulgence. Bring your sense of adventure because, as they say, the food here is not just fresh—it's alive. 305.947.6263; naoemiami.com 
5. Classic Meets Contemporary Quality Meats
6. The Personal Edge at Fung Ku/Maxine's/The Tavern
The South Beach Hotel Group owns some of Miami's funkiest boutique hotels, and they come alive each season witht he official kickoff of Art BAsel. Each property is unique, offering eclectic, hand-picked décor from across the globe. Inspired by Moroccan design, Maxine's at the Catalina Hotel  boasts chairs from Egypt as well as lamps found in Morocco by Owner Alan Lieberman during his travels there. The teak tables at Fung Ku were all sliced, treated, and glazed by Lieberman himself. The newest addition to the collection is The Tavern at Hotel Croydon, which displays murals by Marcello Ibanez, whom Lieberman discovered on Instagram. It's the personal attention to detail that gives Fung Ku, Maxine's, and The Tavern their edge. 305.535.8284; southbeachgroup.com
7. Wasabi Lobster at SOHO Bay
Art is on the menu at SOHO Bay. Japanese delicacies delight at this swanky South Beach restaurant, appearing almost too good to eat. The Wasabi Lobster—with wasabi and lime ice cream, mustard cress, citrus-coriander blooms, and fresh wasabi—is a new favorite. 786.618.2788; sohobayrestaurant.com
8. The Art of Food and Wine Pairing at Uvaggio
You don't have to look far to find advice about food and wine pairing; there are countless articles and books dispensing the rules and science behind making a good match. Still, some would argue that there's more art than science involved. The approach at Uvaggio is simple: "If it grows together, it goes together." In other words, wine and food both have a sense of place, and their origins contribute to their nuanced flavors. For example, food made with ingredients from Tuscany will likely pair well with Tuscan wines. Practice the art at Uvaggio. 305.448.2400; uvaggiowine.com 
9. (Art and) Wine by the Bay
Stefano Campanini started his career as an art dealer many years ago in NYC before opening Etra Gallery in Miami, which he still runs. While he was delivering art pieces to VIP collectors, Campanini noticed that many of them also collected wine. This got him thinking about the synergy of his two passions, and thus, Wine by the Bay was born. Not only does Wine by the Bay serve as a cultural hub, displaying fine art and hosting lectures and tastings, it demonstrates the symbiotic relationship of art and wine. The grape harvest is a blank canvas, and only time will tell what beauty and depth will become of it. 305.455.9791; winebtb.com 
10. Sunsets at The Standard
The Standard has become a staple in South Beach for lazy Sunday afternoons, but the main draw here is the sublime sunset view that paints the sky each evening. The property sits right on the bay, offering the perfect backdrop for nature to paint her colors on the sparkling water. 305.673.1717; standardhotels.com/miami
11. The Visual Appeal of Bagatelle
Designed by Celano BAGATELLE Design, Bagatelle Miami Beach is a collection of wondrous sights in keeping with the recognizable design of its sister locations. Inside, you'll find beige and white furnishings accented with decorative moldings, plush banquettes, numerous crystal chandeliers, fresh flowers, and eye-catching pop art provided by Opera Gallery, the restaurant's global art curator. Graffiti artist "Seen" is the featured artist behind the exclusive rotating pieces of art in the gallery. 305.704.3900; bagatellemiami.com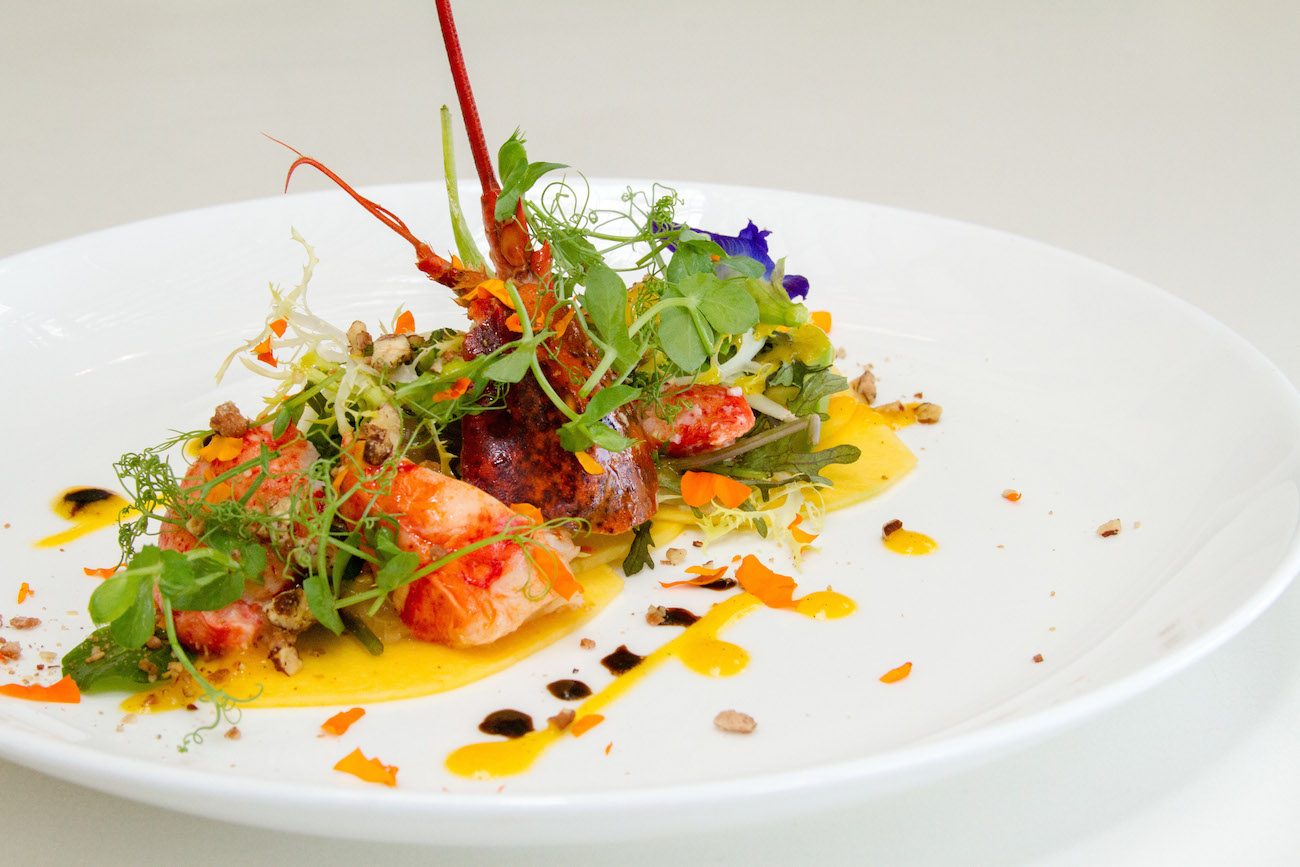 13. Roasted Beet Salad at Piripi
This restaurant in the heart of Coral Gables always strives to achieve a vibrant, memorable experience. The colorful Roasted Beet Salad with Sherry vinaigrette, candied almonds, and drunken goat cheese is a dish you're sure to remember— even if you are a little "piripi."  305.448.2423; piripimiami.com
14. Naiyara's Ob Aroi
Ob Aroi is a colorful dish that brings together different elements and textures to create an edible masterpiece. Made with steamed glass noodles, fresh ginger, scallions, baby corn, celery, and sweet soy sesame oil, Ob Aroi is served in a closed pot, then unveiled like a work of art once it arrives at the table. The ingredients include crunchy vegetables, velvety noodles, and light, flaky fish. This is artwork at its tastiest. 305.947.4338; naiyara.com 
15. Gorgeous Photography Decking the Walls of The Betsy and BLT Steak
The Betsy Hotel–South Beach is designed to inspire guests to reflect upon the beauty of our world. A clean palette of white, taupe, and black makes the perfect canvas for the artwork displayed within—complemented by the giant chess board in the lobby and the palm trees and floral arrangements scattered throughout. From a photograph of John Lennon in the Bob Bonis Archive, to captivating images of the Beatles and the Rolling Stones in their heydays, to the work of Hollywood photographer Robert Zuckerman, the halls of The Betsy and its signature restaurant BLT Steak are veritable art galleries in their own right. One of our favorites? The jellyfish. The surreal photographs of these marine creatures—portrayed in vivid colors as well as black-and-white—spark your imagination and evoke serenity. And during Art Basel, be sure to visit The Betsy to check out a much-anticipated show featuring limited-edition lithographs from South African artists.  305.531.6100; thebetsyhotel.com 
16. Edible Art at Milos by Costas Spiliadis 
Estiatorio Milos by Costas Spiliadis is a work of art from start to finish. While some of the fish and seafood on the menu is local, the majority is flown in fresh from the Mediterranean Sea and artfully displayed on ice. Guests are invited to get up from their tables and inspect the presentation as if it really were a work of art. Unlike art, however, here you can pick your favorite component and eat it right off the canvas. 305.604.6800; milos.ca/restaurants/miami 
17.  Liquid Art at Craft Social Club 
Craft cocktails are nothing new, but Craft Social Club takes the liquid art form to a whole new level. Cocktails are handmade tableside in the form of personal libations, shooters, and punch bowls for the whole table to share. The World is Yours, just one of these artistic creations, pays tribute to "Scarface," blending Don Julio 1942 Tequila, strawberry-infused dry Curacao, Velvet Falernum, lemon-peach cordial, and ginger fizz. 786.216.7719; craftsocialclub.com
18. Godiva Pumpkin Martini from Segafredo
Coat the rim of a martini glass lightly with pumpkin purée and then pumpkin pie spice. In a cocktail shaker filled with ice, add 2 tablespoons pumpkin purée, 1 ounce cream, 1 ounce agave nectar, 1 ounce Godiva white chocolate liqueur, and 2 ounces vodka. Shake vigorously for 8 to 10 seconds. Pour into prepared martini glass and garnish with fresh orange zest. 205.673.0047; sze-originale.com  
19. Art Deco Design at The Oceanaire Seafood Room
Reminiscent of a glamorous 1930s Art Deco ocean liner, The Oceanaire Seafood Room exudes a nautical feel—without fishnets, anchors, or any of that seaside kitsch. Instead, the chandelier- studded restaurant is ornamented with contemporary artwork, stark metal trim, and electric-blue light fixtures that add a soft glow to the restaurant's dark hardwood floor and white tablecloths. A chic outdoor patio with prime views of bustling Mary Brickell Village makes Oceanaire the perfect setting to enjoy the freshest seafood flown in daily from around the world. Speaking of which, did we mention there's a custom oyster bar featuring more than 10 varieties of shellfish on ice? 305.372.8862; theoceanaire.com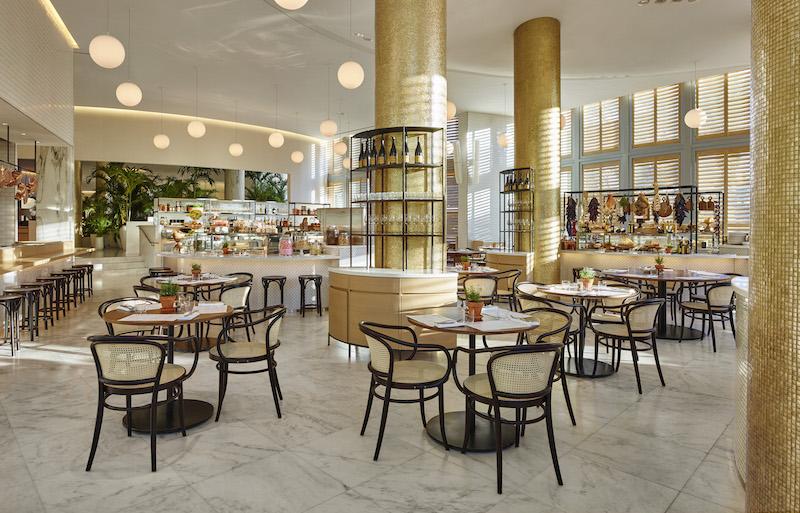 20. The Light-Filled Market at EDITION 
Every Jean-Georges restaurant showcases a certain style: fresh flavors, flawless plating, and clean lines throughout. Market at EDITION is no different. Sunlight filters through tall windows during breakfast and lunch, filling the space with a natural glow that illuminates the restored gold-tiled columns—relics of the 1950s Seville Hotel that used to occupy the space. As you stroll between the "pods" (with options such as a beverage bar, pastry station, charcuterie station, raw bar, and grill), soak up the glimmering warmth and enjoy the marketplace feel. 786.257.4600; editionhotels.com 
21. Villa Azur's Charming Courtyard
Saturated in French glamour and contemporary elegance, Villa Azur charms the public with one of the most enchanting open-air courtyards in South Beach. Influenced by French-Mediterranean cuisine, guests here enjoy modern fare in a setting like no other. 303.763.8688; villaazurmiami.com 
22. The Art of Brunch at Tamarina Restaurant
Tamarina Restaurant has truly mastered the art of brunch. The Italian eatery recently introduced Sunday brunch to its busy schedule of weekly offerings, and the local brunch scene will never be the same. The restaurant knows that brunch guests are typically looking for a leisurely meal where they can kick back, relax, and enjoy their day off—and it aims to provide its guests such an experience.
Brunch at Tamarina is set up in buffet-style stations, providing an all- you-can-eat array of breakfast and lunch staples to suit even the most discerning brunch-goer. Expect to find live stations offering made- to-order omelettes, pancakes, waffles, and crêpes, in addition to an American station featuring corned beef hash, roast beef, and soups; a salad bar with a delectable variety of greens and dressings; a grill station featuring steak and eggs and pork ribs; an Italian station with frittatas, charcuterie, and homemade pizzas; and a seafood station with oysters, shrimp, and succulent smoked salmon. You can also expect to find various freshly baked pastries, muffins, and scones.
But mastering the art of brunch goes much further than just delicious and creatively presented foods; you must also have the appropriate ambience. Music is a big part of the brunch experience at Tamarina, where you will always be able to enjoy world-class live music. And, of course, what would a successful brunch be without the accompanying liquid refreshments? Various beverage packages are available, many of which offer unlimited drinks of your choosing, including Peach Sorbet Bellinis and the signature Mandarin Sorbet Mimosa, along with power juices and specialty coffee selections. Brunch is currently offered at Tamarina every Sunday, 11am-6pm (buffet open until 3pm). 305.579.1888; tamarinarestaurants.com 
23. The Vibrant Walls of Wynwood Kitchen
Wynwood Kitchen & Bar is a staple in Miami's Art District, reflecting its diverse nature and multimedia dynamic. Developed along with the Wynwood Walls by Goldman Properties in 2009, Wynwood Kitchen & Bar is the original destination in this art haven. At first glance, WKB might be mistaken for a gallery, as there are sculptures, murals, and other installations on premise. Still, it's the vibrant art from famed street artists like Shepard Fairey, Os Gemeos, Kenny Scharf, and Faile & Bast that really put Wynwood Kitchen in a class of its own.
24. Curated Art at Adena Grill & Wine Bar
Adena Grill & Wine Bar has a warm and inviting atmosphere with a blend of Old-World ambience alongside a casual and modern vibe—and it's one of our favorite new steakhouses in town. You'll dine in style beneath Swarovski crystal chandeliers dangling from the vaulted ceiling, while large vases of fresh, delicate orchids dot the main dining tables. But it's the art on the walls that really draws the eye. Highly acclaimed Russian artist Anna Razumovskaya was commissioned to hand-paint the scenic murals. Other elements such as the elegant dark wood tables and striking marble countertop bar were all hand-selected by Owner Frank Stronach himself. 954.464.2333; adenagrill.com