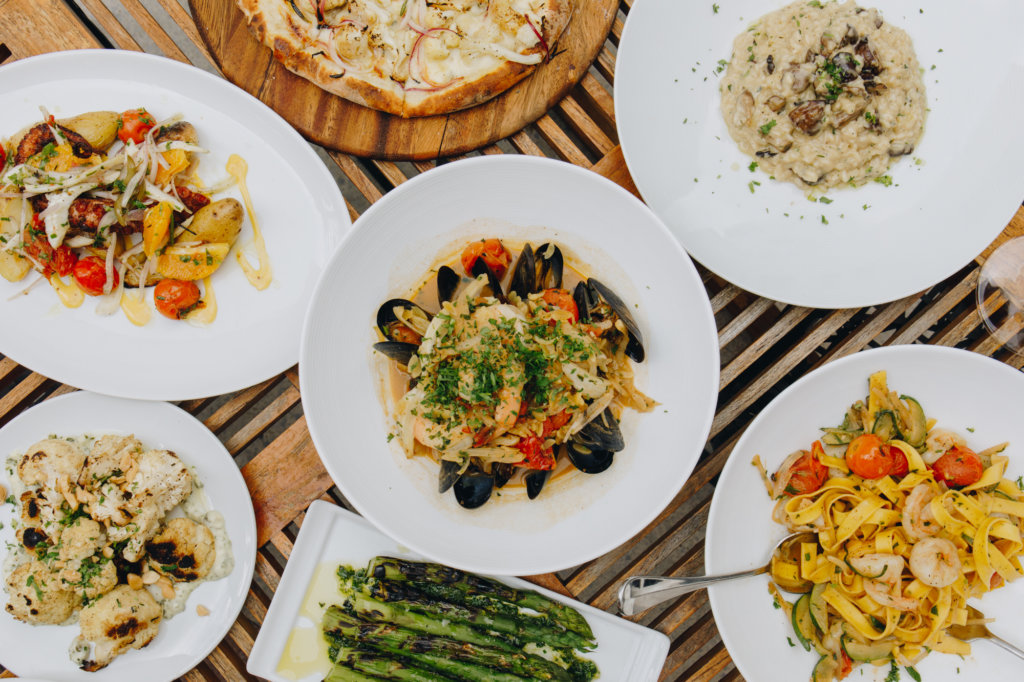 A list of local favorites that just couldn't let go of the Miami Spice thrill (and we're certainly not mad about it)
While Miami Spice may be over, we've found some spots that have either extended their Spice offerings or created a new menu entirely—leaving your taste buds satisfied and your wallets happy.

Lobster Bar Sea Grille Miami Spice Extended
If you're a lobster fan, search no further than upscale seafood emporium Lobster Bar Sea Grille—just one of 13 eateries owned by Atlanta-based Buckhead Life Restaurant Group. The Lobster Bar Sea Grille sources fresh fish from around the world and through November, it's extending its three-course dinner menu filled with everything of your lobster dreams.
For just $39, indulge in favorites like the Grilled Mediterranean Octopus, Whole Lobster Pasta Americaine, Nova Scotia Whole Lobster Stuffed Lobster, or the Twin Beef Tenderloin Medallions Au Poivre. For dessert, there's the Signature Tropical Pavlova and Classic Profiteroles. Is your mouth watering yet?
Lunch Like a Boss at Seaspice

Long days working hard at the office call for a fine-dining lunch deal at Seaspice. Whether entertaining a client, enjoying a quick power lunch with co-workers, or taking a solo hour getaway, Seaspice's world-class cuisine and nautical waterfront is reinventing your midday meal with a three-course Executive Lunch menu for just $29.
Tuesday through Friday from 12 to 3:30 p.m., lunch like a boss by indulging in dishes like the Salmon Crudo with white truffle ponzu or Maine Lobster Cappuccino. Entrée choices include Local Yellow Tail Snapper served with a citrus salsa verde, Wagyu Burger topped with smoked Gruyère and truffle aïoli, Shrimp Tagliolini, or, for a light and meatless option, the Vegan Plant Bowl with yellow lentil, curried butternut squash, shaved Brussels sprouts, and Turkish figs. With an Executive Lunch offering like this, you'll head back to the office with a full belly and a clear mind.

Fi'lia South Beach: Curing Your Post-Spice Blues
Looking to cure your post-Miami Spice blues? Located in the heart of South Beach, Italian eatery Fi'lia South Beach is offering to help by way of a three-course, prix-fixe menu for both lunch and dinner. However, if a wider range of options is what appeals to you, Fi'lia's all-day menu features delights like Charred Eggplant Spread and Linguine Cacio e Pepe, or dinner favorites like Calamari with lemon and marinara or the creamy Mushroom Risotto. All heavenly menus are available daily—and our hearts (and stomachs) are happy once again.

Taste of Matador
Olé, for a taste of Matador! Experience the culinary treasures of celebrity Chef Jean-Georges Vongerichten by exploring his latest five-course prix-fixe menu while lounging in a luxurious, intimately-lit dining room.
Located at the Miami Beach Edition Hotel, The Matador Room offers the chef's interpretation of Caribbean, Spanish, and Latin and South American cuisines while the ambiance is reminiscent of the glamorous supper clubs of the 1940s and 50s.

For $78 per person, indulge in fan favorites such as the Sweet Pea Guacamole with toasted sunflower seeds, Wild Gulf Shrimp with sizzling garlic and chile oil, or Black Truffle and Fontina Cheese Pizza. If you've come with a hard-to-satisfy appetite, the Arroz con Pollo with crackling skin and lemon zest will be sure to do the trick for you. And, to satisfy your sweet tooth, don't miss out on the Warm Vanilla Fritters and Chocolate Pudding with Mexican chocolate. Can you say, "Olé!"
By Loren Gutentag, Contributing Writer