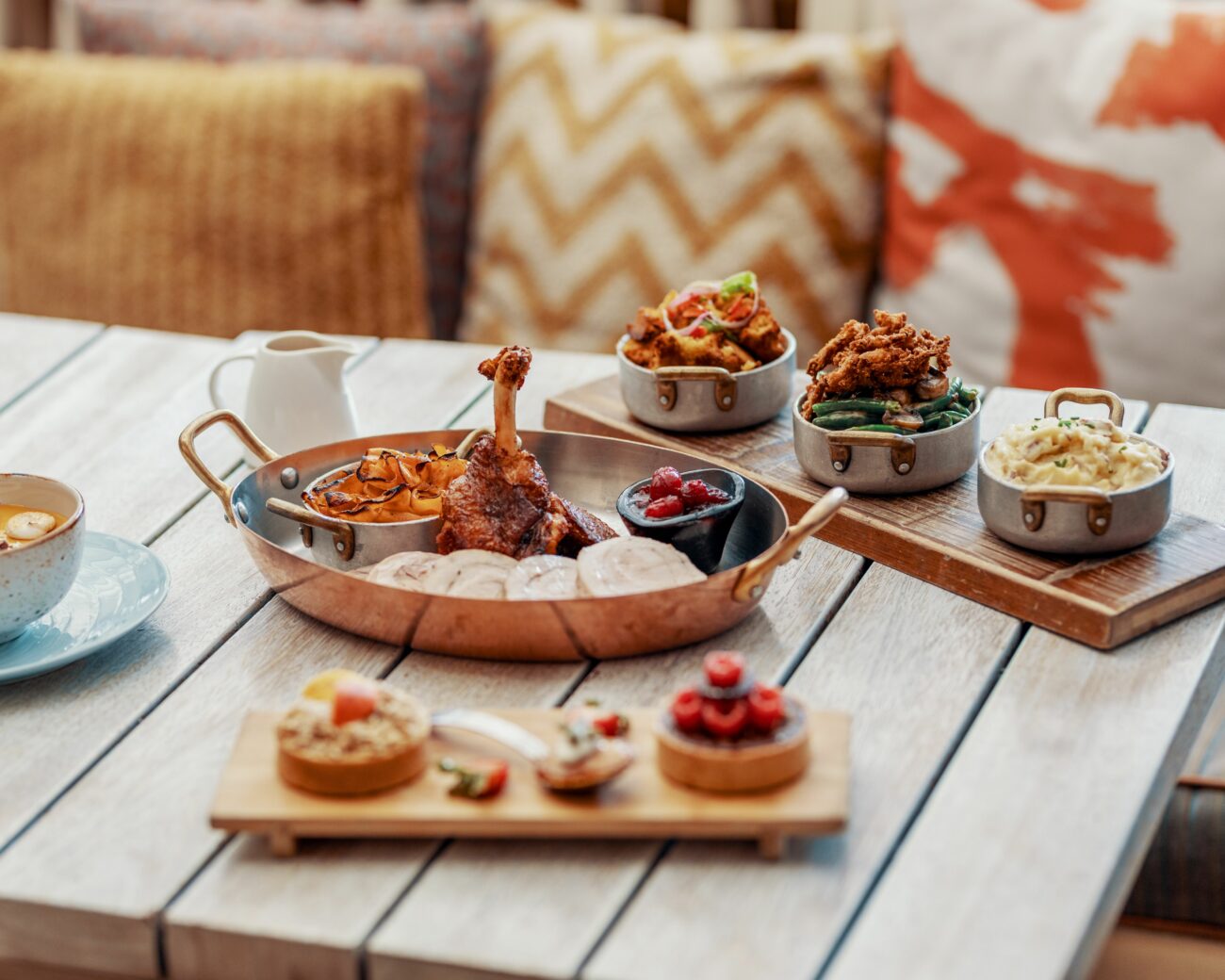 There's nothing quite like sitting down to a Thanksgiving meal. Between the turkey, multiple sides and decadent desserts, it's a guaranteed crowd-pleasing treat. For those that want to enjoy the food without the backbreaking work involved to get it on the table (or deal with the mountain of dishes left to clean), these Miami restaurants are offering tempting Turkey Day specials.
ARIETE
3540 Main Highway, Coconut Grove
(305) 640-5862
Website
Chef Michael Beltran has captured food lover's hearts with an innovative fare that blends modern-American with the chef's Cuban roots. Showcasing seasonal ingredients, the cozy Coconut Grove space marries exquisite food in a relaxed space. For Thanksgiving, the restaurant will be offering a New American feast from 3 pm to 10 pm where diners will be treated to an all-you-can-eat buffet ($75 per adult and $35 per child under 10 years old, excluding tax and gratuity.) Menu offerings include an assortment of holiday favorites and Chef Michael Beltran's beloved family recipes with a contemporary twist. Guests can enjoy dishes like Smoked Turkey Legs, Fried Turkey Breast, Green Bean Casserole, Cheddar and Fresno Cornbread and Candied Yams. Deserts include Pecan Pie, Goat Cheese Flan and Apple Streusel Pie.
PALM D'OR
1200 Anastasia Ave., Coral Gables
305-913-3189
Website
Set in Coral Gables' stunning Biltmore Hotel, this elegant award-winning restaurant is a go-to destination for special occasions. For Thanksgiving, the restaurant will be offering a tasting menu (priced at $95 with an additional $75 for wine pairing, excluding tax and gratuity) featuring classic fall dishes. Begin with the Pumpkin Soup, served with Crispy Cranberry Bread, Sunflower Seed tuile and Spinach Cream Cheese followed by a Fall Salad (kale, fresh cranberries, roasted butternut squash, and apples.) Beyond the Oven-Roasted Turkey (served with Sweet Potato Confit and Cranberry Compote) main courses include Jumbo Sea Scallops with Honey-Roasted Carrots, Celery Root Confit, Carrot Purée and Lentil Cake, Sea Bass with Cauliflower Purée, Baby Leeks and Ginger Beurre Blanc and Wagyu Strip Steak with Truffle Mashed Potato, Sauté Shiitake Mushroom and Vermouth Veal Jus. Follow dinner with the restaurant's legendary cheese cart followed by dessert options of Pecan Pie, Crème Anglaise, Caramel Sorbet and Warm Apple Tart.
RUSTY PELICAN
3201 Rickenbacker Causeway, Key Biscayne
305-361-3818
www.therustypelican.com
Pair Thanksgiving celebration with a quintessential Miami sunset by heading to this long-standing favorite. For $89 per adult and $35 per child (excluding tax and gratuity), the Brunch Buffet served from 10 am to 3 pm includes a wide assortment such a Banana French Toast, Baby Kale and Goat Cheese Scrambled Eggs and Applewood Smoked Bacon and Pork Sausage. Beyond breakfast, diners will enjoy a raw bar, sushi, and ceviche plus carving stations with Rosemary Crusted Leg of Lamb, Garlic Crusted Tomahawk Prime Rib, Miso Glazed Mahi-Mahi and of course, a Hickory-Smoked Whole Turkey. End the meal on a sweet note with an assortment of Mini Desserts and Pastries like Pumpkin Pie, Carrot Cake, Pecan Cheesecake, Apple Tart and Chocolate Mousse Cake.
BIRD & BONE
4041 Collins Ave, Miami Beach, FL 33140
305.424.1234
Chef Richard Hales dishes out Southern-inspired cooking in a modern farmhouse setting at the Confidante Miami Beach. From 5 pm to 10 pm, the restaurant will be offering a Thanksgiving prix fixe dinner ($60 per person) with a choice of a starter, main dish, accompaniments, and dessert. Diners can enjoy a Seasonal Squash Bisque, Turkey Cooked Two Ways, Cornbread Dressing and a Trio of Sweets: Chocolate Pecan Tart, Dutch Apple Cobbler, and Pumpkin Brûlée.
BOULUD SUD
255 Biscayne Blvd. Way, Miami
305-421-8800
www.bouludsud.com/miami
Celebrated chef Daniel Boulud's Miami eatery is an ode to refined Mediterranean cuisine. The South Florida outpost to New York's original is a welcome addition to Downtown. For Thanksgiving day, Boulud Sud is serving a three-course prix-fixe menu featuring starters like Spiced Pumpkin Soup and Italian Chicory Salad and Pumpkin Agnolotti, Seared Mediterranean Branzino and Lamb Chops for the main course. Desserts range from Spiced Pumpkin Sundae to Pecan Tarte. Prices are $65 per person, from 11:30 am to 1:30 pm or $75 per person from 2:30 pm to 10 pm
ESSENSIA
3025 Collins Ave., Miami Beach
305-908-5458
www.thepalmshotel.com
Set in the posh Palms Hotel & Spa, this restaurant has a keen focus on seasonal fare, promoting the use of local and sustainable ingredients, beginning with their own on-site organic garden. For Thanksgiving, a buffet dinner priced at $54/per person, and $22 for children 12 and under gains access to a bounty of dishes like Deviled Eggs with Salmon Caviar and Smoked Paprika, Winter Harvest Salad with Arugula, Pickled Golden Beets, pomegranate, feta, toasted pine nuts, and lemon vinaigrette dressing and Slow-Roasted Heritage Turkey with Turkey Gravy, Rosemary and Cranberry-Orange Chutney. Prime Rib Roast and Salt-Baked Salmon will also be served along with signature sides like Caramelized Butternut Squash Wedges with Sage Hazelnut Pesto and Roasted Roots of Parsnip, Yams, Carrots and Ginger-Maple Glaze. They'll be an assortment of seasonal desserts and pies as well. The buffet will run from 4 p.m. to 9 p.m.
THE SURF CLUB RESTAURANT
9011 Collins Ave, Surfside
305-768-9440
www.surfclubrestaurant.com
Renowned Chef Thomas Keller is the mastermind behind this elegant eatery with a nod to the property's historic past. The restaurant will be offering a special menu priced at $150 per person featuring starters of Crudités, Deviled Eggs, Fall Spiced Nuts and Cheese and Crackers followed by a Waldorf Salad. Main courses include the choice of Slow-Roasted Turkey Breast with Confit Leg En Persillade, Sage Gravy, Cranberry and Blood Orange Relish, Olive Oil Poached Halibut, or The French Laundry Garden Pumpkin Cannelloni. Cornbread stuffing with Garlic Sausage and Leek Confit and Garnet Yam with Brown-butter Gingersnap Streusel are among the delectable sides. Dessert features Bourbon Pecan Pie or Pumpkin Cheesecake with a Cranberry Cherry Coulis
DIEZ Y SEIS
1901 Collins Ave, Miami Beach
305-695-3226
Mexican cuisine is mastered by Argentinian Chef Jose Icardi at this Shore Club signature spot. For those looking to step outside the traditional Thanksgiving box, head over to the poolside restaurant for Turkey Tamales made with braised turkey in tomato chipotle sauce, cotija cheese, and topped with pickled red onions, Mexican cream and tamale sauce. They pair well with anything off of the beloved tequila cart making the rounds.
EMBER
151 NE 41st St Suite 117, Miami
786-334-6494
www.embermiami.com
Chef Brad Kilgore's contemporary American bistro has garnered South Florida's attention with unique dishes like Fire-roasted Lasagna and Roasted Cornbread Custard with Bone Marrow Butter. Come Thanksgiving, the restaurant will serve a pre-fixe dinner ($65 per person from 4 pm to 9 pm) offering holiday favorites like Pumpkin Soup with Bacon, Pecan, Maple and Pumpkin Seed Oil, Slow Roasted Heritage Turkey, Cornbread Stuffing and Smoked Neck Gravy. Dessert comes by way of a Pie Station featuring Sweet Potato Pie, Apple Pie, Pecan Pie, and Peanut Butter Pie.
CORSAIR kitchen + bar
19999 West Country Club Drive (inside of JW Marriott Miami Turnberry Resort & Spa)
786-279-6800
Tucked away in Aventura's Turnberry Isle Miami, this venerated brunch-spot favorite is the second South Florida restaurant of celebrity Italian chef Scott Conant. The contemporary American boasts a 45-seat bar and an overall festival vibe that makes it an ideal Thanksgiving destination. Appetizers include Calabaza Soup, Prosciutto, and Figs, Seared Sea Scallops or Sweet Potato Gnocchi. For entrees select Roasted Turkey Breast with Stuffing, Buttermilk Mash, Green Beans, Cranberry Sauce, and Gravy Stuffed Roasted Acorn Squash, Seared Chilean Sea Bass or Pan-Roasted Filet Mignon. The trifecta of Thanksgiving Day pies (pumpkin, apple, and pecan) are offered for dessert. Prices are $65 per person, $32 for children 5-12 and will run from noon-10pm.
By Alona Abbady Martinez
Staff Writer